The artists known as The Ten wished to hold their own annual exhibitions as an intimate experience where visitors could concentrate on the works of each individual artist. They achieved critical and popular success and inspired an entire generation of American artists. Some also became educators and taught at established academies or created their own teaching institutions, both exposing Americans to the practice of painting en plein air (outdoors).
Please refer to your livret (purple booklet) for information on each artwork in this room.
114. The Ten and the American Salon: Overview of the American salon experience with Edmund Tarbell's Three Sisters
Narrator: This area recreates the feel of an exhibition in New York, Boston or Philadelphia, by the American artists' group known as The Ten. The paintings are arranged in a rather dense, Salon style, highlighting their diverse approaches.
Standring: These are absolutely stunning paintings - a little bit of naturalism, little bit of academic painting, little bit of Impressionism, bright palettes, large canvasses - it's a rich American experience.
Narrator: The subjects range from dramatic sea cliffs and lush landscapes to quiet domestic scenes. Edmund Tarbell portrays his wife and her sisters in a delightful array of red, white and blue summer outfits. Nearby is Childe Hassam's intensely colorful view of a woman with a bowl of goldfish. These paintings have echoes of the French Impressionism in which Tarbell, Hassam and others were immersed during their student days in Paris.
But the criticism of their work as "too French" was beginning to quiet down. The key might be found in their subject matter. The French Impressionists had depicted urban as well as rural scenes, and people of all classes – including the poor. But The Ten focused on well-to-do families at leisure, and the beautiful American countryside.
Burns: I think there was a sense that these pictures had made Impressionism something different and more palatable. And these artists do start to find American patrons who are supporting their work as well.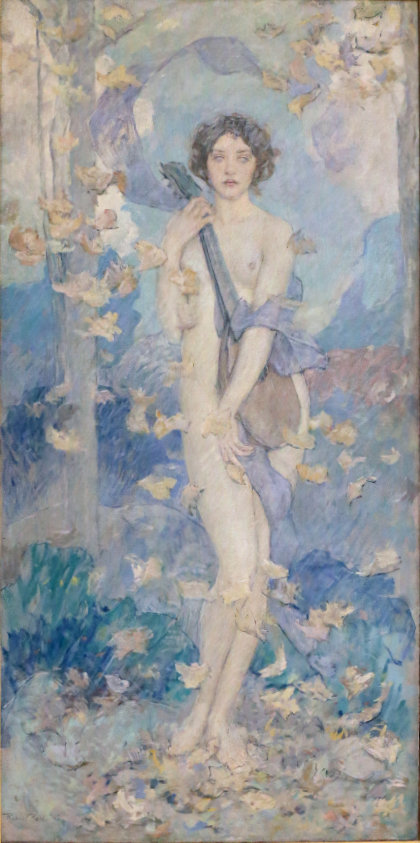 Robert Reid
American, 1862–1929
La Cigale (The Cicada)
1897
Oil paint on canvas
Hoyt Sherman Place Foundation: Acquired from the Collection of the Des Moines Women's Club; Given from the J. S. Carpenter Collection, 1951
In this piece, Robert Reid combined his appreciation for academic figure painting with French Impressionist techniques, particularly in his use of fractured paint application produced by applying daubs of thick paint in a palette of intense colors. A prolific muralist, Reid's instruction helped forge a new generation of American artists. As a founding member of The Ten, he co-organized their exhibitions and promoted standards for selection and installation of their group shows.
Whistler to Cassatt: American Painters in France is organized by the Denver Art Museum. The exhibition is supported by the Tom Taplin Jr. and Ted Taplin Endowment, the Kristin and Charles Lohmiller Exhibitions Fund, the Wyeth Foundation for American Art, Kathie and Keith Finger, Lisë Gander and Andy Main, Lauren and Geoff Smart, Christie's, the French American Museum Exchange (FRAME), the generous donors to the Annual Fund Leadership Campaign, and the residents who support the Scientific and Cultural Facilities District (SCFD). This exhibition is supported by an indemnity from the Federal Council on the Arts and the Humanities. Promotional support is provided by 5280 Magazine and CBS4.