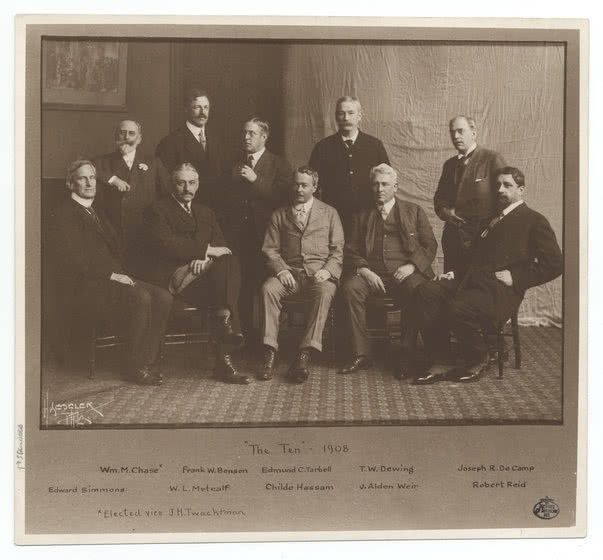 John Henry Twachtman, Julian Alden Weir, and Childe Hassam recruited seven other artists from Boston, New York City, and elsewhere on the East Coast to create an exhibition society that shared their views of originality, imagination, and exhibition quality. Many of them had returned to the United States in the 1870s only to discover that their newly acquired skills were considered by critics as lacking in "Americanness." Having already exhibited in the fiercely competitive Salon in Paris, many were disappointed to be excluded from the annual exhibition presented by the National Academy of Design in New York even though the Academy actively encouraged artists to study in Europe. They called themselves "Ten American Painters," but the press dubbed them simply as "The Ten." Beginning in March 1898, the group established a series of small, concentrated exhibitions, consistent in theme and direction, with each painter responsible for hanging his own works.
Frank Weston Benson
American, 1862–1951
Sunlight
1909
Oil paint on canvas
Indianapolis Museum of Art at Newfields: John Herron Fund, 11.1
© The Frank W. Benson Trust
113. The Ten: Overview of The Ten with Frank Benson's Sunlight
Narrator: On seeing this dazzling painting, one critic declared the artist must have had a bottle of sunshine to dip his brush into! Posed against the sky, with the world at her feet, this elegant young woman is artist Frank Weston Benson's daughter, seen at their summer home in Maine. The picture is filled with the bright, Impressionist brushstrokes Benson had learned in France.
But not everyone was delighted with this new, foreign way of painting.
Standring: A number of artists came back to America from their stay in France, and they discovered that their newly acquired skills were considered by critics as lacking in Americanness.
Burns: People started to get really anxious that American painting had no distinct qualities that were not tied to French artmaking, and a few more conservative critics complained about American artists who, and I'm quoting from one, tried to "paint America through French spectacles".
Narrator: Benson and nine others in this position, excluded from the National Academy of Design exhibitions in New York, formed a group that became known as "The Ten". They intended to forge their own path and organize their own independent shows – much as the French Impressionists had done earlier.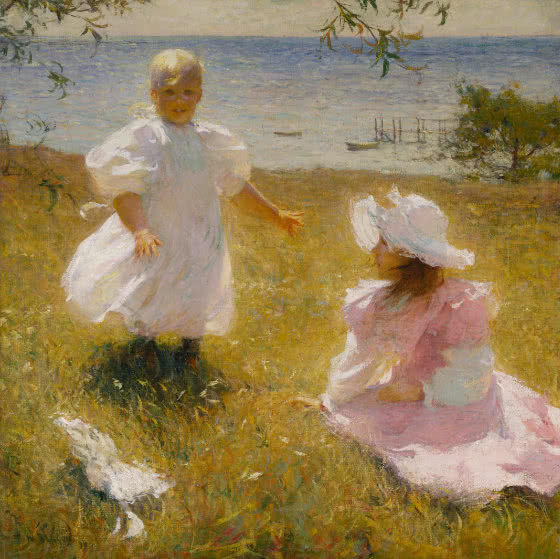 Frank Weston Benson
American, 1862–1951
The Sisters
1899
Oil paint on canvas
Terra Foundation for American Art: Daniel J. Terra Collection, 1999.11
© The Frank W. Benson Trust. Photography © Terra Foundation for American Art, Chicago
207. Frank Benson, The Sisters, 1899
(SFX: Two young girls fighting over a handkerchief)
Adele Tanner (AT): Whoa, whoa. hey! What is the problem?
Elizabeth Benson (EB): She's about to steal my hat and it's mine!
Sylvia Benson (SB): Finders keepers! You dropped it and I saw it first!
EB: Did not!
SB: Did too!
AT: Girls! Girls! My goodness, you are certainly not living up to the painting your father was trying to create.
EB: Whatever do you mean?
AT: Well, I heard that your father Frank Benson lovingly portrays his daughters as angelic perfect visions of youth. I'd say you're not being angels right now.
EB: Well, I don't want to be an angel and besides, why do you care? Who are you anyway?
AT: My name is Adele and I happen to be the granddaughter of a famous artist too, named Henry Tanner. Only I don't fight with my sister over silly hats!
EB: So you're saying you never fight with your sister ever and you're just perfectly behaved all the time?
AT: Ha! You're right, I'm not! But I'll tell you a secret – your father will often paint beautiful pictures of you and your sisters as you get older. He obviously really loves you… but maybe he also feels a little sad you're growing up so quickly.
EB: He paints us when we are older? What do we look like? What are we doing?
AT: You are all beautiful and your father has a talent for capturing your different personalities and interactions with the world around you.
EB: Wow. Well, right now I'm interacting with my sister to take back my hat. See you later Adele!
AT: Goodness. I guess it's just sisters being sisters. Let's all go to the beach! How does that sound? Meet me at two beach scenes by Robert Henri!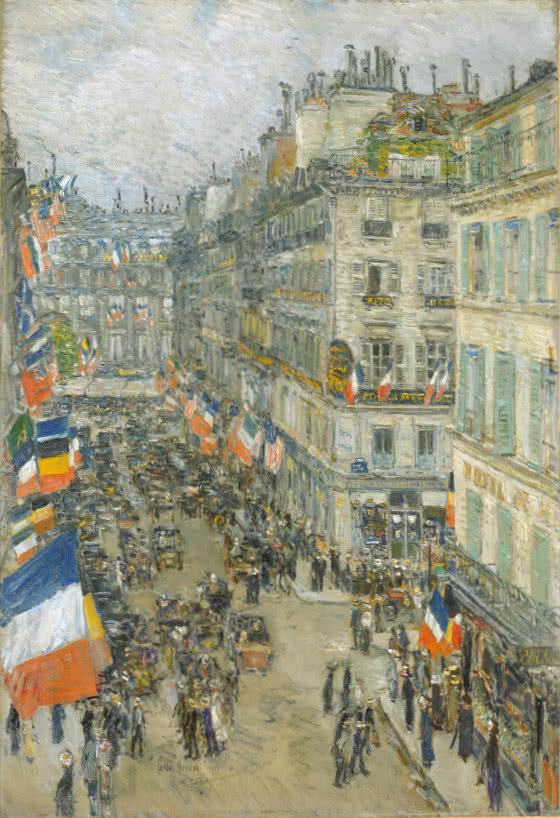 Childe Hassam
American, 1859–1935
July Fourteenth, Rue Daunou, 1910
1910
Oil paint on canvas
The Metropolitan Museum of Art: Gift of George A. Hearn, 1910, 1929, 29.86
Photo courtesy The Metropolitan Museum of Art/Art Resource, NY
American artists working on both sides of the Atlantic took an interest in urban cityscapes.
Arriving in Paris with his wife in 1886 for a three-year stay, Childe Hassam continued to paint the urban views that had earned him a reputation in Boston. Here, Hassam's painting of the Rue Daunou in Paris, decked out with the French tricolor celebrating Bastille Day, is one of 30 canvases he dedicated to the theme of flags flying along urban streets.
During summers spent in artists' colonies outside of Paris, Willard Leroy Metcalf began to explore the effects of light as it fell upon the local terrain. He also began to paint loosely with a lighter palette, reflected in this rare New York scene showing a bird's-eye view of a train on elevated tracks cutting though the greenery of Battery Park at the southern tip of Manhattan.
Willard Leroy Metcalf
American, 1858–1925
Battery Park
1902
Oil paint on canvas
Private collection
Art Heritage/Alamy Stock Photo
Whistler to Cassatt: American Painters in France is organized by the Denver Art Museum. The exhibition is supported by the Tom Taplin Jr. and Ted Taplin Endowment, the Kristin and Charles Lohmiller Exhibitions Fund, the Wyeth Foundation for American Art, Kathie and Keith Finger, Lisë Gander and Andy Main, Lauren and Geoff Smart, Christie's, the French American Museum Exchange (FRAME), the generous donors to the Annual Fund Leadership Campaign, and the residents who support the Scientific and Cultural Facilities District (SCFD). This exhibition is supported by an indemnity from the Federal Council on the Arts and the Humanities. Promotional support is provided by 5280 Magazine and CBS4.