Training in France helped American artists develop the skills needed to create artworks that would be accepted at the official Salon, the premier venue in the global art world. The Salon, also known as The Exhibition of Living Artists, began in 1667 and became an annual exhibition by 1737. It was a monumental event each year, often with over 5,000 works on view and seen by hundreds of thousands.
Art critics reviewing the annual exhibition could add to the prestige and fame—or infamy—of those artists whose works were selected or rejected. The city of Paris received vast government funding for the arts and offered endless opportunities to observe and experience art, culture, and fashion. Not all of the opportunities were equal: women were not allowed to attend the École des Beaux-Arts until 1897.
Please refer to your livret (purple booklet) for information on each artwork in this room.
Standring: To be accepted by the Paris Salon was equivalent to being accepted to go to the Olympics - I mean, this was world famous.
Narrator: This gallery evokes a late nineteenth century Paris Salon. A prestigious annual exhibition, it presented art selected by a jury whose taste tended to be academic and conservative. Selected artists hoped to attract critics' approval – and patrons.
Standring: And they would announce names of American artists who were accepted in the Salon in the International Herald Tribune or the New York Post or the New York Times. And that's how American artists became famous.
Narrator: In such a densely-hung exhibit, size mattered! The large portrait of a bearded man with white frilled cuffs helped launch John Singer Sargent's glittering career. It portrays Carolus-Duran, Sargent's Paris instructor, from whom he'd learned this looser, excitingly modern way of painting. Nearby, you'll see a more traditional, twilight seascape by Alexander Harrison with tightly-painted details.
Standring: Works were hung alphabetically. And so, you'd go through with your small livret, a little booklet, and it would identify all the paintings giving the names and possibly some commentary.
Narrator: - you have a similar livret that you can use to identify the artworks.
Burns: And I think looking at this wall, we can do a similar activity, just kind of stand back and see what your eye gravitates to, what stands out, in terms of color, in terms of light, in terms of subject matter.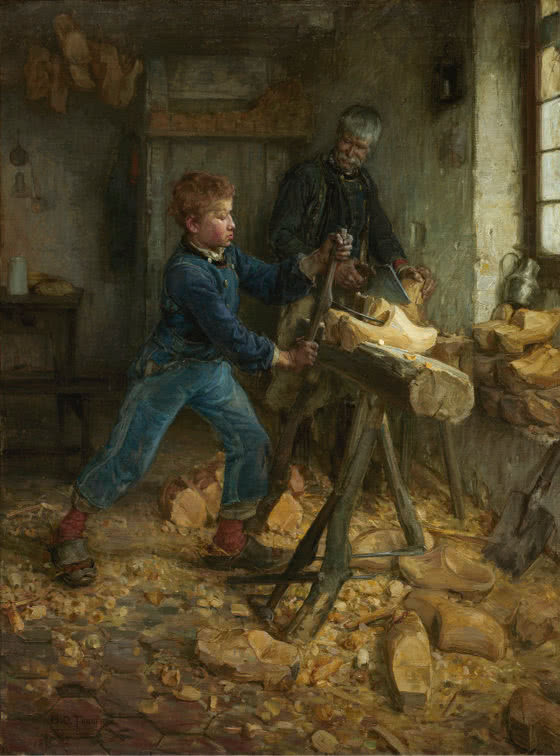 Henry Ossawa Tanner
American, 1859–1937
The Young Sabot Maker
1895
Oil paint on canvas
The Nelson-Atkins Museum of Art: Purchase, William Rockhill Nelson Trust through the George H. and Elizabeth O. Davis Fund and partial gift of an anonymous donor, 95-22
Photo: Jamison Miller
110. Countryside Excursions: Henry Ossawa Tanner's The Young Sabot Maker
Narrator: In this painting dating from 1895, a young boy works on carving sabots, or wooden shoes. It was one of the first of many paintings by Henry Ossawa Tanner to be accepted at the Paris Salon. He won a medal at the 1897 Salon – a rare honor for an American.
As a Black artist, Tanner had faced debilitating racism in the US, and in 1891, he moved to Paris, seeking new opportunities. Artist Ron Hicks:
Hicks: I think we as artists, we just want to be artists and we want to create, and there's all of this noise that can sometimes interfere with that dynamic. So, I imagine he just wanted to just paint.
Narrator: After studying at the Académie Julian, Tanner specialized in religious scenes blending rigorous academic preparation with a spiritual sense of narrative. He achieved great success.
Burns: While US critics paid a lot of attention to him as a Black artist working abroad, in the French criticism it's very rarely, if ever, mentioned that he is a Black artist.
Narrator: Tanner spent the rest of his life in France and often exhibited at the Salon. He was eventually awarded the highest French accolade – the Legion of Honor.
Hicks: That is an amazing feat in and of itself. So I just think it inspired a lot of people to say, "If he can do this, then I'm sure we can do it, or I can do it, or there is hope," and in particular for people of color. You know, as time has progressed, you see more of a diversity of people taking the art to different levels.
205. Henry Ossawa Tanner, The Young Sabot Maker, 1895
Henry Tanner (HT): Boo!
Adele Tanner (AT): Grandfather, you scared me!
HT: (Laughing) Oh my apologies! I just wanted to pop back in on you and your friends! How's the tour going?
AT: It has been wonderful Grandfather! We've gotten the chance to talk to Thomas Hovenden and speak with a beautiful talking poppy!
HT: Well good for you!
AT: Wow, this is so exciting! Can you tell us more about your painting, Grandfather?
HT: I can tell you that the man looking proudly at his student as he carves a sabot is how I feel about you and your pursuit of becoming a journalist, Granddaughter.
AT: Oh, stop! Now you're embarrassing me. (laughs) Also, I don't think our friends here in the future know what a sabot is.
HT: Fiddlesticks! Who doesn't know what a sabot is? Just look at what the boy is making on the sawhorse out of wood. What does it look like?
AT: Well, a shoe of course, but the shoes of the future look very different from the shoes of our time. You would be astounded.
HT: I see. Still, it's very dignified to put in the work to make the things you need and this painting is a tribute to that.
AT: Yes! Thanks Grandfather! It was so good to have you pop in on us again! This exhibition is wonderful so far!
HT: So glad you all are enjoying it! Well have fun and you be safe in your time travel back home, young lady!
AT: I will! Love you, Grandfather! Before I go back, we must find Mary Cassatt. Meet me in the next gallery!
Mary Cassatt
American, 1844–1926
The Mandolin Player
1868
Oil paint on canvas
Private collection
104. The Salon: Mary Cassatt's Mandolin Player and Susan on a Balcony Holding a Dog
Narrator: This painting of a young mandolin player gives us an idea of the Salon jury's taste: traditional subject matter and a smooth finish. It was American artist Mary Cassatt's first work accepted at the Paris Salon.
Soon, Cassatt was working very differently. Find the woman in white with a dog, nearby. By the early 1880s, Cassatt had been exploring Impressionism for several years. In this revolutionary way of painting, artists captured the world around them with swift, dynamic, brushstrokes of thick paint, giving us the feeling we're witnessing a fleeting moment in time. Here's Timothy Standring:
Standring: If you look at the small rose hint on her bonnet, the way she's captured the illumination of the sunlight going through the transparency of the bonnet, look at the blue shadows caused by cobalt blue or ultramarine. She has not used any black in this - she's simply using chromatic means, colored means, to show the modeling of the figure, which is quite different from what she had done earlier. She's capturing light in this wonderful painting which is undoubtedly as brilliant as any other French Impressionist painter.
Narrator: Most conventional critics and collectors would have considered Cassatt's visible brushstrokes and modern subject matter unfinished - and unacceptable. And indeed, Cassatt and the Impressionist circle were rejected from the Salon when painting in this way. Their radical approach attracted harsh criticism but also great acclaim by more forward-looking audiences.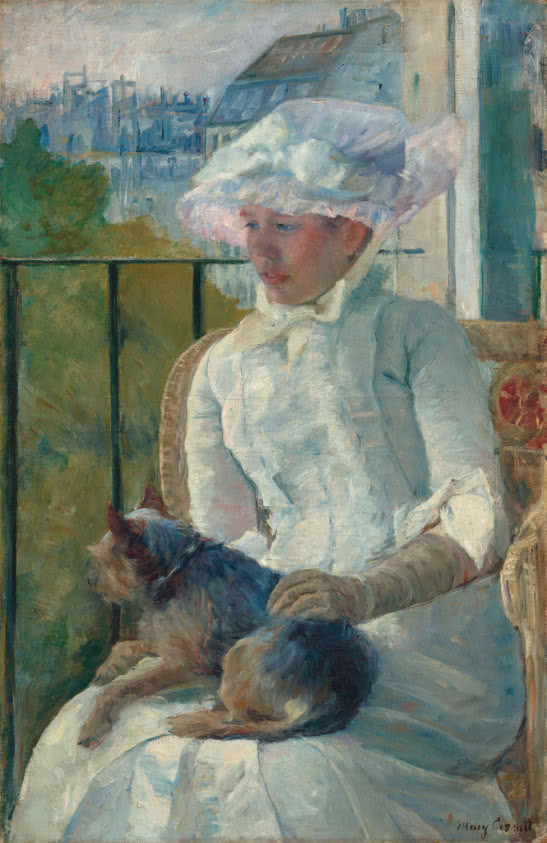 Mary Cassatt
American, 1844–1926
Susan on a Balcony Holding a Dog
About 1883–85
Oil paint on canvas
National Gallery of Art: Corcoran Collection (Museum Purchase, Gallery Fund), 2014.79.9
Image courtesy National Gallery of Art/Open Access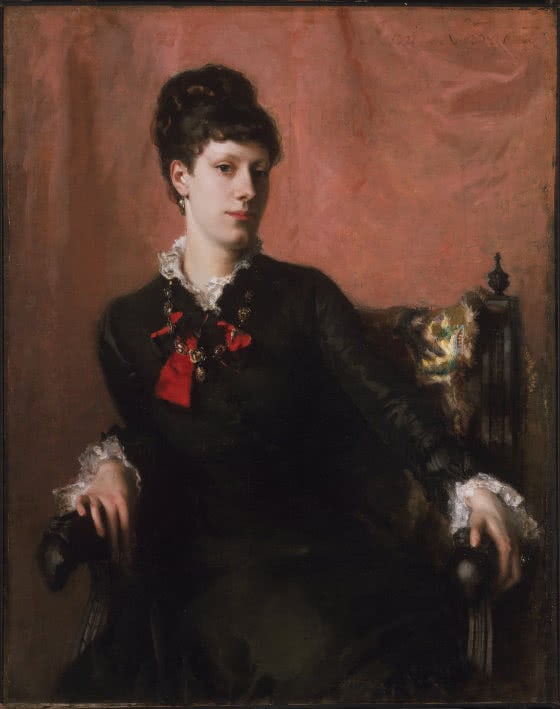 John Singer Sargent
American, 1856–1925
Portrait of Frances Sherborne Ridley Watts
1877
Oil paint on canvas
Philadelphia Museum of Art: Gift of Mr. and Mrs. Wharton Sinkler, 1962, 1962-193-1
Image courtesy of the Philadelphia Museum of Art
105. The Salon: John Singer Sargent's Portrait of Frances Sherborne Ridley Watts
NARRATOR: John Singer Sargent made this vivid portrait of his childhood friend, Frances Watts, in 1877. It was his first painting exhibited at the Paris Salon – a great honor, especially since he was just 21 years old. Sargent has long been inspirational to artist Ron Hicks. Hicks loves Sargent's incredible observation, and his power to convey feeling.
HICKS: John Singer Sargent had this ability to see tone, see shape, see relationships, take all that information in, and place it on the canvas with accuracy, and then he would do it in an emotional way. Her gesture, the way she's sitting in the chair, is awesome, and emotionally, it takes you into this place of, "Well, what is she thinking? What's going on with this particular person?
When I started using models consistently, I was really like, "I have this idea. I'm going to put this model in this certain position". But if it's just a replication of that person's physical features alone, and there's nothing else there, then you really have not made a portrait. Then I allow that person to become themselves, and then I absorb that energy.
And I think that's the joy of the dialogue that we as artists present. It opens up more questions than it answers, but I love that. And I think that's what Sargent does for me.
Whistler to Cassatt: American Painters in France is organized by the Denver Art Museum. The exhibition is supported by the Tom Taplin Jr. and Ted Taplin Endowment, the Kristin and Charles Lohmiller Exhibitions Fund, the Wyeth Foundation for American Art, Kathie and Keith Finger, Lisë Gander and Andy Main, Lauren and Geoff Smart, Christie's, the French American Museum Exchange (FRAME), the generous donors to the Annual Fund Leadership Campaign, and the residents who support the Scientific and Cultural Facilities District (SCFD). This exhibition is supported by an indemnity from the Federal Council on the Arts and the Humanities. Promotional support is provided by 5280 Magazine and CBS4.