The Salon launched the careers of many American artists—including James McNeill Whistler— whose works were collected avidly by patrons abroad and at home. The former West Point cadet established the idea that a work of art could exist without a narrative, or "art for art's sake." The Sea, Pourville in this gallery shows an infinite expanse of the view before him: here, Whistler preferred to focus on his application of paint rather than capturing an identifiable place along the Normandy coast.
Artists on both sides of the Atlantic were influenced by Whistler, as shown by many of the works in this room. John Henry Twachtman paid direct homage to Whistler in Springtime by painting with a unified palette of muted hues and blurred contours. Thomas Dewing emulates Whistler's famous portrait of his mother by placing his sitter in profile in a soft atmospheric setting in Lady in Gold. Both portraits also respond to Japanese prints, then popular in European art circles, in the balance between empty and solid spaces.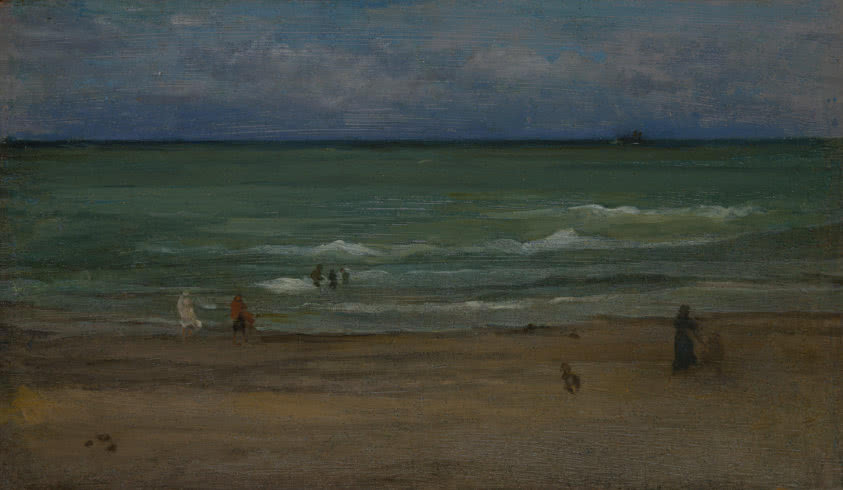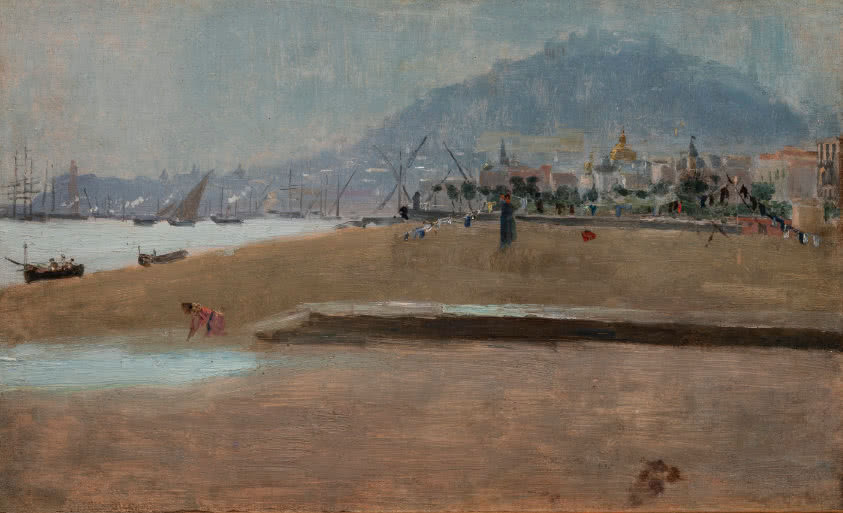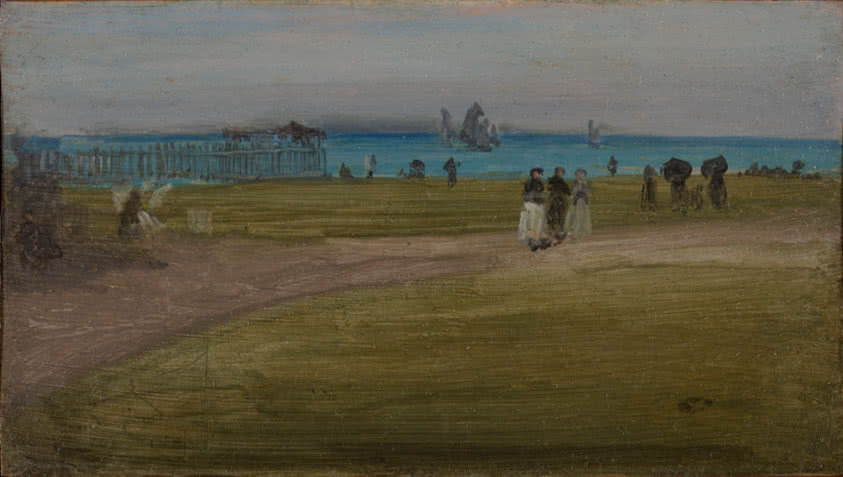 James McNeill Whistler had some rudimentary training in the United States before he arrived in Paris in November 1855. After painting with saturated colors during his formative years, as in Mother Gérard (La Mère Gérard), which is displayed nearby, he approached his wood panels differently by painting with pigments diluted with varnishes of turpentine, similar in approach to painting with watercolors. He wanted to stress that the surface of a painting took precedence over subject matter. This enabled him to capture the fleeting elements of a misty seascape, to evoke a poetic mood.
203. James Abbott McNeill Whistler, Green and Violet: The Evening Walk, 1896
Adele Tanner: Since this exhibition is called Whistler to Cassatt, we must of course view a painting by James McNeill Whistler! I'll tell you another fun little secret about Whistler. He signs his paintings in the shape of a butterfly with a long stinger for a tail. Look closely, you'll see it! Apparently, it represents his subtle or delicate way of painting and his at times combative or angry personality. What do you notice about this painting? I heard he only used three colors in this artwork. Green and violet are obviously in the title. What is the other main color you notice? (beat) I think the blue of the water really stands out He seems fascinating – perhaps I will meet and interview him someday! In the meantime, let us search for some splendid color. Meet me at the colorful painting called Poppies!
John Henry Twachtman
American, 1853–1902
Springtime
About 1884
Oil paint on canvas
Cincinnati Art Museum: Gift of Frank Duveneck, 1908.1218
Bridgeman Images
106. Private Collecting: Overview and John Henry Twatchman's Springtime
Narrator: Pale sunlight shines through morning mist in this scene by John Henry Twachtman. It's built up with a narrow range of harmonizing colors that move between pale and dark tones. Tonalism, as this style was known, was explored by several American artists who passed through Paris in the 1880s. They were influenced by James McNeill Whistler, who'd arrived in Europe from the US thirty years earlier. Some of Whistler's evocative landscapes hang nearby. Whistler's paintings celebrated beauty and color for their own sake.
Standring: Whistler said, "If you don't care about your palette, you don't care about your painting."
Narrator: Echoes of Japanese art – then very fashionable in artistic circles in Paris and London – can be seen in Whistler's simple, flattened compositions. Moreover, he often gave his paintings musical titles, calling them nocturnes, or symphonies to emphasize their lyrical, romantic nature.
This gallery evokes a private collector's assembly of paintings. These smaller works, with their poetic imagery appealing to imagination and memory, were extremely popular with collectors on both sides of the Atlantic.
Standring: Imagine putting a painting like that in your living room, and you thought, "Oh, it was really great when we were in Normandy last summer," and you've got a record of that right in your living room. That's what was going on, that's why they collected.
Whistler to Cassatt: American Painters in France is organized by the Denver Art Museum. The exhibition is supported by the Tom Taplin Jr. and Ted Taplin Endowment, the Kristin and Charles Lohmiller Exhibitions Fund, the Wyeth Foundation for American Art, Kathie and Keith Finger, Lisë Gander and Andy Main, Lauren and Geoff Smart, Christie's, the French American Museum Exchange (FRAME), the generous donors to the Annual Fund Leadership Campaign, and the residents who support the Scientific and Cultural Facilities District (SCFD). This exhibition is supported by an indemnity from the Federal Council on the Arts and the Humanities. Promotional support is provided by 5280 Magazine and CBS4.