Aspiring American artists recognized that studying abroad was essential to their careers. Art schools in the U.S. were just not as sophisticated as those in France. They had a few options: enroll at the École des Beaux-Arts, attend classes in private ateliers (studios) such as the Académie Julian, or do both. In either case, the curriculum included copying reliefs or plaster casts of classical sculptures and drawing and painting the human figure from life models in order to tell stories with their paintings. Students needed these skills to produce works that might be accepted by the Salon jury.
Most ateliers required students to copy and study at the Louvre on a weekly basis. This gave women the opportunity to mingle with male artists in the galleries, which they could not do in their classes, lodgings, or bars and cafés.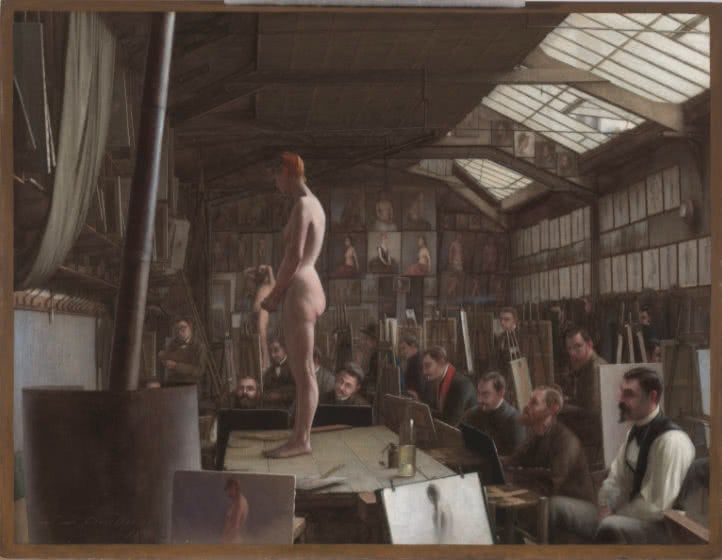 Jefferson David Chalfant
American, 1856–1931
Bouguereau's Atelier at the Académie Julian, Paris
1891
Oil paint on panel
Fine Arts Museums of San Francisco: Gift of Mr. and Mrs. John D. Rockefeller III, 1979.7.26
101. Learning in the French Crucible: overview of art training in Paris with Jefferson David Chalfant's Bouguereau's Atelier at the Académie Julian, Paris
Narrator: Daylight illuminates students focused intently on the life model, in the Académie Julian, a Paris atelier or studio. Many American artists studied here in the late nineteenth century, wanting a level of training and prestige they couldn't find at home. Here's Timothy Standring:
Standring: They went there to learn how to paint, so they would be recognized and they would then be able to garner clients to buy their paintings. You would first draw from plaster casts. You would then draw from the live model, then learn about color mixing and painting.
Narrator: Now move to look at artworks nearby while you listen to Colorado artist Ron Hicks discuss the value of studying the human figure:
Hicks: You are actually looking at a living and breathing thing and you're responding to that. I think it's vitally important. I think my experience when I first got into college closely resembled what you would see in some of the old ateliers. The very beginning was really plasters or simple shapes, understanding form, and in particular, the way light and shadow works, and then it progressed to color as we moved forward.
Narrator: Nineteenth century art students also worked in black and white, then color. They also learned about composition and perspective.
Standring: It was rigorous, it was exhausting. When the master teacher would walk around, you could hear a pin drop. And the master would come over your shoulder and say "bon" or "non" - it's good - or not. And if he didn't say anything, that meant that it wasn't very good at all!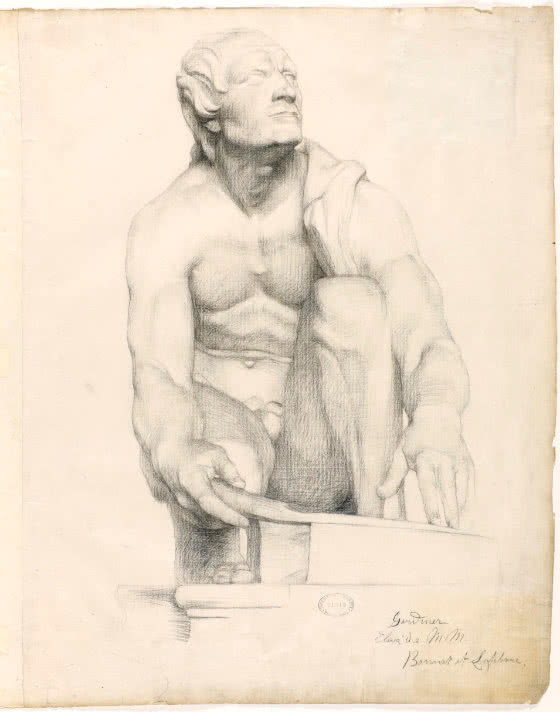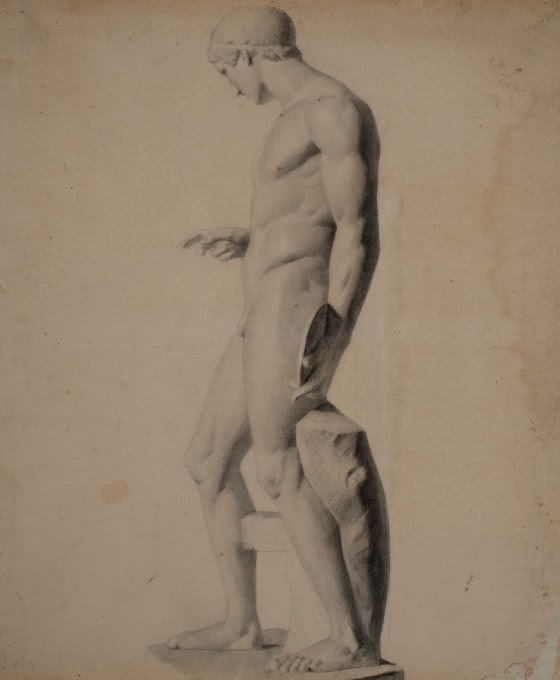 Julian Alden Weir's and Henry Gardiner's drawings represent one step in the process of mastering the academic approach to the human figure. Both were instructed to draw from plaster casts of Greco-Roman classical sculptures such as The Blade Grinder and Standing Discobolus. In more advanced classes, students painted the human figure from life models, as in Jefferson David Chalfant's nearby painting of a private atelier at the Académie Julian.
Hovenden was an unusually rapid worker… whose movements and general characteristics were so deliberate… he made up his mind so thoroughly and mapped out his work so completely before he began to paint.
Thomas Hovenden, about age 55
Thomas Hovenden
American, born in Ireland, 1840–1895
Self-Portrait of the Artist in His Studio
1875
Oil paint on canvas
Yale University Art Gallery: Mabel Brady Garvan and John H. Niemeyer Funds, 1969.28
Irish-born American immigrant Thomas Hovenden painted this self-portrait a year after he arrived in Paris. After studying in the studio of Alexandre Cabanel, he traveled to the western coastal province of Brittany, where he began painting heroic scenes of peasants (see one in the next gallery). Upon returning to the United States, Hovenden—who opposed slavery—continued to paint genre works celebrating family and everyday life, some of which portrayed African Americans.
201. Thomas Hovenden Self-Portrait of the Artist in His Studio, 1875
Adele Tanner (AT): Oh how wonderful, an art studio! My Grandfather Henry spent lots of time in a studio such as this. And oh my goodness, here is a self-portrait of his good friend and teacher, Thomas Hovenden. Since I time traveled, I can talk to the artists or people in the artwork. Oh Thomas, are you there? It is I, Adele Tanner, Henry's granddaughter.
Thomas Hovenden (TH): (Irish accent) Young Adele, is that really you? You made it to the future?
AT: Yes Thomas, I did! I already made some new friends who are here with me right now listening. Thomas, you are in a very relaxed position in this artwork, why is that?
TH: Haha! Well, to be honest, the painting master I study with often paints figures in these very relaxed poses. So I thought I'd paint myself in this pose! I'm celebrating literature, music and painting in this artwork. Can you find all three?
AT: Hmmmm. Well, painting seems obvious with the giant canvas and paint palette in the background. Friends, can you find literature or music? Oh, wait...in his hands? Why...It's a violin! Oh and look, books in the background. We did it friends!
TH: Aye. Very good!
AT: What a delight to see you, Thomas I am quite excited to find my Grandfather Henry. Have you seen him?
TH: Well, I was just painting outside with him this very morn! I believe he is right in the next room.
AT: Wonderful! Friends, let's meet at my Grandfather Henry Tanner's painting in the next room! Goodbye Thomas and thank you!
TH: Farewell young Adele and Friends!
Women artists training in the Atelier Humbert, Paris, 1903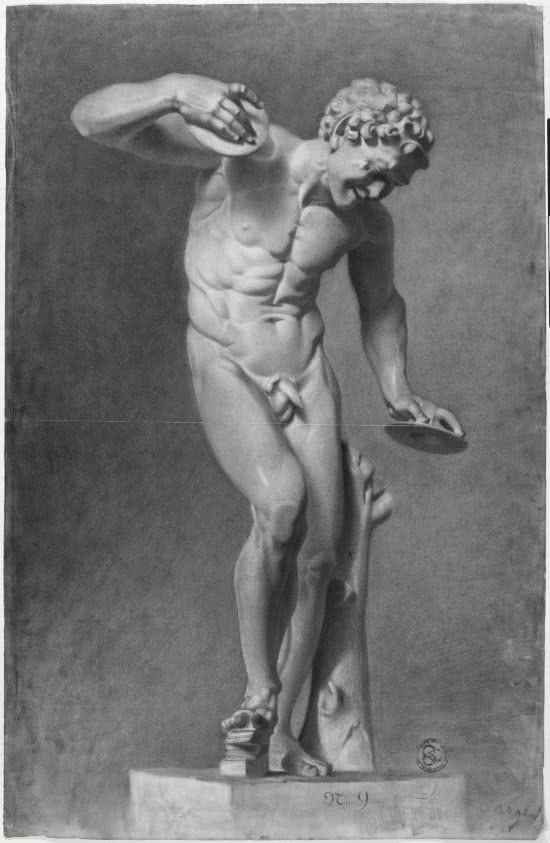 John Singer Sargent
American, 1856–1925
The Dancing Faun, after the Antique
1873–74
Black chalk and charcoal on off-white laid paper (two sheets attached at center)
Harvard Art Museums/Fogg Museum: Gift of Mrs. Francis Ormond, 1937.8.16
Photo © President and Fellows of Harvard College
When John Singer Sargent entered the studio of French master Carolus-Duran in 1874, this drawing made quite an impression, showing his advanced skills at the age of 18. To complement his training with Carolus-Duran—whose emphasis was on painting the nude—Sargent continued his rigorous study of academic drawing at the École des Beaux-Arts.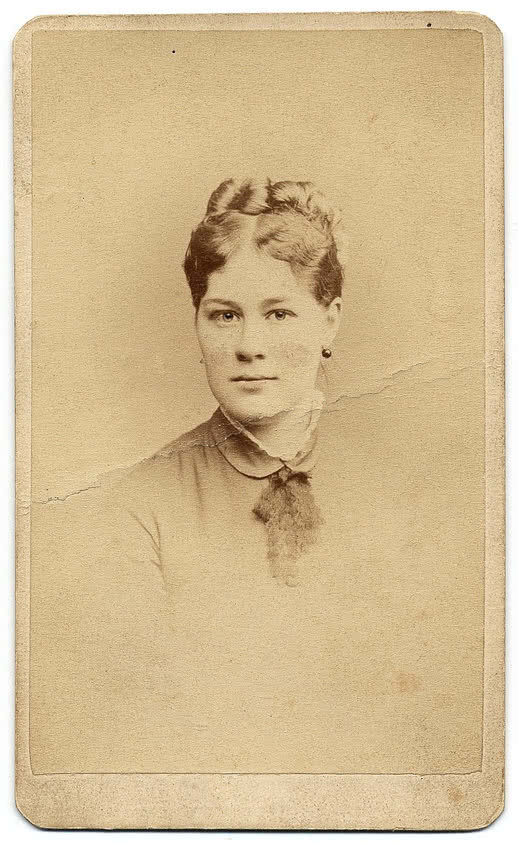 I predict an hour when the term 'Women in Art' will be as strange sounding a topic as the title 'Men in Art' would be now.
Cecilia Beaux, about age 33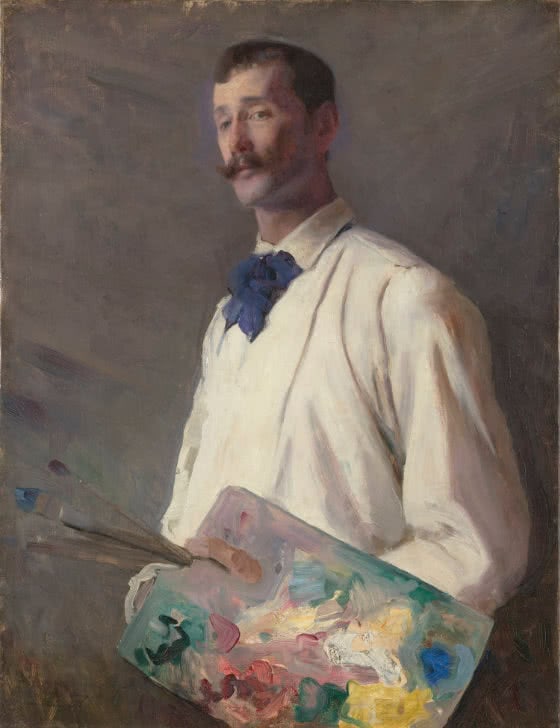 Cecilia Beaux
American, 1855–1942
Alexander Harrison
1888
Oil paint on canvas
Virginia Museum of Fine Arts: J. Harwood and Louise B. Cochrane Fund for American Art and partial gift of Juliana Terian Gilbert in memory of Peter G. Terian, 2009.2
Photo: Katherine Wetzel. © Virginia Museum of Fine Arts
Cecilia Beaux
American, 1855–1942
Standing Male Figure
About 1889
Pencil and chalk on paper
Private collection
Photography courtesy Denver Art Museum
Americans such as Cecilia Beaux still chose Paris for their artistic training even though women were barred from the École des Beaux-Arts until 1897. Beaux opted to study at the Académie Julian, one of a number of ateliers open to women. Although women attended separate classes from men and were not allowed to sketch from a male nude, they vied equally in monthly competitions and often carried off the prizes. Unlike in the U.S., where gender was often obscured by the use of initials for first names, the French Salon catalogs clearly identified them with Mlle (mademoiselle) or Mme (madame).
102. Learning in the French Crucible: Cecilia Beaux's Standing Male Figure and Alexander Harrison
Narrator: Already an established artist in her native Philadelphia, Cecilia Beaux came to Paris in 1888 for further training – where she made this accomplished sketch a year later. Excluded from the French state-sponsored École des Beaux-Arts, women could enter private academies.
Burns: All art study was gender segregated in the ateliers like the Académie Julian, where she did study. Women artists have access to certain parts of academic training, but then other parts are off limits.
Narrator: That's Emily Burns, Associate Professor of Art History at Auburn University. The Académie Julian's female students drew from life models – but as you can see, they were shielded from total nudity!
The highest reaches of artistic achievement – paintings that told historical or religious stories – were thought to require considerable intellectual as well as technical ability. Such subjects were considered inappropriate for women artists, who often engaged in still life and portraiture - which Beaux became especially known for. To the right, you'll see Beaux's portrayal of her friend and mentor Alexander Harrison – another American artist living in France.
Burns: I love how she tilts up his palette to show us all the different colors, and there is a greater thickness of the paint surface on that part of the painting, as she's highlighting the kind of choices that artists are developing in their art study in Paris, between the glazed and built-up academic figures and the more vigorous brushstroke that we would associate with Impressionism. And so she places Harrison right in the middle of those two aesthetic practices.
Whistler to Cassatt: American Painters in France is organized by the Denver Art Museum. The exhibition is supported by the Tom Taplin Jr. and Ted Taplin Endowment, the Kristin and Charles Lohmiller Exhibitions Fund, the Wyeth Foundation for American Art, Kathie and Keith Finger, Lisë Gander and Andy Main, Lauren and Geoff Smart, Christie's, the French American Museum Exchange (FRAME), the generous donors to the Annual Fund Leadership Campaign, and the residents who support the Scientific and Cultural Facilities District (SCFD). This exhibition is supported by an indemnity from the Federal Council on the Arts and the Humanities. Promotional support is provided by 5280 Magazine and CBS4.