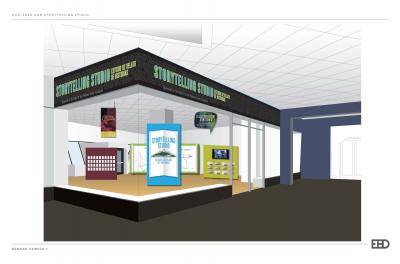 Storytelling Studio
Our interactive Studio is a place to spark your creativity, connect with Denver's creative community, and get a new perspective on the artistic process. It is currently closed due to COVID-19. When it reopens in 2021, the focus will be on storytelling.
Visitors will have the chance to explore themes of place, identity, and imagination in the brand new Storytelling Studio.
Through two interactive, self-guided activities, visitors will be able to discover how artists combine visual imagery and the power of words. The Storytelling Studio will even expand beyond the museum walls—visitors will be able to become a part of the story via an artist installation on the plaza, or watch videos from local artists online.
Plaza Installation
While the Studio is closed, we are still engaging with local artists through the projects created for the plaza windows. Our latest collaboration with Andrew Huffman, Domino Projection, brings art to passersby and visitors alike. This is a site-specific, ephemeral installation that responds to the existing architecture and contemporary times to produce a unique, optimistic and interactive artwork. Stop by the Martin Plaza to experience Domino Projection and become a part of the art!
Stay tuned for the next iteration of this project, coming October 2020.
Dominoes may be destined to fall due to gravity, but we can always rebuild and stack them up again.

—Andrew Huffman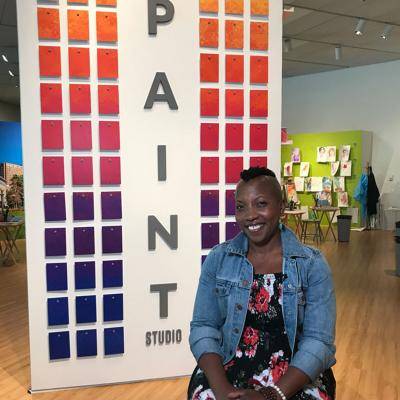 Studio Demo Artists
The Studio's weekend demo artist programs are currently on hold, but you can learn more about many of the local artists we partner with in these articles.
The Studio is generously sponsored by Robert and Judi Newman Family Foundation.