What is a Sensory Garden?
A sensory garden is an accessible outdoor space for visitors of all ages and abilities to engage with and enjoy plants that evoke the five senses.
Why build a Sensory Garden at the Denver Art Museum?
We hope visitors to the garden find rest and relaxation, connect with nature through touch, smell and sight, and explore the link between creativity and the natural world. Built in September 2020, the Sensory Garden is a site for many creative experiences at the DAM, including our creative aging programs that aim to support healthy aging and wellbeing of our older visitors.
Our Partners
Didier Design Studio, a landscape architecture firm in Fort Collins, Colorado, designed, fabricated and installed the raised planter beds that provide the foundation of the garden. The architecture of the surrounding building, designed by Gio Ponti, inspired the shape, color and features of the garden planter design.
The Denver Botanic Gardens carefully selected plants that will thrive in the garden's unique environment and that create immersive multisensory experiences. Angie Andrade, Associate Director of Therapeutic Horticulture, and Kevin Philip Williams, Assistant Curator, designed distinct planting layouts for each of the raised beds and have carefully guided the growth and care of the garden.
Learn more about the design of the WATER, WOOD and SKY planting beds in this blog by Kevin Philip Williams.
Visiting the Garden
The Sensory Garden is located on level 1 of the Martin Building. Please enter through the Bartlit Learning and Engagement Center via the Ruby Red Workshop, or from the outside through the Prow Courtyard located on the north side of the Martin Building.
The best time to visit the garden is May through October. Please be aware the garden will close during inclement weather. Check the visitor services desk at either building for more information about accessing the garden.
Visit from Home
Can't make it to the garden in person? Look through these photographs to transport yourself. Come back and visit throughout the year to see the space develop and change with the seasons.
If you're interested in learning more, download a PDF version of the Sensory Garden Field Guide, a handheld companion to the garden. Flip through to find botanical illustrations and multi-sensory close-looking prompts that invite you to slow down and notice something special about each of the Sensory Garden plants.
Take a Virtual Tour
Watch videos and browse through photos that take you inside the new Sensory Garden.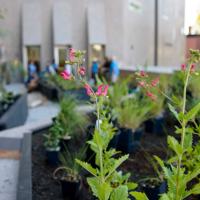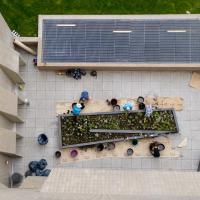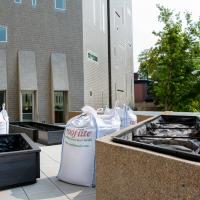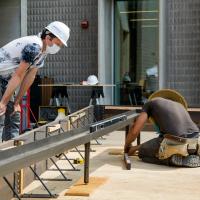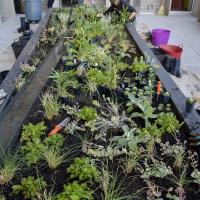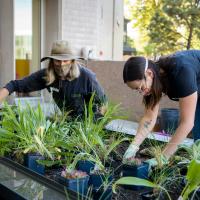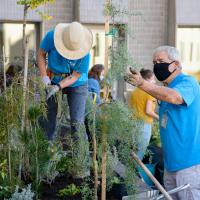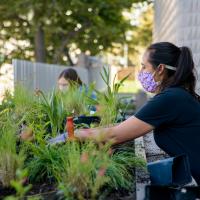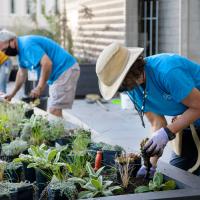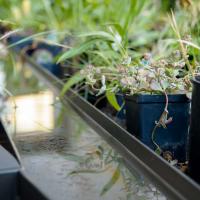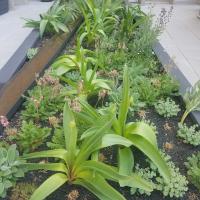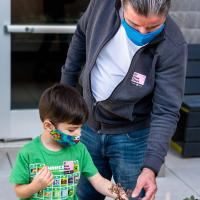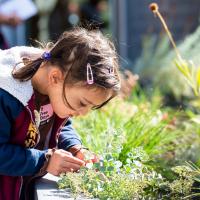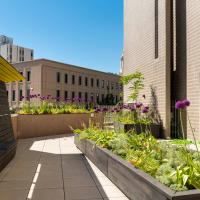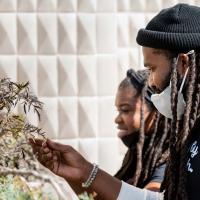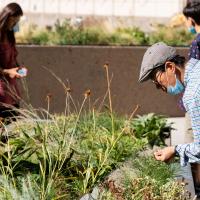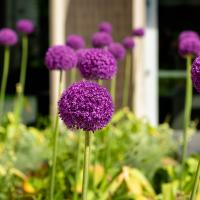 The Sensory Garden, located in the Clarence V. Laguardia Foundation Courtyard at the DAM, was constructed thanks to a generous grant from the Colorado Garden Foundation. Additional support for programming is provided by the Institute for Museum and Library Services, NextFifty Initiative, Colorado Creative Industries, and the residents who support the Scientific and Cultural Facilities District (SCFD). Special thanks to our colleagues at the Denver Botanic Gardens for their contribution to the project.