Traveling in Style
Gregory and Véronique traveled frequently to his film locations, for movie premieres, on family vacations, and to attend philanthropic events. Véronique packed her travel wardrobe in elegant suitcases from Goyard, a leather goods company founded in Paris in 1853. For her travel suits, she appreciated the skills of Givenchy and of Pierre Cardin, one of the great masters of tailoring.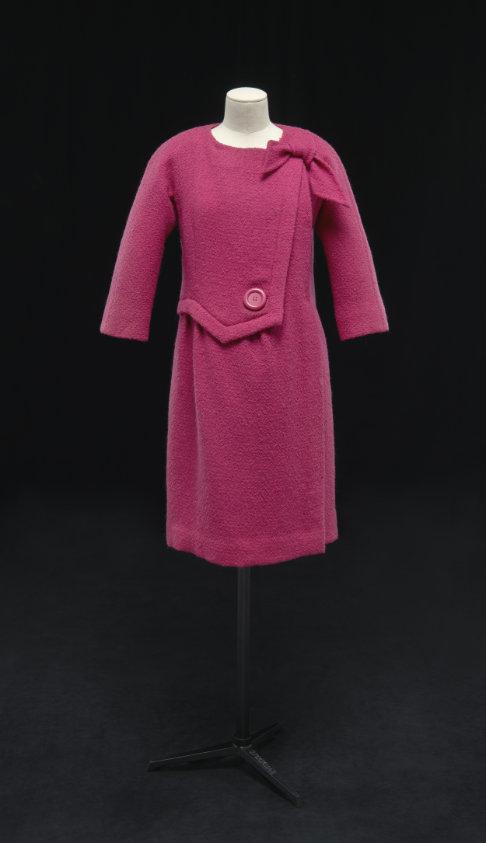 Pierre Cardin, Paris
Coatdress
Haute Couture Fall–Winter 1961–62
Wool bouclé with silk or synthetic lining
Véronique Peck Collection at the Denver Art Museum: Gift of Cecilia Peck Voll, 2021.2
With the triangular cut of its front panel, this pink coatdress from Cardin's Winter 1961–62 collection anticipates the radical geometric style that would make Cardin a leading promoter of the space-age look after 1965.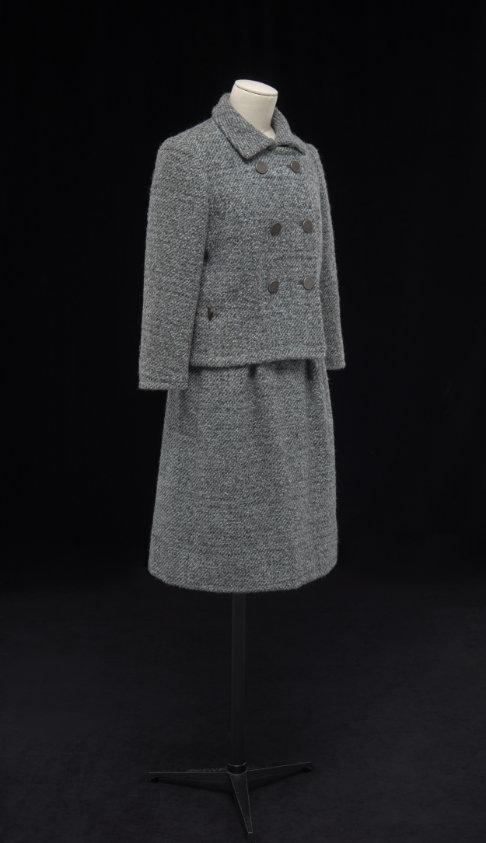 Hubert de Givenchy for Givenchy, Paris
Ensemble: Jacket and Skirt
Haute Couture Fall–Winter 1964–65
Wool bouclé with silk lining
This suit, with its boxy cut and thick wool, was suitable for many trips, including one that the couple took to Ireland in September 1968 to reconnect with Gregory's Irish roots.
A Parisian in Hollywood
Gregory's charisma and acting talent paired with Véronique's intellect and elegance made them highly sought-after guests at artistic, social, and charitable functions. Véronique was considered an ambassador of French chic in Hollywood, who had a preference for spectacular dresses that were nonetheless easy to wear—never stiff or pretentious. Although she favored Saint Laurent, Valentino, Pucci, and Thea Porter in the sixties and seventies, she developed a taste for the more ornate designs of Jean-Louis Scherrer and Guy Laroche in the eighties.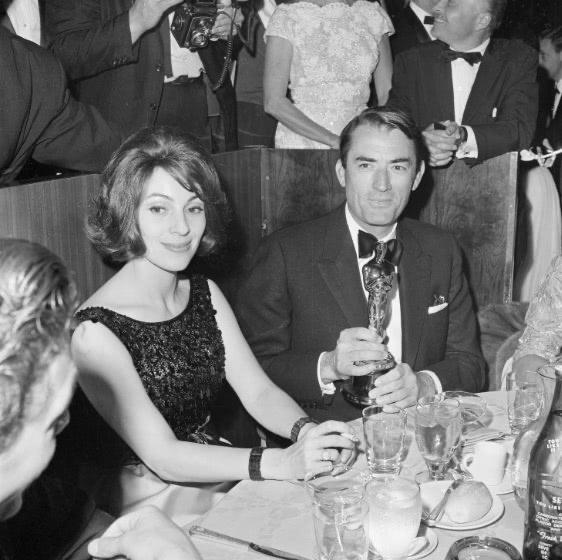 Véronique and Gregory at the 35th Annual Academy Awards at Santa Monica Civic Auditorium, April 8, 1963. Gregory holds his Oscar for Best Actor as Atticus Finch in To Kill a Mockingbird. Véronique is wearing an Yves Saint Laurent blouse and skirt, Haute Couture Fall-Winter 1962, Look 74.
Véronique wore this effortless ensemble for the 35th Annual Academy Awards in 1963, where Gregory Peck won the best actor Oscar for his portrayal of principled attorney Atticus Finch in To Kill a Mockingbird.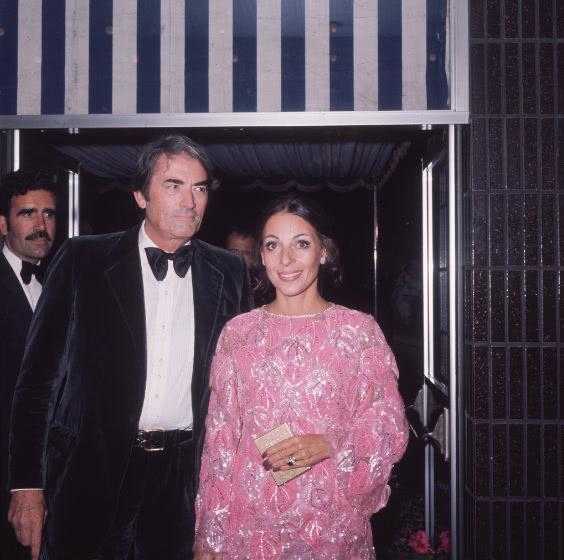 Gregory and Véronique attend the premiere of the James Bond film Live and Let Die, 1973. Véronique is wearing a Jean-Louis Scherrer Haute Couture dress from about 1971.
A Love Story
Véronique and Gregory Peck exemplified Hollywood glamour. Their warmth and timeless style, epitomized in these red-carpet looks, influenced young stars like Sharon Stone and Laura Dern, to whom Véronique was a fashion and lifestyle mentor. In a milieu prone to scandal and brief relationships, the couple's enduring love story of five decades was also an ideal that set them apart.
She had such great perspective, not just about writing or Hollywood, but about politics and science and global issues.
Exhibition Access Guide Sections
Paris to Hollywood: The Fashion and Influence of Véronique and Gregory Peck is organized by the Denver Art Museum and presented by Joy Dinsdale. Additional support is provided by Bridget and John Grier, the generous donors to the Annual Fund Leadership Campaign, and the residents who support the Scientific and Cultural Facilities District (SCFD). Promotional support is provided by 5280 Magazine and CBS4.
The Denver Art Museum is grateful for the generous funding of the textile art and fashion department by the Avenir Foundation and Nancy Lake Benson.