Favorite Couturiers: Yves Saint Laurent
Véronique discovered Yves Saint Laurent in 1962—early in his career—and the Pecks became dear friends of the designer and his partner, Pierre Bergé. Véronique exemplified Saint Laurent's desire that his dresses allow for a woman's self-expression. His designs amplified her ability to mix styles and accessorize in unconventional ways. She collected numerous Saint Laurent haute couture prototypes between 1962 and the 1990s, often selecting the most iconic pieces in a collection. The designer's recurring themes of "imaginary travels" are well represented in her wardrobe, with garments inspired by India, Russia, Spain, and China.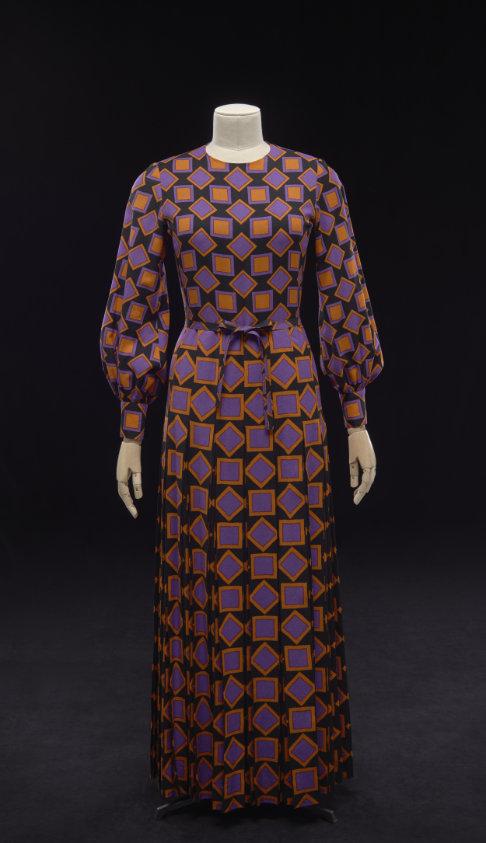 Exclusive Prints
Yves Saint Laurent, Paris
Dress
Haute Couture Fall–Winter 1968, Look 17
Printed wool by Abraham (textile house), Zurich, with silk lining
Prototype (original runway piece)
For daytime wear, Véronique collected these dresses with geometric patterns, the hallmark of the exclusive fabrics created by Gustav Zumsteg of Abraham, a textile house based in Zurich, for Saint Laurent.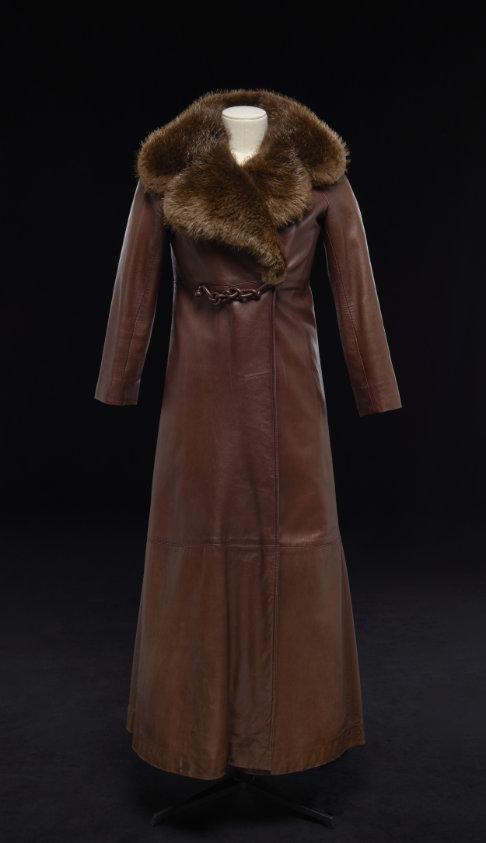 Yves Saint Laurent, Paris
Maxi Coat
Haute Couture Fall–Winter 1967–68, Look 88
Leather with beaver fur trim and synthetic lining
Véronique paired this Saint Laurent leather maxi coat, riding boots, and printed scarf with a Navajo squash blossom necklace to express her unique personal style.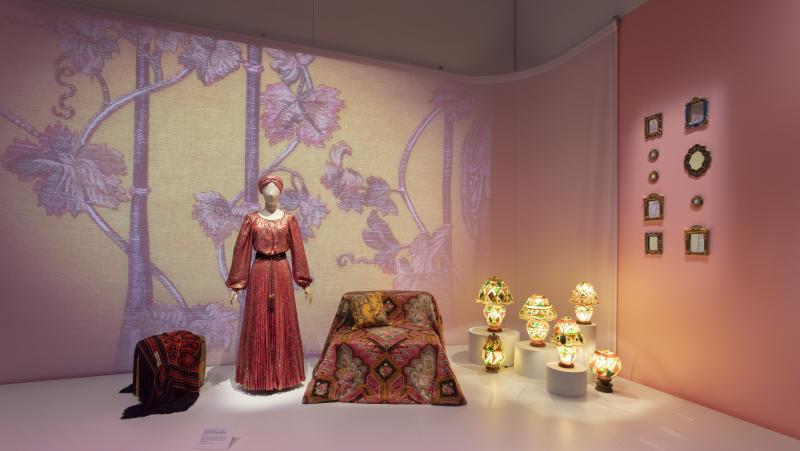 The Pecks at Home
At the Peck home in Los Angeles, a small sitting room was the preferred place for that most French of pastimes—the art of conversation—at which Véronique excelled. Here we evoke that room, which she called "the casbah," and which she decorated with colorful lamps, mirrors, and dynamically patterned fabrics, such as those on the low Moroccan-style couches. The cosmopolitan nature so evident in her fashion choices is also reflected in her interior design style.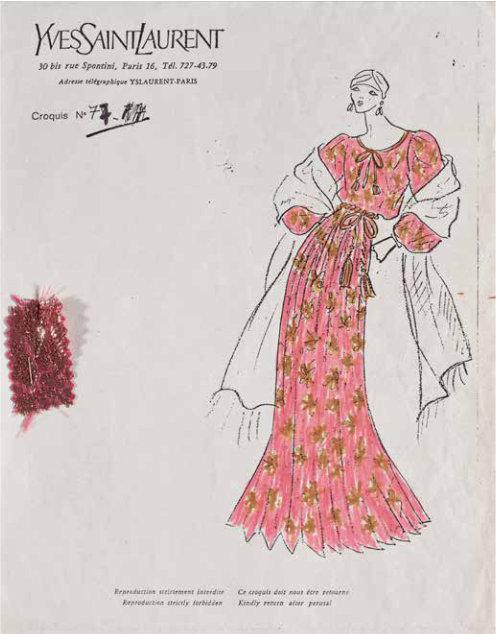 A Dress, Documented
Yves Saint Laurent, sketch with fabric swatch of Look 77
Haute Couture Fall–Winter 1976–77 collection
These documents provide insight into the relationship between Véronique and the fashion house of Yves Saint Laurent. This sketch with fabric sample and receipt are for the dress shown here A letter written by Véronique's saleswoman, Sylviane Hutchinson, alerts Véronique to new dresses.
Véronique loved the world too much to be only a Parisian. She loved Los Angeles, loved creating a home base for not only her family, but for everyone.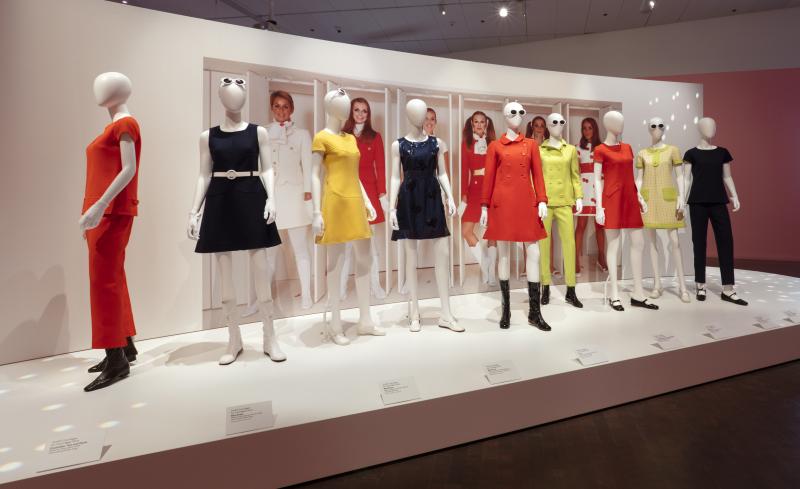 Favorite Couturiers: André Courrèges
André Courrèges became a sensation with his revolutionary Spring-Summer 1965 collection, dubbed the "Courrèges bomb." With its emphasis on minidresses and pantsuits, the collection made fashion history as the boldest statement of 1960s youth culture. Combined with flat shoes, these clothes liberated women to truly move. Véronique embraced this futuristic aesthetic and acquired many Courrèges pieces in both the pastel and Pop colors that became signatures of his style.
She also introduced the designer to the US when, in 1967, she organized his first American fashion show as part of a fundraiser for the Inner City Cultural Center in Los Angeles. This philanthropic effort led to Véronique being named Woman of the Year by the Los Angeles Times.
A Legacy of Style and Purpose
Véronique and Gregory Peck's support for civic causes accounted for their glamorous presence at philanthropic events around the world. Before they met, Gregory was engaged in social activism and throughout his career he chose roles that reflected his humanitarian principles, such as Gentleman's Agreement, On the Beach, and To Kill A Mockingbird. In 1971, despite his support for his son serving in the U.S. Marines, Peck produced a movie opposing the Vietnam War. He often spoke out against prejudice or discrimination. In their marriage, Véronique supported his continued efforts and was herself an extraordinary humanitarian and patron of the arts, organizing impactful fundraisers and donating time and resources to causes important to the couple. After her husband's death in 2003, she carried on the Gregory Peck Reading Series at the Los Angeles Central Library, and in 2009 received the Library Foundation's Light of Learning Award for her tireless efforts.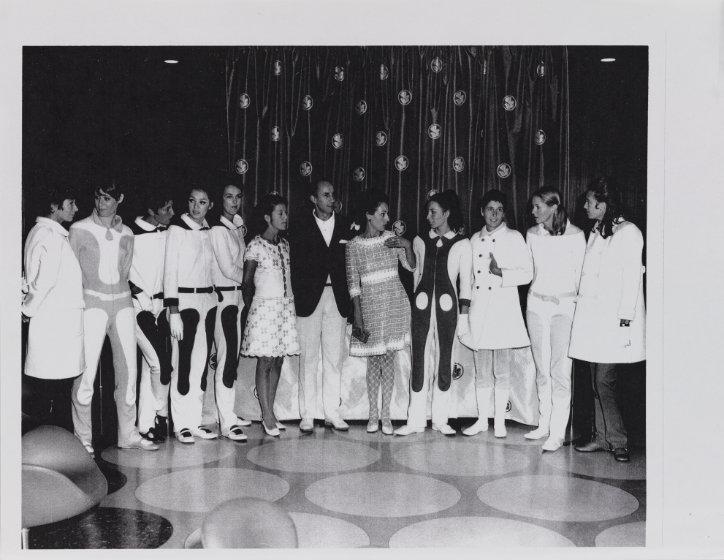 Véronique on Stage with André Courrèges
This photo shows André Courrèges with Véronique and his future wife, Coqueline, at Los Angeles nightclub The Factory on November 14, 1967, during his first US fashion show. The models bounded onto the runway dancing and skipping, accompanied by music. Courrèges collaborated with Véronique to devise this unconventional type of fashion show as a break with the elitist haute couture convention of silent runway shows and stiff postures. Famed dancer and choreographer Gene Kelly staged the Los Angeles presentation. Courrèges wanted to bring high fashion to everyday life in his attempt to make it more accessible.
Exhibition Access Guide Sections
Paris to Hollywood: The Fashion and Influence of Véronique and Gregory Peck is organized by the Denver Art Museum and presented by Joy Dinsdale. Additional support is provided by Bridget and John Grier, the generous donors to the Annual Fund Leadership Campaign, and the residents who support the Scientific and Cultural Facilities District (SCFD). Promotional support is provided by 5280 Magazine and CBS4.
The Denver Art Museum is grateful for the generous funding of the textile art and fashion department by the Avenir Foundation and Nancy Lake Benson.