Admired by the Couturiers
Véronique's parents paved the way for her to become a fashionable Parisian. Her father was an architect, and her Russian mother was an artist. As a reporter for the newspaper France-Soir, Véronique kept up with politics and science, as well as the latest trends in the theater, literature, art, and restaurants. When she became Mrs. Peck, the couture houses were eager to be associated with the high-profile wife of a beloved actor. For this reason, Véronique was able to acquire, from time to time, the original prototype created by the couturier that was modeled in the fashion show.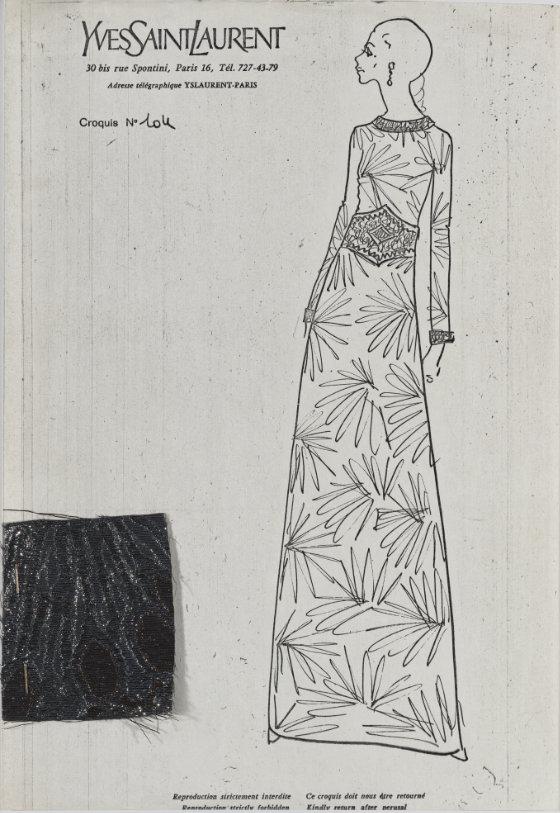 Yves Saint Laurent and Givenchy Fashion Sketches
Because Véronique was not able to travel to Paris for every fashion week, the couture houses would send her sketches of the new dresses and hats that her mother, Alexandra Passani, saw on the runway and thought would suit her daughter. Drawings like the ones shown here, with fabric samples attached, would help Véronique make her final choices.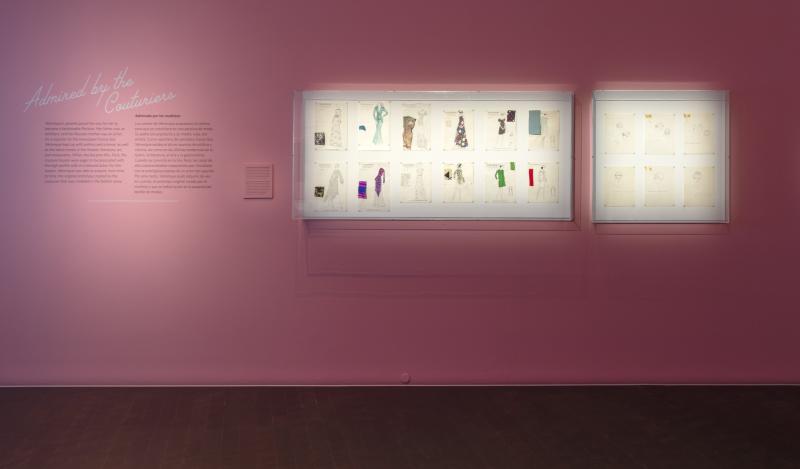 Mother-Daughter Notes on Fashion
Véronique's mother, Alexandra Passani, took detailed notes (sometimes complete with her own drawings) at Paris fashion shows, which she would send to her daughter in order to make informed decisions about which pieces to acquire.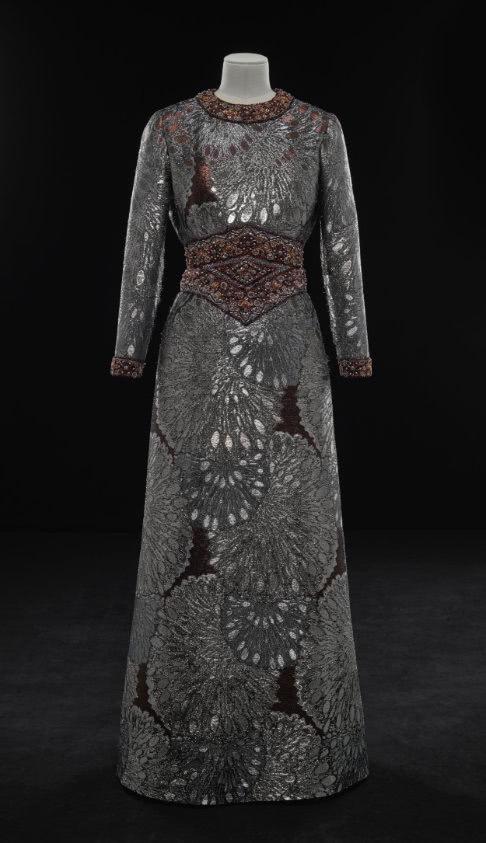 Yves Saint Laurent, Paris
Dress
Haute Couture Fall–Winter 1969–70, Look 104
Synthetic lamé by Abraham (textile house), Zurich, with beading by Maison Lesage (embroidery house), Paris, with silk lining
Prototype (original runway wedding dress with bodice modification)
Véronique was one of very few women allowed to purchase runway samples from Yves Saint Laurent. Occasionally alterations would be necessary, as was the case with this silver evening gown, which was styled in the fashion show as a wedding dress with a transparent bodice. Véronique requested this opaque transformation—it would have been scandalous to wear a sheer top off the runway.
Decades of Style
Through the decades, Véronique's style was both classic and au courant (of the moment). She was aware of and responsive to evolving trends in fashion and culture. In the fifties, she followed the refined custom of an outfit for every occasion: sportswear for leisure moments, tailored suits for urban daywear, and elegant short dresses for cocktail hour. In the sixties, she loved vivid colors inspired by Pop art, as seen in Saint Laurent or Givenchy's graphic patterns. She also embodied Emilio Pucci's dolce vita attitude with his iconic prints. In the seventies, she championed the jet-set style of Thea Porter, who designed flowing dresses stitched together from fabrics the designer bought while traveling in the Middle East. In the eighties, Véronique wore tailored ensembles emblematic of the powerful modern woman.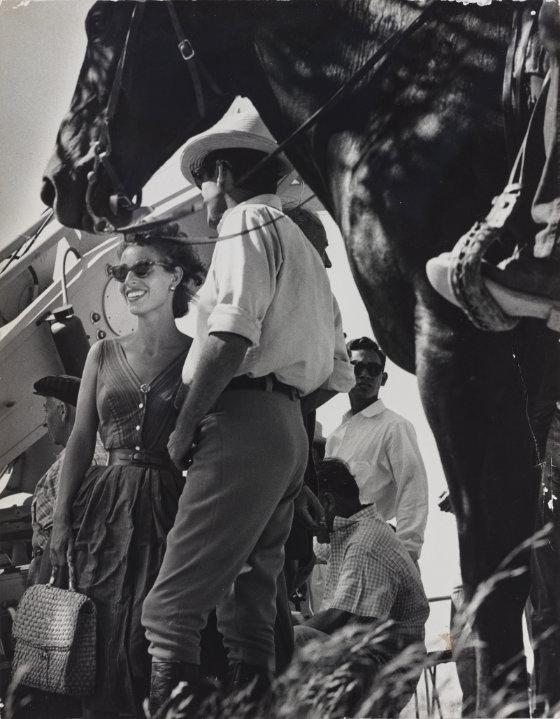 Family Album
This wall of photos illustrates Véronique and Gregory's lifestyle from the fifties to the beginning of the nineties and ranges from intimate moments with their children, Cecilia and Anthony, to travels throughout the US and Europe, including holidays in the French Riviera and filming around the world. At gala events in Hollywood, Paris, Venice, and Washington, DC, the Pecks mingled with actors and politicians such as Audrey Hepburn, Liza Minnelli, Hillary Clinton, and French president Jacques Chirac. Among their closest friends were Ava Gardner and Frank Sinatra.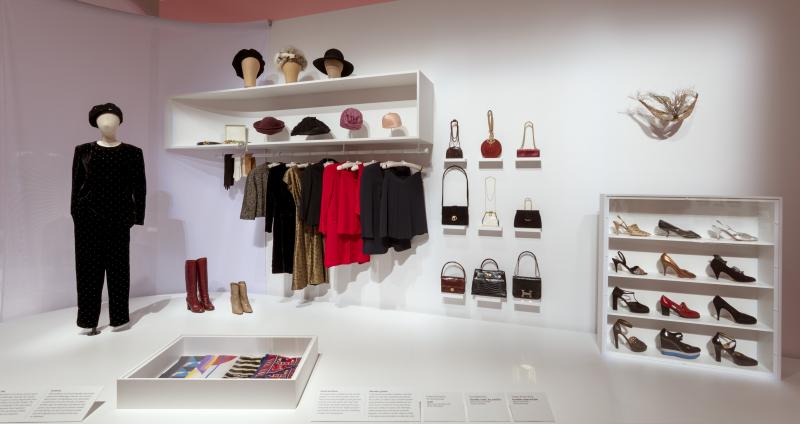 Inside Véronique's Closet
As a collector and former journalist, Véronique organized her wardrobe with an eye to posterity. Keenly aware of the significance of her possessions, she had each piece photographed and kept records with press clippings to complete its story.
This installation shows the diversity of her collection. Not only is there a range of haute couture pieces, but also garments by new talents. These include the so-called créateurs, like Giorgio Armani or Karl Lagerfeld at Chloé, who combined the luxurious standards of the past with the streetwear of the moment. Sonia Rykiel also created a streetstyle sensation with her rhinestone and velvet tracksuits, elevating casual leisurewear to sophisticated daywear. Véronique also had an uncanny ability to match garments with appropriate accessories, like the towering platform shoes of Azzedine Alaïa and Miuccia Prada.
Shoes
Véronique's shoe collection includes several famous labels, such as Charles Jourdan, Valentino, and Halston. Notable among them are the stilettos with "comma" heels—the signature of master designer Roger Vivier. The riding boots exemplify the Yves Saint Laurent style.
Handbags
Véronique favored emblematic leather companies like Fendi, Gucci, and Hermès. The iconic "Kelly" bag by Hermès is made of crocodile skin.
Scarves and Gloves
Véronique loved to complete her look with the addition of a scarf tied around her neck or her head. Shown here are brightly colored geometric prints by Yves Saint Laurent and Thea Porter. In the 1950s, fashionable ladies like Véronique wore gloves for almost every elegant occasion—wrist-length for daywear and up to the elbows or longer with evening gowns.
Hats
These hats are from famous couture houses such as Balenciaga, Givenchy, Guy Laroche, and Saint Laurent, as well as designers like Sonia Rykiel and milliners such as Elvis Pompilio. The black felt hat is emblematic of the Saint Laurent style. A rare masquerade mask is signed by Jean Barthet, one of the most famous milliners of the 1950s in both Paris and Hollywood.
Jewelry
Véronique had a large, diverse collection of costume jewelry in order to pair the most appropriate pieces with each look. She could choose from classic pearls and brooches or more cutting-edge pieces by designers like Céline, BillyBoy, and Kenneth J. Lane.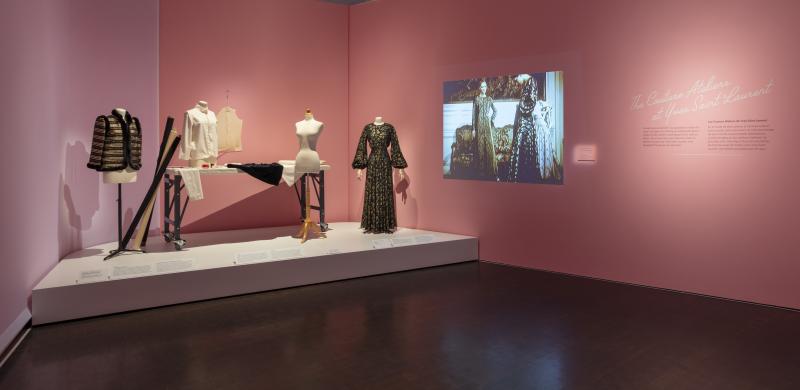 The Couture Ateliers at Yves Saint Laurent
Haute couture fashion—as opposed to ready-to-wear—is high-end clothing by leading designers, made in their ateliers (workshops) from start to finish. Véronique Peck was a favorite client of fashion houses like Yves Saint Laurent, who designed the pieces you see here. They exemplify two different kinds of couture garments:
Modèles Originaux
This evening gown is an original sample and was worn by a model on the runway. Such prototypes, or modèles originaux, were presented to the press and exclusive clients like Véronique at special showings. They represent the ideal vision and original intention of the designer.
Modèles de Clientes
This jacket and skirt ensemble is a modèle de cliente, which is a reproduction of a runway original, but made to measure for a private client. This customized approach incorporates a client's requests for alterations in color, cut, or proportion that modify the designer's original vision. Saint Laurent's ateliers used a dressmaker's dummy with Véronique's exact measurements, shown here, so they could create clothing fitted perfectly for her.
A Toile
In high-fashion houses like Yves Saint Laurent, the atelier creates a three-dimensional mockup called a toile from the designer's sketch. You can see an example of the toile for the jacket on this platform. A toile is made of an inexpensive fabric such as plain cotton muslin, and it helps the designer see their sketch in three dimensions. Once approved, the toile is taken apart to make a flat pattern like the one you see on the wall, which is used to cut the designer's chosen fabric.
Exhibition Access Guide Sections
Paris to Hollywood: The Fashion and Influence of Véronique and Gregory Peck is organized by the Denver Art Museum and presented by Joy Dinsdale. Additional support is provided by Bridget and John Grier, the generous donors to the Annual Fund Leadership Campaign, and the residents who support the Scientific and Cultural Facilities District (SCFD). Promotional support is provided by 5280 Magazine and CBS4.
The Denver Art Museum is grateful for the generous funding of the textile art and fashion department by the Avenir Foundation and Nancy Lake Benson.