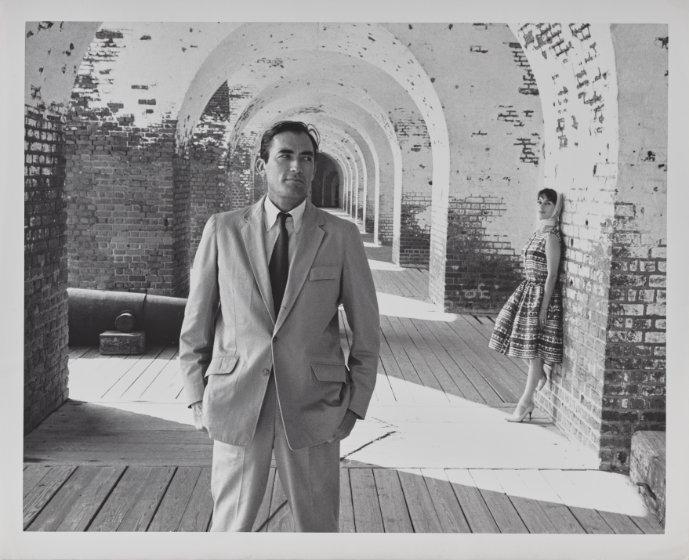 Parisian Holiday
Véronique and Gregory Peck were a power couple whose influence was felt from New York to London, Paris to Hollywood. They met when the actor was filming Roman Holiday with Audrey Hepburn in 1952. En route to Rome, Gregory stopped in Paris. While there, he had a newspaper interview with a promising young journalist, Véronique Passani. On the return trip, he invited Véronique to lunch. She gave up a scheduled interview with Albert Schweitzer, winner of the 1952 Nobel Peace Prize, and chose to meet Gregory instead. A love story was born. The two married on New Year's Eve 1955, and their lifelong romance lasted until Gregory's death on June 12, 2003.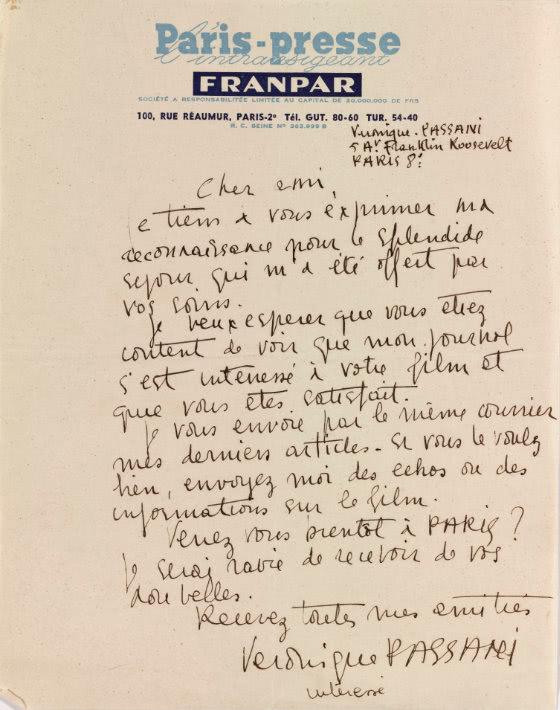 The Beginning of a Romance
Letter written by Véronique on Paris-Presse letterhead, possibly her first correspondence with Gregory Peck, 1952.
Several documents shown here date back to the time the couple met: the 1950s portraits of Véronique, a letter and article written by Véronique, and an invoice from 1952 for an article that she wrote about Gregory. This clip from Roman Holiday shows how the circumstances of the meeting between Gregory, who was Hollywood royalty, and Véronique, "the journalist," is a reversal of the film's story of a princess who falls in love with an American newsman.
When my parents entered a room, you couldn't take your eyes off them. They made style look effortless. Their style was a reflection of their love.
A Figure of Fashion
Véronique Peck stood out for her fashion-forward choices, always on trend without being showy and perfectly attuned to what looked best on her. Her eclectic taste reflected the inquisitive nature of this former journalist. She was intrigued by the avant-garde couturiers of the sixties and seventies such as André Courrèges, Pierre Cardin, and Yves Saint Laurent. She also enjoyed wearing designs by the masters of French haute couture such as Balenciaga and Christian Dior, as well as Pucci, a rising star in Italian fashion. Véronique was featured in numerous magazines and newspapers, cementing her as a style icon among Hollywood's most fashionable.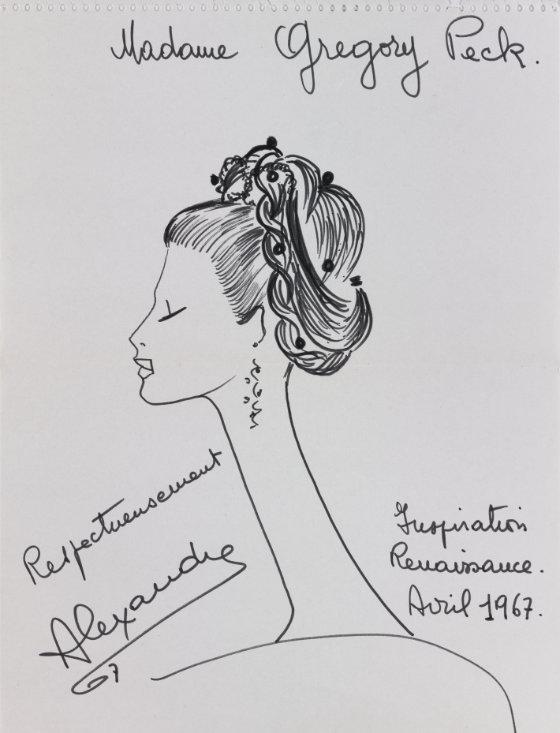 Véronique's Personal Archives
It was second nature for Véronique, a former journalist, to document her life, filing ephemera in an elegant Hermès case like the one exhibited here. The documents illustrate the link between Véronique and magazines such as Vogue and Town & Country. The drawing of her wearing an Yves Saint Laurent geometric dress from Fall–Winter 1968 was published in Women's Wear Daily, which regularly praised her elegant style. Alexandre de Paris, a famous Parisian hairdresser, created this drawing of a hairstyle specifically for her. Other documents illustrate her philanthropic and social activism.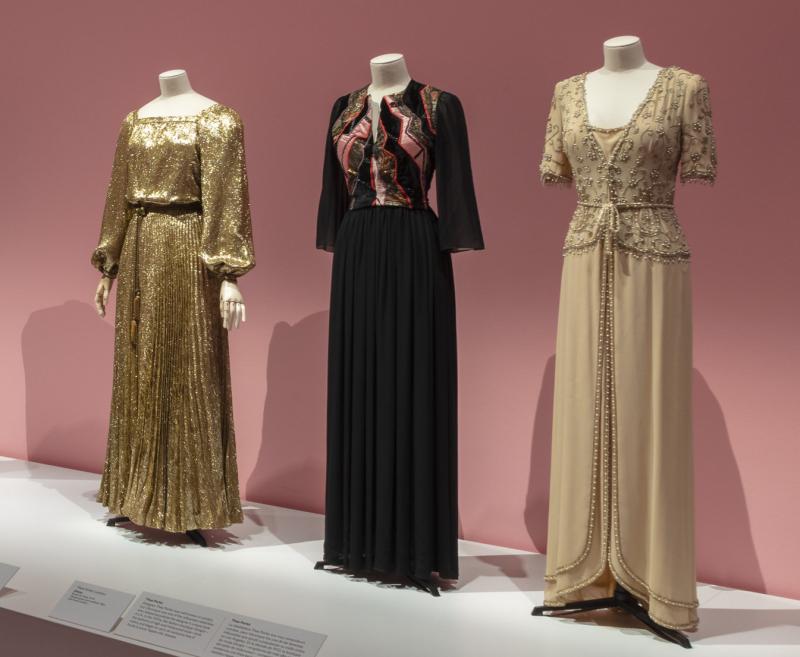 Image Description:
Silk georgette and synthetic fiber patchwork bodice
Thea Porter, London
Dress
Ready-to-Wear 1975
Silk georgette and synthetic fiber patchwork bodice
Designer Thea Porter was well known in London, but Véronique was one of the influential celebrities who helped popularize the designer's unique style in LA. In the 1970s, the fashion boutique Giorgio—the epitome of high-end Hollywood style—took notice and began to carry an exclusive line of Porter's iconic hippie-chic dresses.
…She was the quintessential French beauty . . . not perfect, but beyond perfect, with that certain allure—the French call it je ne sais quoi.
Exhibition Access Guide Sections
Paris to Hollywood: The Fashion and Influence of Véronique and Gregory Peck is organized by the Denver Art Museum and presented by Joy Dinsdale. Additional support is provided by Bridget and John Grier, the generous donors to the Annual Fund Leadership Campaign, and the residents who support the Scientific and Cultural Facilities District (SCFD). Promotional support is provided by 5280 Magazine and CBS4.
The Denver Art Museum is grateful for the generous funding of the textile art and fashion department by the Avenir Foundation and Nancy Lake Benson.