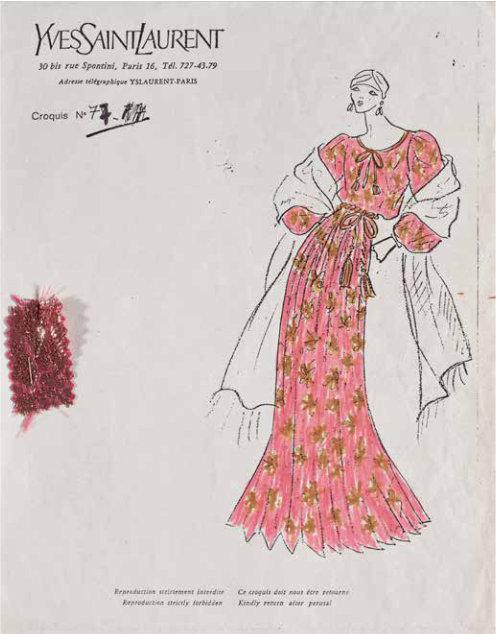 A Guide to Fabric Types
You will see the following terms on labels throughout the exhibition. Use this guide to help understand the materials fashion designers and makers use, and how these choices result in very different clothing effects.
Bouclé: Fabric with protruding loops on the surface, resulting from it being knit or woven with yarn that has a curled ply.
Charmeuse: A lightweight silk or silklike fabric, characterized by being very shiny and easy to drape.
Cigaline: A nearly transparent silk fabric with a honeycomb-like weave.
Devoré: Also called burnout, this is a fabric technique particularly used on velvets. A chemical process dissolves some of the fibers to create a semitransparent pattern against more solidly woven background.
Faille: A medium-weight fabric, usually made from silk, with subtle horizontal ribbing.
Gazar: A stiff, gauzy silk fabric.
Georgette: A semi-sheer fabric that is typically made from silk, but can also be made from synthetic fibers. It is woven using tightly twisted yarns, which creates a slight crinkle effect on the surface.
Jacquard: Fabric woven on a loom invented by Joseph Marie Jacquard. Its mechanism allows the weaving of very complex patterns.
Lamé: A woven fabric using metal or metallic threads to create either the fabric's design or its background.
Organdy: A fine thin, light, and transparent cotton fabric with a stiff, crisp finish.
Organza: A fine thin, light, and transparent silk or synthetic fabric with a stiff, crisp finish.
Piqué: A medium-weight fabric, usually cotton, with a woven geometric pattern or texture.
Surah: A soft twilled fabric of silk or of a silk-rayon blend.
Exhibition Access Guide Sections
Paris to Hollywood: The Fashion and Influence of Véronique and Gregory Peck is organized by the Denver Art Museum and presented by Joy Dinsdale. Additional support is provided by Bridget and John Grier, the generous donors to the Annual Fund Leadership Campaign, and the residents who support the Scientific and Cultural Facilities District (SCFD). Promotional support is provided by 5280 Magazine and CBS4.
The Denver Art Museum is grateful for the generous funding of the textile art and fashion department by the Avenir Foundation and Nancy Lake Benson.