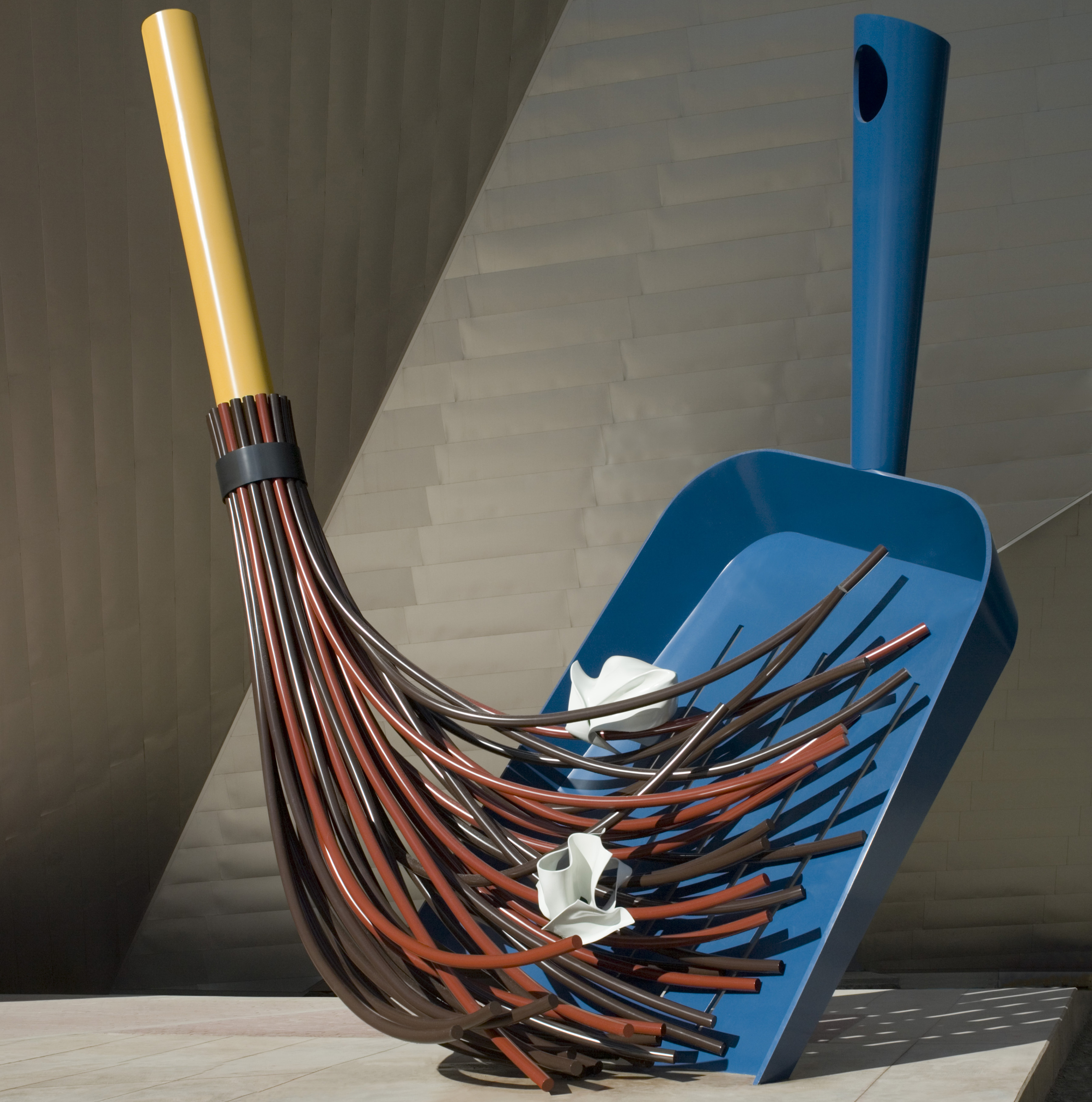 Big Sweep by Claes Oldenburg and Coosje Van Bruggen
Located on Martin Plaza outside the Hamilton Building
By changing the scale and substance of common, everyday objects, Claes Oldenburg amazes us with the unexpected: a 101-foot-tall steel baseball bat, a set of concrete pool balls each 11-1/2 feet in diameter, a 55-foot-long steel and aluminum spoon holding a cherry, and a 35- foot-tall broom and dustpan, among many others.
Coosje van Bruggen and Oldenburg's 35-foot-tall sculpture Big Sweep was inspired by the vastness, climate, and topography of the Colorado plains and mountains, as well as by the dazzling light and cleanliness of Denver itself. Commissioned by the museum in 1999 with support from Janus Funds and multiple donors who support the modern and contemporary art department, Big Sweep was completed in 2004 and was shipped in pieces to Denver from the husband and wife's studio in California.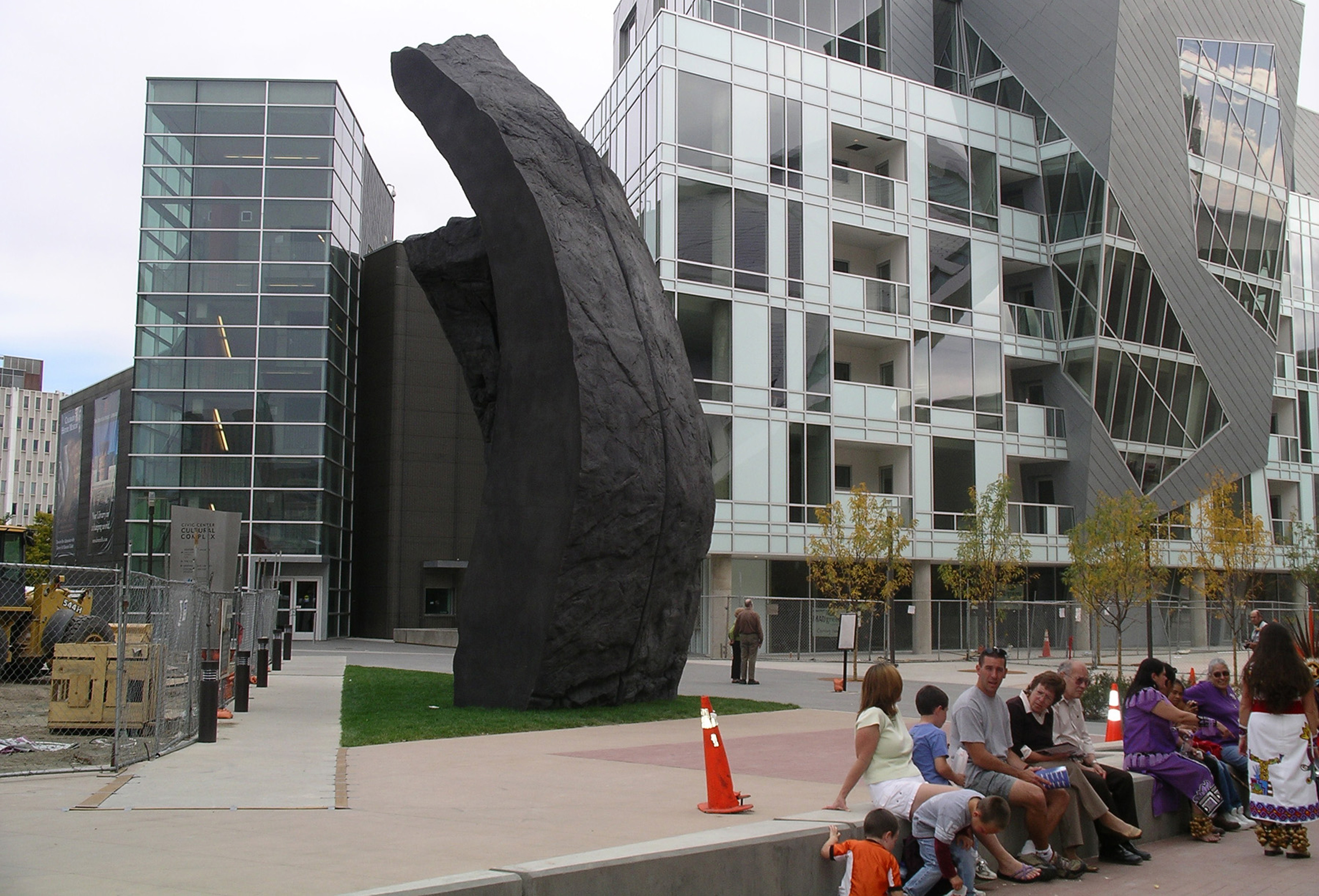 Denver Monoliths by Beverly Pepper
Located between the Hamilton Building and the Museum Residences/parking garage
With work located all around the world, Beverly Pepper is one of the foremost sculptors working today. Denver Monoliths was commissioned specifically for placement in front of the Hamilton Building by museum board trustees Jana Bartlit and Fred Bartlit.
During the 1970s, Pepper developed a growing interest in monumentality and began to focus on mass as expressed through physically dynamic, geometric planes. This led to the conception of "Earthbound Sculptures," works that seem to emerge or rise up from the earth. To accomplish this effect, she sought new materials, tools, and techniques. Such is the case with Denver Monoliths. Comprised of two massive vertical elements (measuring 42 feet tall and 31 feet tall, and weighing a total of 155,000 pounds) the work was made utilizing new stone casting technologies and modeling techniques developed by the artist.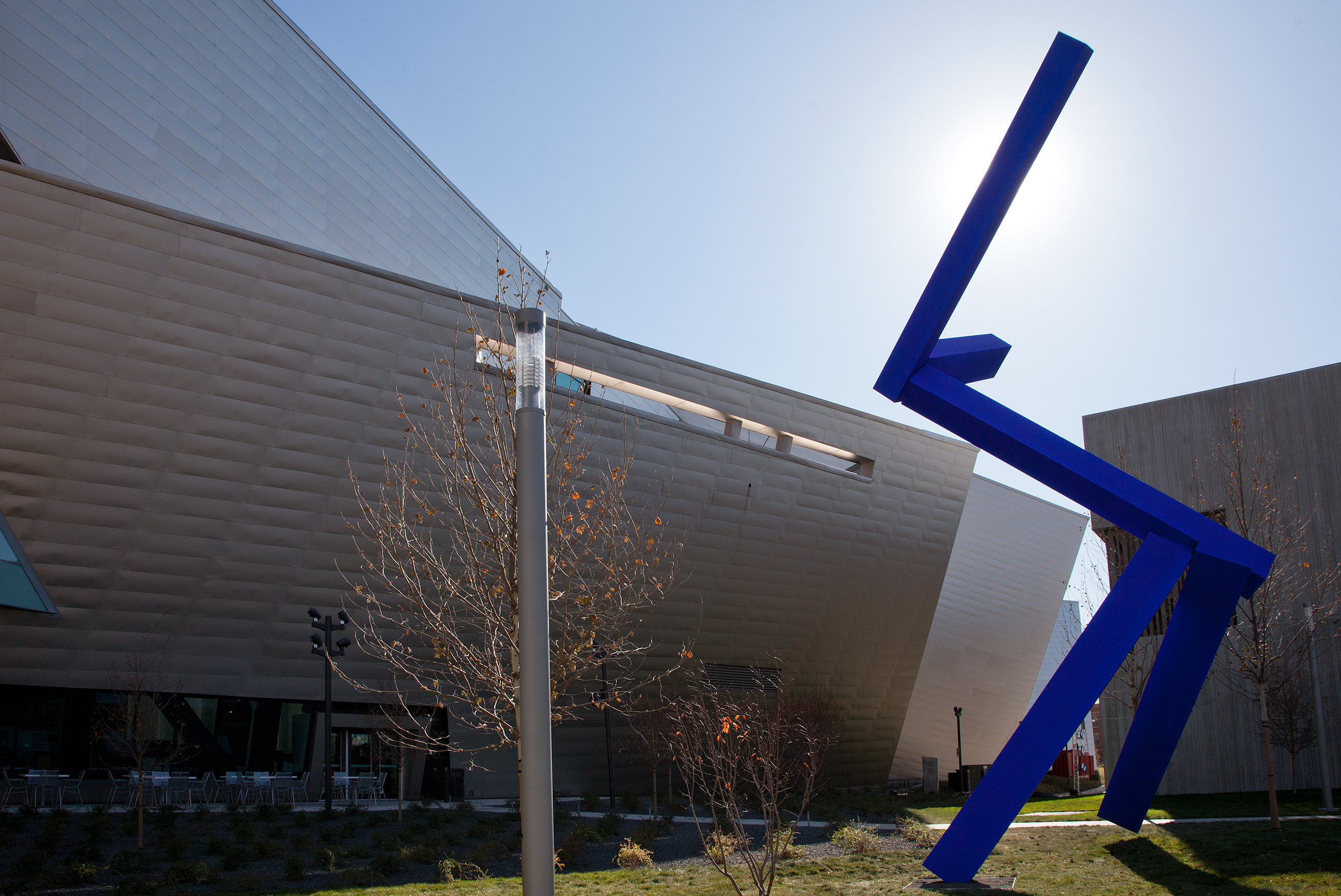 For Jennifer by Joel Shapiro
Located between the Hamilton Building and the Clyfford Still Museum
American sculptor Joel Shapiro is renowned for his dynamic work composed of simple rectangular shapes. His 32-foot-tall aluminum work For Jennifer adorns the tree-dotted plaza on the southeast corner of West 13th Avenue and Bannock Street.
The sculpture was acquired in memory of Jennifer Moulton, who served as Denver's Director of Planning and Development from 1992 to 2003 and played a major role in many projects around the city, including the expansion of the Denver Art Museum. Though she passed away before she could see the realization of the Hamilton Building, it was her vision that gave the museum the ability to expand the project well beyond the original assumptions. The sculpture was conserved, repainted, and reinstalled in 2021.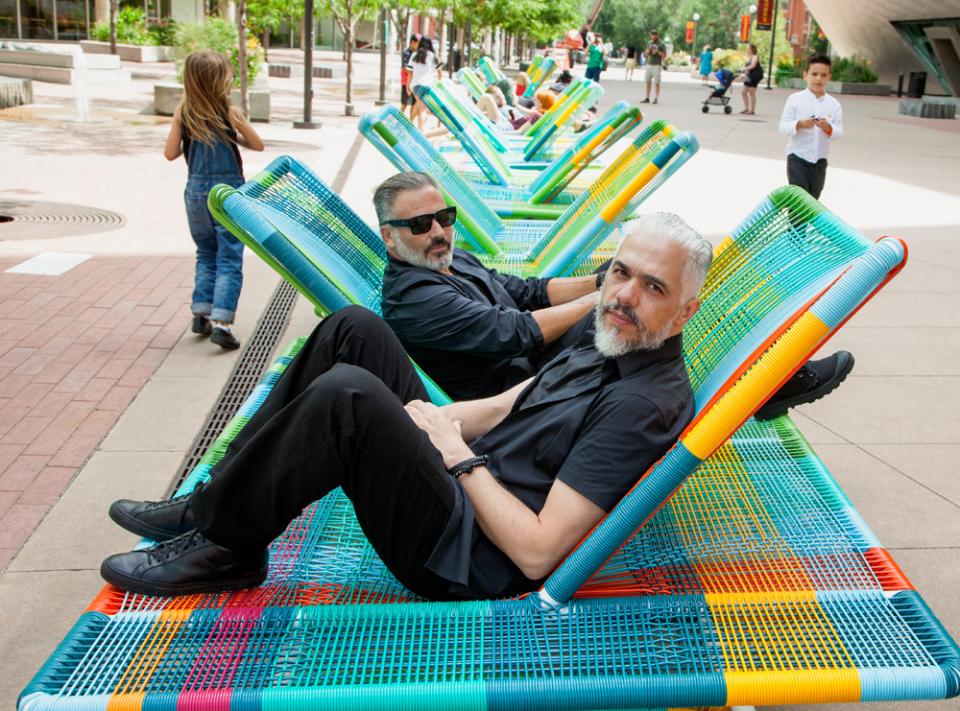 La Musidora by Héctor Esrawe and Ignacio Cadena
Located on Martin Plaza near the Hamilton Building entrance
Visitor favorite La Musidora is back this summer! La Musidora is a combination of the Spanish words "la música" (music) and "la mecedora" (rocking chair). Take part in this interactive outdoor art installation by making musical sounds by gently rocking colorfully woven chairs in tandem. This 90-foot artwork, designed of the interdisciplinary design firm Esrawe + Cadena in Mexico City, seats a total of 20 visitors at a time.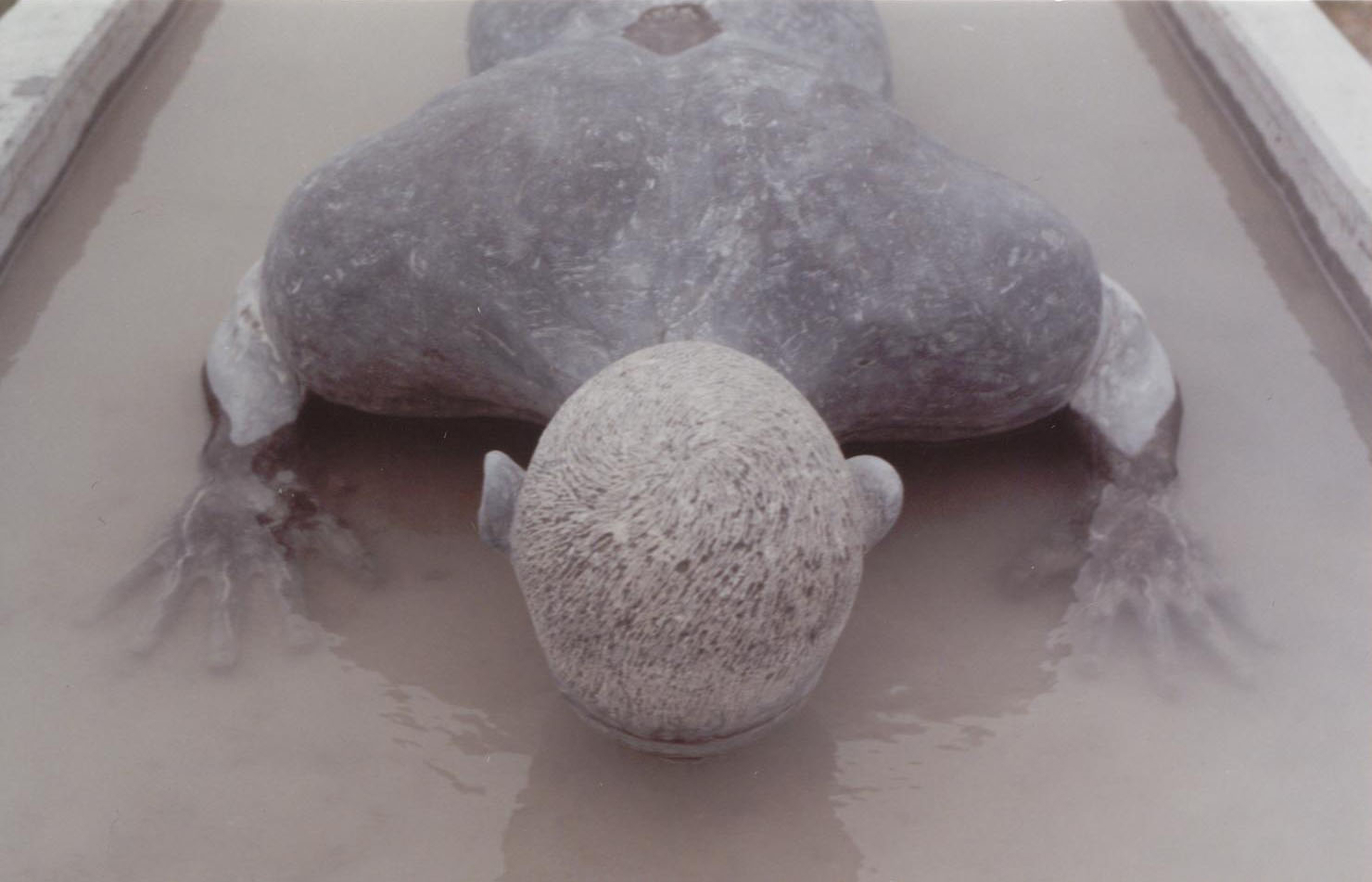 Pilgrimage by Zhang Huan
Located in Kemper Courtyard
Pilgrimage is a life-size granite sculpture of Chinese performance artist Zhang Huan lying naked and facedown. It is based on Zhang's first performance after moving to the United States in 1998.
For this work, Zhang performed the remarkable feat of lying naked, face down, on a block of ice placed on a traditional Chinese bed for 10 minutes on a public street. The work, Zhang says, is about his experience coming to America and his fear of New York City. A test of endurance, Zhang's performance was also a kind of existential meditation. Zhang believes he had to be naked to feel the full severity of the ice against his body and to arrive at a spiritual state of being.
A performance artist at heart, Zhang thinks of Pilgrimage as an active and interactive work. Because of the continuous changes the sculpture will endure throughout the seasons, Zhang considers this sculpture to be a longer performance, one that never ends.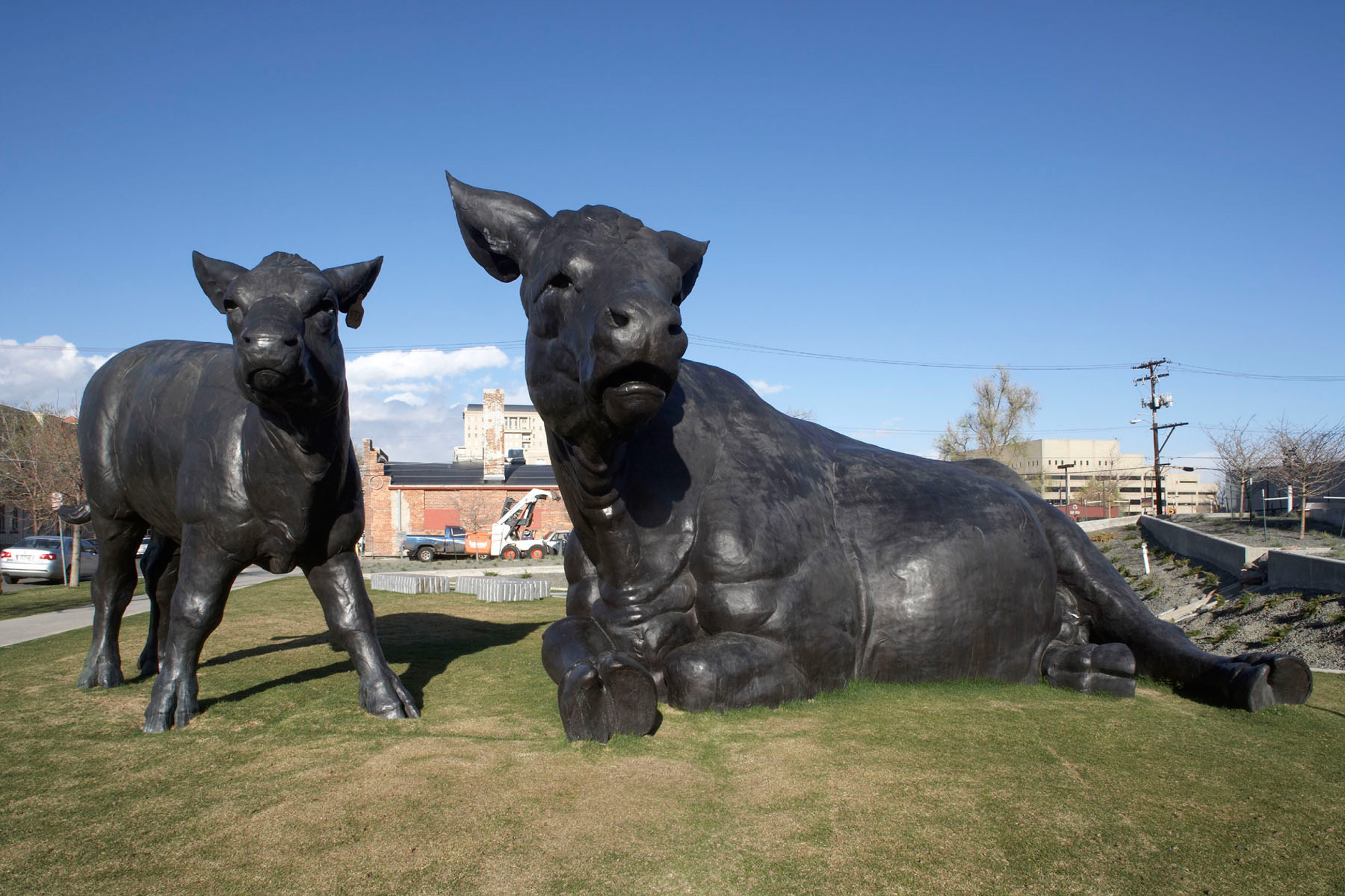 Scottish Angus Cow & Calf by Dan Ostermiller
Located in Hindery Family Park on 12th Avenue
The son of a noted taxidermist in Cheyenne, Wyoming, Dan Ostermiller grew up surrounded by animal forms. By training and working as a taxidermist himself, Ostermiller gained a strong understanding of the body language and anatomy of animals. Through the discipline of creating animal molds for taxidermy, technical accuracy became second nature to him, and provided him with the foundation to create artwork that was both realistic and expressive. To Ostermiller, the quality of shapes and design are of the utmost importance for creating expression, character and charm.
Since the 1970s he has created over 312 original sculptures—over 40 at monumental scale, of which Cow and Calf is the largest. The whole sculpture is approximately 38 x 22 feet. The animals are three times life-size, making the cow 13 feet tall. It weighs about 10,000 lbs. (5 tons). Ostermiller originally was commissioned to create Scottish Angus Cow & Calf by Colorado ranch owner Leo Hindery. Because his property near Larkspur, Colorado, is difficult to access, Hindery promised that he would donate the piece to a public institution if he ever sold the property. The popular sculpture was gifted to the Denver Art Museum in 2005.
Wheel by HOCK E AYE VI Edgar Heap of Birds (Cheyenne/Arapaho)
Located outside the Hamilton Building on 13th Avenue across from Denver Central Library
In 1996, after soliciting proposals from nine American Indian artists, the DAM commissioned HOCK E AYE VI Edgar Heap of Birds to create a work of art. Wheel consists of ten red, forked tree forms made of porcelain enameled panels on steel frames. Each tree is 12 feet high and positioned on a 50- foot diameter circle.
Wheel specifically addresses the history of Indian peoples from Heap of Birds' perspective as a Cheyenne/Arapaho artist, whose ancestors have a long and often painful history in the region—as well as from the multiple tribes who have lived in Colorado for centuries. In creating Wheel, Heap of Birds drew upon a number of Indian architectural forms, including the Sun Dance lodge and astral medicine wheels such as the Bighorn Medicine Wheel, an important ceremonial site in northern Wyoming.
The words used throughout the sculpture have a visual and poetic impact as well as provide the information of their literal references. The spiral design—common to many tribes—is seen throughout Wheel and is used to represent perseverance. The surface of each tree is covered with images and text that chronicle the history of Indian people. The artist's goal for this work of art is to stimulate discussion by exploring new perspectives on American history.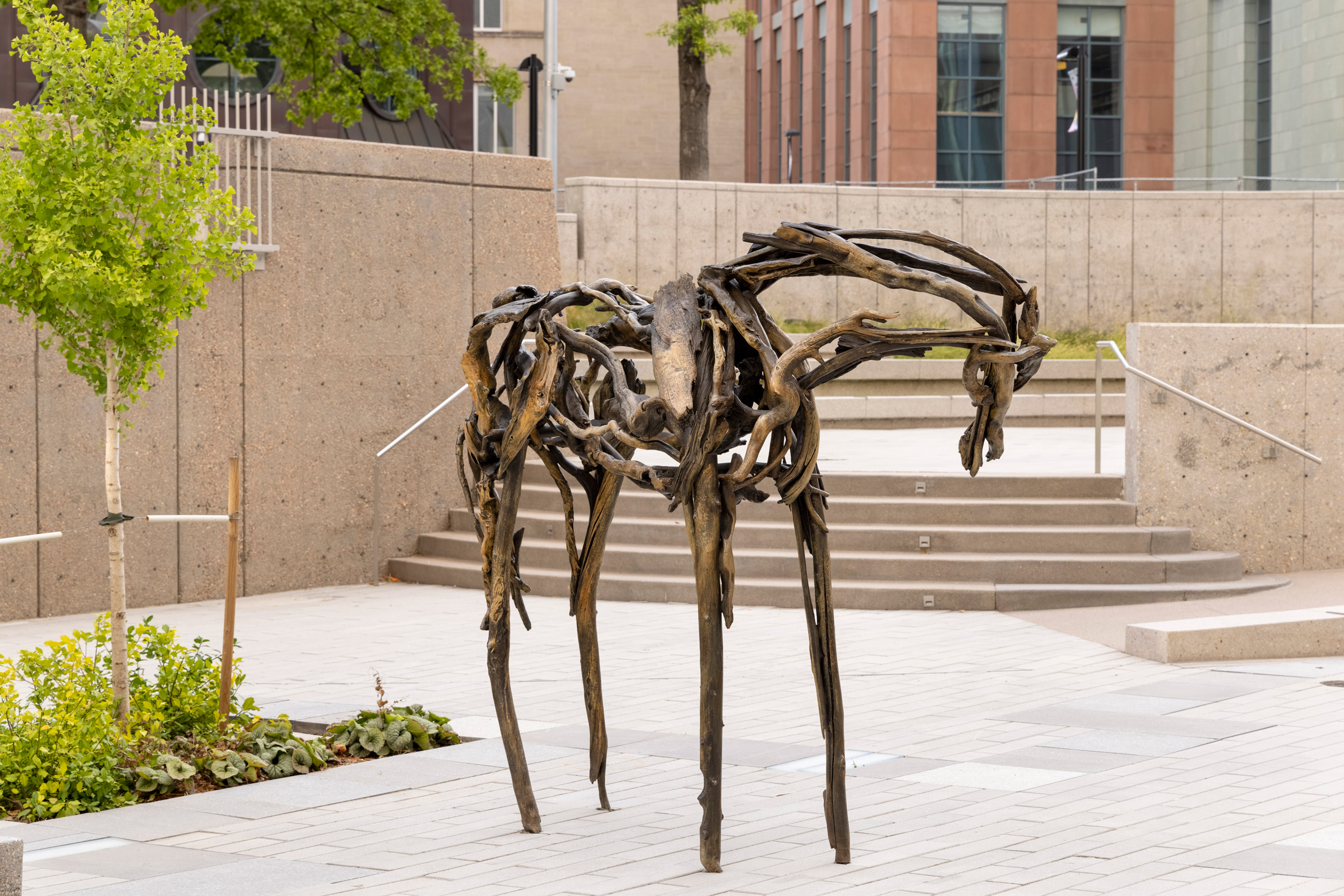 Willy, Argus and Lucky by Deborah Butterfield
Located in Kemper Courtyard
Deborah Butterfield has sculpted nothing but horses since 1973. Over the years, she has used a variety of materials to make each sculpture including plaster, scrap metal, mud, clay, and sticks. Through these materials, Butterfield strives to capture the essence, mood and pose that individualizes each horse.
The group of three life-size bronze horse sculptures by the Montana artist appear at home—at pasture—in the expanded Kemper Courtyard. In fact, the individual horses each had at one time been at pasture on the artist's own property in Bozeman, Montana. Lucky rests on the ground, its graceful position brings to mind a reclining nude; Argus stands with its head down; and Willy, her palomino who passed away on the way home from surgery at Colorado State University, stands with a twisted backward glance. The grouping has been a favorite of both visitors and staff since its first installation in May 1997.
Share your visit with #DenverArtMuseum