If you've spent any time in the Midwest or northern Europe, then you know how gray it can get during different times of the year, particularly in winter. (I am a native Omahan so speak from experience!) Now, imagine yourself transported to the American Southwest. Picture it: bright blue skies, dramatically changing cloudscapes, earthy colors of the countryside, and adobe architecture. A place like Taos, New Mexico, occupies just the right latitude and longitude to bask in a unique quality of light and distinctive natural palette, throughout the year.
When artists Walter Ufer and E. Martin Hennings ventured to New Mexico, they were struck by its vibrancy and just how different the setting was from Chicago, where they had established their careers, and Munich, where they had trained to be artists. Like many artists who moved there in the first half of the twentieth century, they found the area–its landscape, people, colors and light–the perfect subject for painting.
Every spot and corner is a picture…
They arrived as fully matured artists, but not impervious to new sources of inspiration. In the exhibition A Place in the Sun: The Southwest Paintings of Walter Ufer & E. Martin Hennings, visitors can explore the impact and inspiration of their surroundings in the "Southwest portfolios" placed at various seating areas in the gallery. The slim, bound booklets feature side-by-side details of Ufer and Hennings's paintings to cue the eye to the each artist's approach to depicting the people and scenery of Taos.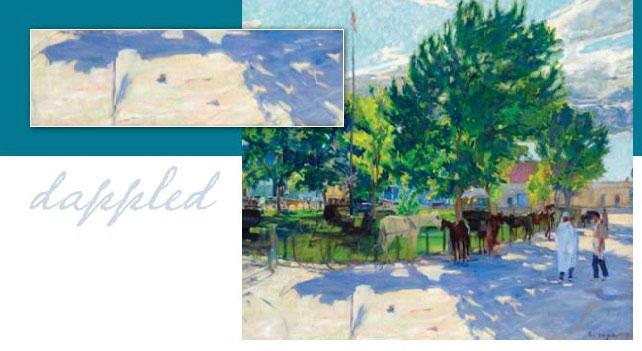 Want to explore more? Head to the exhibition and make yourself comfortable in the gallery with one of these portfolios. A quick browse through its pages and a closer look at the artists' paintings will reveal much more about their process and sources of inspiration.