What
The 31st Annual Denver Art Museum Friendship Powwow. Museum to present Powwow celebration in virtual format for the first time!
When
Sept. 12, 2020, 11 a.m.
Where
Streaming on the museum's Facebook page and YouTube account
Details
Experience the vitality of the 31st annual Friendship Powwow on Sept. 12, 2020, one of the Denver Art Museum's (DAM) longest running events, now taking place virtually. Hosted in collaboration with members of the local Native community, we are excited to accept national video dance submissions for the first time ever for 14 categories. A few of the dance categories include the teen's fancy shawl, women's jingle, men's grass and the golden age categories, where the winners of each category will take the full prize. While not competing for prize money, the tiny tot category will feature a video montage of submissions highlighting future champions.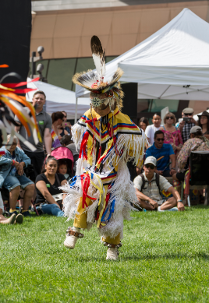 Participate as a powwow dancer by sending in a submission form August 7-24, 2020. For a full list of categories and instructions on how to make a dance submission, visit the following link: https://bit.ly/3i7qA70. Dance registrants are also encouraged to share their full dance submission with the public by using #DAMVirtualPowwow on Instagram and Twitter.
The day-of celebration will feature a master of ceremonies streaming live as well as a color guard, a veteran and victory song, a hoop dance performance, interviews and special segments on the DAM's collection of dance regalia. The top three entries in each dance category also will be streamed throughout the four-hour powwow event, along with a frybread cooking demonstration. Additionally, artist vendors will be spotlighted during the event on the museum's Facebook page.
Interviews
DAM spokesperson and dancers available upon request.
The Denver Art Museum is an educational, non-profit resource that sparks creative thinking and expression through transformative experiences with art. Its holdings reflect the city and region—and provide invaluable ways for the community to learn about cultures from around the world. The Annual Friendship Powwow is brought to you by the Denver metro residents who support the Scientific and Cultural Facilities District (SCFD), a unique funding source serving hundreds of metro Denver arts, culture and scientific organizations. For powwow and museum information, call 720-865-5000 or visit www.denverartmuseum.org. #ThanksSCFD #GraciasSCFD
###
Image: 2019 Denver Art Museum Friendship Powwow and American Indian Cultural Celebration, ©Denver Art Museum