Introduction
Women embraced photography from its introduction in 1839 and played a vital role in framing the modern experience through the lens of the camera. At the turn of the 1900s, photography was beginning to alter the way we perceive, engage, and understand the world.
From then onward, women negotiated waves of social, political, and economic change, leveraging the camera as a means of creativity, financial independence, and personal freedom. Disrupting longstanding constraints placed on women's social roles, these trailblazers helped establish photography as a vital form of creative expression and served as role models for later generations of artists.
Drawn from Bank of America's extensive photography collection, Modern Women / Modern Vision reveals the bold and dynamic ways women have contributed to the evolution of photography from the early twentieth century to the present.
Modern Innovators
At the turn of the twentieth century, the Pictorialist movement sought to elevate photography to an artform by using soft focus and painterly effects that echoed the visual effects of traditional painting.
By the mid-1920s, most art photographers rejected this style in favor of a new approach. In America, photographic Modernism capitalized on the camera's unique ability to record the real world in precise detail. Innovative viewpoints and lighting emphasized formal elements such as shape, texture, and value.
Fascination with machines and technology inflected the work of women photographers between the first and second World Wars. Their work contributed to the celebration of modernity throughout industrialized countries. A number of women operated successful commercial studios or freelance enterprises that embodied ideas of the professional, educated, and independent "New Woman."
I earnestly advise women of artistic tastes to train for the unworked field of modern photography. It seems to be especially adapted to them, and the few who have entered it are meeting with gratifying and profitable success.
Gertrude Käsebier (American, 1852–1934)
Portrait—Miss Minnie Ashley
1905
Photogravure
Bank of America Collection
Though she did not begin her profession until midlife, Käsebier had a successful career as an art photographer. A proponent of Pictorialism, she ran a thriving portrait studio in New York. Käsebier rejected the artificial poses typical of nineteenth-century studio pictures, preferring to create, as she said, "likenesses that are biographies." In this portrait, Käsebier captures the self-assurance and appraising glance of renowned stage actress Minnie Ashley.
Eva Besnyö (Dutch, born in Hungary, 1910–2003)
Violette Cornelius in the Attic Window of Keizersgracht 522, Amsterdam
1938
Gelatin silver print
Bank of America Collection
© Estate of Eva Besnyö
Eva Besnyö left Hungary for Berlin in 1930 to immerse herself in an avant-garde art scene interested in experimentation. As a woman of Jewish origin, she chose to leave Berlin in 1932 and settled in Amsterdam. The camera angle, attention to form, and repetition in this photograph of fellow photographer Violette Cornelius demonstrate the influences Besnyö experienced in Berlin.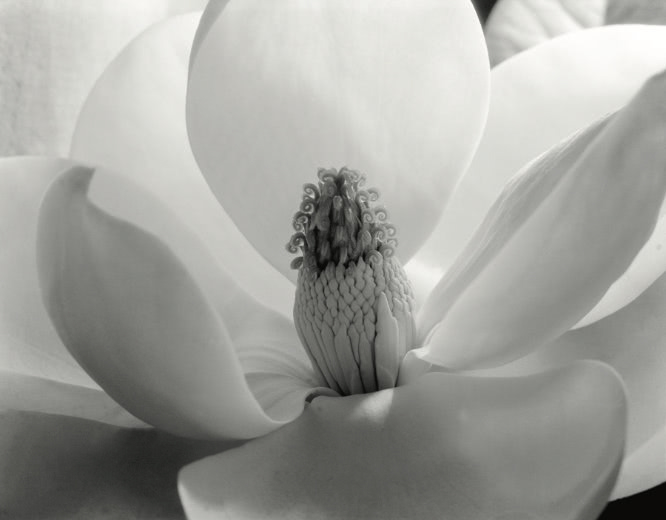 Imogen Cunningham (American, 1883–1976)
Magnolia Blossom
1925
Gelatin silver print
Bank of America Collection
© 2022 Imogen Cunningham Trust / www.imogencunningham.com
Cunningham helped pioneer modernist principles on the West Coast. She championed a sharply focused, straight approach over the painterly effects of the long-dominant pictorial mode. This work exemplifies her closeup, precisely detailed portrayals of natural forms. In 1932, Cunningham joined Ansel Adams, Edward Weston, and others to found Group f.64, the name of which references the lens aperture that ensures maximum clarity.
Ruth Bernhard (American, born in Germany, 1905–2006)
Knees and Arm
1976
Gelatin silver print
Bank of America Collection
© Ruth Bernhard
Bernhard recognized photography's potential as an art form after a chance meeting with famed photographer Edward Weston, who later became her mentor. Most of her images depict the female nude, and despite their apparent ease, the artist spent hours lighting and posing her models. Like Weston, she arranged their bodies to create photographs that focus on forms rather than anatomy.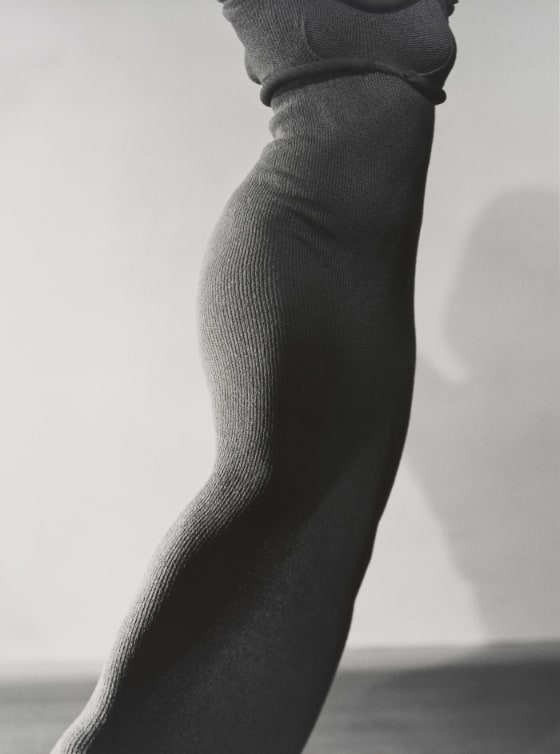 Barbara Morgan (American, 1900–1992)
Martha Graham—Ekstasis (Torso)
1935
Gelatin silver print
Bank of America Collection
© Barbara Morgan Archive, UCLA, Special Collections, Research Library (Charles E. Young). © Martha Graham Dance Company
Morgan's depictions of the dancer-choreographer Martha Graham and her company set the standard for photographing modern dance. She positioned figures against spare backgrounds that emphasize the dancers' forms. Morgan indicates her predilection for modernist principles by fragmenting forms or distilling bodies into basic geometries.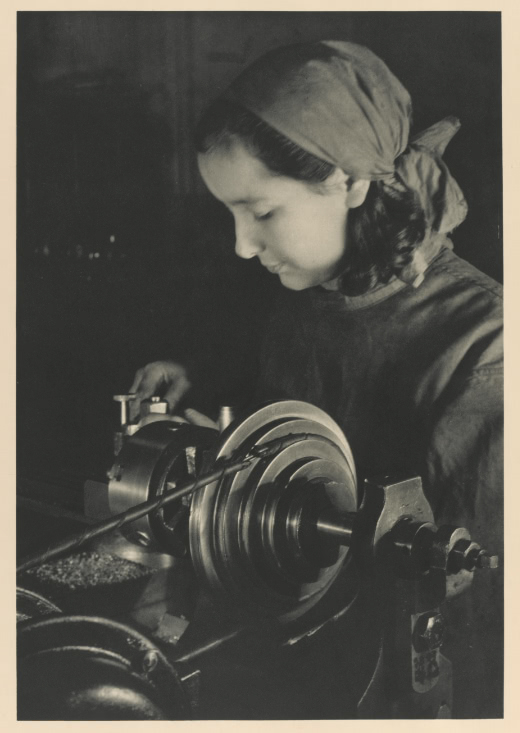 Margaret Bourke-White (American, 1904–1971)
At the Lathe, "Hammer & Sickle" Factory: Moscow
1931
Photogravure
Bank of America Collection
© 2022 Estate of Margaret Bourke-White / Licensed by VAGA at Artists Rights Society (ARS), New York, NY
Prior to her two-decade tenure as a photojournalist for Life magazine, Bourke-White was the first Western photographer permitted to shoot in the Soviet Union. On assignment for Fortune magazine, she traveled thousands of miles and made hundreds of images of workers, new factories, and machines in the USSR. Perceiving beauty in industry, she arranged figures and positioned her camera to enhance the grandeur of her subjects.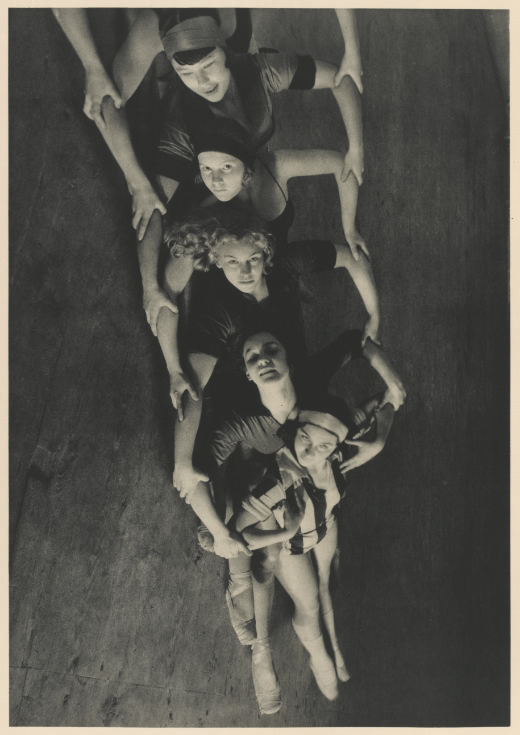 Margaret Bourke-White (American, 1904–1971)
Chain Belt Movement: Machine Dance, Moscow Ballet School
1931
Photogravure
Bank of America Collection
© 2022 Estate of Margaret Bourke-White / Licensed by VAGA at Artists Rights Society (ARS), New York, NY
In her 1963 autobiography, Bourke-White reflected on her time photographing in the Soviet Union. "Machine worship was everywhere," she recalled, "it permeated even the classic Russian ballet. Little girls with gear wheels in gold or silver painted on their chests danced Machine Dances." This bird's-eye view of a similar performance emphasizes the mechanical references and the performers' enthusiasm.
Modern Women/Modern Vision: Works from the Bank of America Collection has been loaned through the Bank of America Art in our Communities® program. This exhibition is presented with generous support from the donors to the Annual Fund Leadership Campaign and the residents who support the Scientific and Cultural Facilities District (SCFD). Promotional support is provided by 5280 Magazine and CBS4.