Museum Friends is a membership add-on that allows DAM members the opportunity to deepen their museum involvement and broaden their horizons with a community of like-minded art enthusiasts.
Museum Friends get access to educational activities, lectures, exclusive tours, and more for free or at an even greater discounted rate. Choose a department of interest for invitations to unique social and enrichment opportunities while enjoying the ability to connect with all departments across the museum.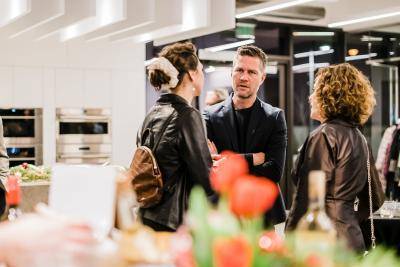 Museum Friends Benefits
Free admission to talks by visiting scholars, curators, and lectures by contemporary artists
Greater discounts on exhibition courses and curatorial symposia
Advance registration for all talks, lectures, courses, and symposia
Access to behind-the-scenes events and museum update
Invitations to social and enrichment events for your selected department of interest. These are invite-only events that include activities such as:

After-hours programs and experiences with curator access and behind the scenes moments
Social gatherings and receptions featuring special guests and insider discussions
Exclusive tours of exhibitions and collections
Want to know more? Scroll down to our FAQ section.
Departments of Interest
Friends of Architecture and Design
Friends of Art of the Ancient Americas and Latin American Art
Friends of Asian Art
Friends of Modern and Contemporary Art
Friends of Native Arts
Friends of Painting and Sculpture
Friends of Photography
Friends of Textile Art and Fashion
Friends of Western American Art
Museum Friends Dues
Museum Friends dues are paid in addition to any general level of membership:
$125 Museum Friends—For one person
$200 Museum Friends—For two people
Invitations to social and enrichment events for one department of interest are included in a Museum Friends membership. Additional departments of interest may be added at an additional cost:
+$75 for access for one person
+$125 for access for two people
CultureHaus: Young Museum Friends
CultureHaus is a membership add-on for young philanthropists ages 45 and under. Engage with various curatorial departments, fall in love with the Denver Art Museum and its collections, and find connections with other like-minded young Museum Friends.
CultureHaus dues are the same as Museum Friends ($125 for access for one person, and $200 for access for two people). Enjoy the same great benefits of Museum Friends with quarterly invitations to social and enrichment events throughout the year. Additionally, CultureHaus members will get to experience select programs in various departments of interest instead of just one.
Please note: You must be a member of the DAM to join Museum Friends and CultureHaus.
How do I become a Museum Friend?
Existing Members
If you are a current DAM member and would like to add Museum Friends to your membership, please contact a member of our visitor services team at 720-913-0130.
Please note: A Museum Friends (Dual) membership is included as a benefit for supporters at The Museum Associates $2,500 level and above.
New Members
To add Museum Friends to your membership online, you will need to purchase your DAM membership (or membership renewal) first. Once you have completed your purchase and activated your member account, you will then be able to log in and add a Museum Friends membership.
You can also call 720-913-0130 to speak to a member of our visitor services team about purchasing your membership and Museum Friend
Museum Friends FAQ
Will my membership card remain the same/how will I be identified as a Museum Friend?
Yes, your membership card will remain the same. Since Museum Friends is tied to your DAM membership, your Museum Friends account will automatically be visible to a sales associate or when you register for an event online.
How many programs and social/enrichment opportunities will take place throughout the year?
The number of programs vary, but you can expect anywhere from three to five lectures per month. These might include artist talks, symposia, a course, or a curator lecture. Our goal is to offer a wide selection of adult program offerings representing all curatorial departments across the museum. Social and enrichment events will also be offered, which will be specific to your department of interest. Since these programs will vary in size and scope, there is no set number, but you can expect a few each year.
How do I stay informed about upcoming programming and events?
All Museum Friends will receive a quarterly email specific to Museum Friends (in addition to your monthly member email). This email will detail upcoming lectures open to all Museum Friends.
Additionally, On & Off the Wall (OOTW), our bi-monthly member magazine, will also highlight those lectures, symposia, and courses available to Museum Friends. Finally, a list of these offerings will also be available on the museum's website. Invite-only events specific to each department of interest will be communicated via email.
To ensure you start receiving emails from the museum, please take the following steps:
Check your inbox for a confirmation email—if you do not receive the email, please contact us.
Open the confirmation email.
Click on the link in the email as the last step to subscribe.
How do I add an additional department of interest?
To add an additional department of interest, please call 720-913-0130.
How do I change my department of interest?
At the time of renewal, you will be given the opportunity to update your department of interest. Or, if you would like to make an immediate change, please call 720-913-0130.
How do I register for lectures and social/enrichment events as a Museum Friend?
To register for lectures, classes, or symposia, call 720-913-0130 or visit us in person at the visitor services desk.
If registering online, you will need to log-in to your DAM membership account and select Museum Friends to access special pricing and presale opportunities.
For social and enrichment events, you can register through links that will be sent via email or you can call 720-913-0130. Since they are exclusive benefits for Friends of a particular department of interest, these events will not be listed on the DAM website.
If I have Museum Friends single access, can I bring a guest to a lecture for free?
You must have a Museum Friends dual access membership to be eligible to bring a guest for free. Additional tickets may be purchased under your DAM general membership once they go on sale.
Can I upgrade from a Museum Friends single access to dual access?
Yes! Please call 720-913-0130 to upgrade your membership.
What types of social and enrichment opportunities can I expect?
Social connections, personal experiences with artists and curators, and visits to galleries, art districts, and cultural organizations will be benefits as a Museum Friend.
Will Museum Friends have travel opportunities?
Travel opportunities are not part of Museum Friends. If you are interested in future travel opportunities, we invite you learn more about The Museum Associates.
Can I gift a Museum Friends membership?
Yes, as long as the recipient already has a DAM membership (or, you may gift them together). Please call 720-913-0130 and we would be happy to help!
How can I deepen my support above and beyond Museum Friends?
If you are interested in supporting a particular department, you are welcome to make a tax-deductible gift at any time. There are also several formal opportunities for deeper engagement such as:
Upper level membership in The Museum Associates, which includes benefits across all departments such as exhibition opening events, an annual black tie gala reception, travel opportunities, and more. Members joining at the $2,500+ levels will receive a complimentary Museum Friends membership.
At the First 100 Museum Associates level, half of the gift can be directed to an exhibition or program of your choice.
Gifts at other levels are welcome as well!