Mexican Modernism
In 1920, after ten years of bloody civil war, the United Mexican States emerged as a constitutional republic. Historic inequalities gave way to an optimistic, unified nation that combined pre-Hispanic traditions, colonial histories, and modern ideals. Artists and activists sifted through layers of time and collective memory to forge new visual and political identities. In Europe and the Americas, modernist artists broke with styles of the past as they searched for authentic expression. In Mexico specifically, modernist artists gave visual form to the ideals of the young nation. Frida Kahlo and Diego Rivera were at the forefront of this effort.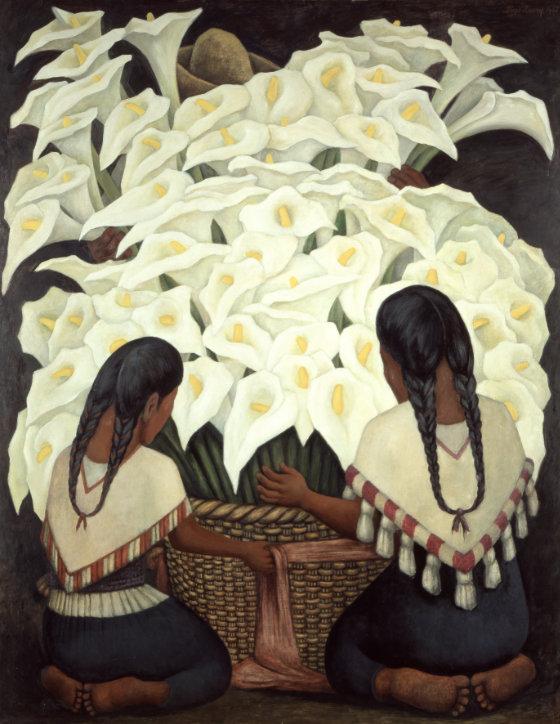 Diego Rivera
Born 1886, Guanajuato, Mexico; died 1957, Mexico City
Calla Lily Vendor
1943
Oil on Masonite
Paintings such as Diego Rivera's Calla Lily Vendor embody the revolutionary and modernist ideals that flourished in Mexico between 1920 and the 1950s. Two women kneel in front of a basket of robust calla lilies that fills much of the canvas. Their traditional quexquémitl, a garment similar to a poncho, and braided hair reflect the Indigenous cultures of Mexico. The exuberant blossoms suggest the magical bounty of the earth and the transitory nature of existence, and symbolize the new life of the Mexican people.
Frida Kahlo, Diego Rivera, and Mexican Modernism from the Jacques and Natasha Gelman Collection is organized by the Vergel Foundation and MondoMostre in collaboration with the Instituto Nacional de Bellas Artes y Literatura (INBAL).
The Denver Art Museum exhibition is generously supported by John and Sandra Fox, the Birnbaum Social Discourse Project, and Craig Ponzio.
Additional funding is provided by the Aegon Transamerica Foundation, Lisë Gander and Andy Main, Lauren and Geoff Smart, Xcel Energy, the Kristin and Charles Lohmiller Exhibitions Fund, the Fine Arts Foundation, the donors to the Annual Fund Leadership Campaign, and the residents who support the Scientific and Cultural Facilities District (SCFD). Promotional support is provided by 5280 Magazine and CBS4.