Members support the museum's mission while also enjoying many benefits such as free admission, discounts on ticketed exhibitions, guest passes to share with family and friends, and so much more!
Enrich your life through transformative experiences with art, and while supporting arts and culture in your community. Become a member today and know that your support helps your Denver Art Museum preserve and share our collection for present and future generations to enjoy.
It's easy to join or renew your membership. Visit, call, or click!
Visit: Purchase or renew your membership at the ticket window.
Call: 720-913-0130 from 10 am-5 pm
Click: Select a level below to join, renew, or give a gift membership.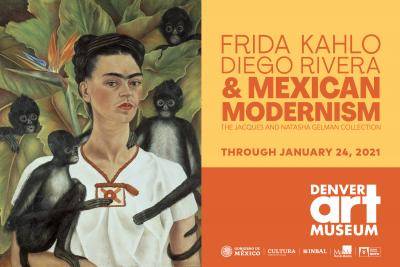 Mexican Modernism for Members
Frida Kahlo, Diego Rivera, and Mexican Modernism is currently sold out through November 30. Tickets for the first week of December will be available to members on November 25. Availability of additional tickets starting December 1 will be announced soon.
For specifics on Denver's current Safer at Home status, please visit the state website that contains all the facts about the COVID-19 Dial.
Questions about previously-purchased tickets to Mexican Modernism? Review the FAQ below.
Mexican Modernism Ticketing FAQ
Q: With the new rolling ticket sales, how far can I buy my tickets in advance of my visit?
A: Tickets for nonmembers may be purchased up to one week in advance of your visit. For example, if you would like to visit on Thursday, December 24, you can purchase tickets beginning Thursday, December 17.
For members, tickets may be purchased up to 10 days in advance. For example, if you are a member and would like to visit on Thursday, December 24, you can purchase tickets beginning Monday, December 14.
Q: Will my Frida Kahlo, Diego Rivera, and Mexican Modernism ticket(s) be affected by COVID-19 restrictions?
A: Following the city of Denver's Safer at Home status announcement, the Denver Art Museum has adjusted the museum's operations and capacities to reflect city and state guidance, including lowering the number of visitors in the museum. If your ticket needs to be rescheduled or refunded due to COVID-19 restrictions, we will contact you via email to help you reschedule your visit. If you do not want to reschedule your visit, we will provide information on requesting a refund as well.
Q: How far in advance will I receive notification if my ticket(s) need to be rescheduled?
A: We'll let you know 3-7 days in advance of your upcoming visit.
Q: How can I reschedule my visit?
A: In order to help you reschedule your visit as quickly and easily as possible, we will send individual voucher codes to affected ticket holders. Each code can be exchanged for one Mexican Modernism ticket. Once you receive your voucher codes you can visit the voucher redemption page to redeem them.
Q: I received vouchers but am having trouble redeeming them, what should I do?
A: You can contact our ticketing office at 720-913-0130 (10 am-5 pm) and we'll help you redeem your tickets.
Q: I received notification that my existing ticket is unaffected but I would like to reschedule or request a full refund, what should I do?
A: Please call our office at 720-913-0130 (10 am-5 pm) and our associates will be happy to assist you.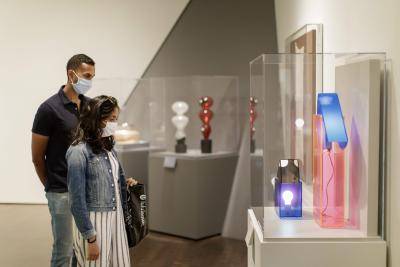 Every Membership Includes:
Free general admission for an entire year
Best price for upcoming ticketed exhibitions
Guest passes (varies per level)
10% discount in the Shop and greater savings during special sales
Invitations to Member Preview events and member only hours
Discounts and priority registration for programs, lectures, and classes
A subscription to On & Off the Wall member magazine and member e-newsletter
Tax deduction—a portion of your dues is tax-deductible
Reciprocal Privileges
Denver Art Museum members at the Sustaining level and higher enjoy reciprocal privileges through the Art Museum Reciprocal Network, Western Reciprocal Program, and Museums West. Bring your card (with the appropriate sticker attached) on the road and enjoy your DAM membership benefits while traveling!
Call the DAM at 720-913-0130 with questions or to upgrade your current membership.
Please note: This list is subject to change. We encourage you to contact the museum in advance of visiting to ensure participation. Additionally, if you are visiting the Denver Art Museum using your reciprocal privileges, please note free admission to ticketed exhibitions and admission to member preview events are excluded as benefits of our reciprocal program.
DAM's current reciprocal network includes the following museums:
California
Autry Museum of the American West, Los Angeles
Crocker Art Museum, Sacramento
Fine Arts Museums of San Francisco (de Young Museum, Legion of Honor)
Hammer Museum, Los Angeles
Japanese American National Museum, Los Angeles
Los Angeles County Museum of Art
The San Diego Museum of Art
UCR ARTS, Riverside
Colorado
Colorado Springs Fine Arts Center at Colorado College
Connecticut
Hill-Stead Museum, Farmington
Wadsworth Atheneum Museum of Art, Hartford
Delaware
Delaware Art Museum, Wilmington
District of Columbia
The George Washington University Museum and the Textile Museum
National Portrait Gallery
Smithsonian American Art Museum and Renwick Gallery
The Phillips Collection
Florida
Norton Museum of Art, West Palm Beach
Georgia
Booth Western Art Museum, Cartersville
Illinois
Museum of Contemporary Art Chicago
Indiana
Eiteljorg Museum of American Indians and Western Art, Indianapolis
Indianapolis Museum of Art
Swope Art Museum
Iowa
Louisiana
New Orleans Museum of Art
Maine
Farnsworth Art Museum, Rockland
Portland Museum of Art
Maryland
Academy Art Museum, Easton
The Walters Art Museum, Baltimore
Massachusetts
Isabella Stewart Gardner Museum, Boston
Museum of Fine Arts, Boston
Peabody Essex Museum, Salem
Smith College Museum of Art, Northampton
Michigan
Detroit Institute of Arts
Minnesota
The Minneapolis Institute of Art
Missouri
The Nelson-Atkins Museum of Art, Kansas City
Montana
C. M. Russell Museum, Great Falls
Nebraska
New Jersey
Newark Museum
New Jersey State Museum Foundation
Princeton University Art Museum
New Mexico
Georgia O'Keeffe Museum, Santa Fe
New York
Albright-Knox Art Gallery, Buffalo
American Folk Art Museum, Long Island City
Cooper Hewitt, Smithsonian Design Museum, NYC
The Frick Collection, NYC
The Metropolitan Museum of Art, NYC
Rockwell Museum of Western Art, Corning
North Carolina
North Carolina Museum of Art, Raleigh
Ohio
Cleveland Museum of Art
Columbus Museum of Art
The Taft Museum of Art
Oklahoma
Gilcrease Museum, Tulsa
National Cowboy & Western Heritage Museum, Oklahoma City
Oregon
Pennsylvania
Barnes Foundation
Carnegie Museum of Art, Pittsburgh
The Frick, Pittsburgh
Philadelphia Museum of Art
Rhode Island
RISD Museum of Art, Providence
Tennessee
Frist Center for the Visual Arts, Nashville
Texas
Amon Carter Museum, Fort Worth
Blanton Museum of Art, Austin
Dallas Museum of Art
The Museum of Fine Arts, Houston
Stark Museum of Art, Orange
Virginia
Chrysler Museum of Art, Norfolk
Virginia Museum of Fine Art, Richmond
Washington
Seattle Art Museum
Tacoma Art Museum
Wisconsin
Wyoming
Buffalo Bill Center of the West, Cody
National Museum of Wildlife Art, Jackson Hole
Canada
Art Gallery of Greater Victoria
Art Gallery of Ontario
Museum Friends
Museum Friends is an add-on membership that allows DAM members the opportunity to deepen their museum involvement and broaden their horizons with a community of like-minded art enthusiasts. Denver Art Museum Friends take part in educational activities, lectures, exclusive tours, and more. Choose a department of Interest for unique invitations to social gatherings, but enjoy the ability to connect with all departments across the museum.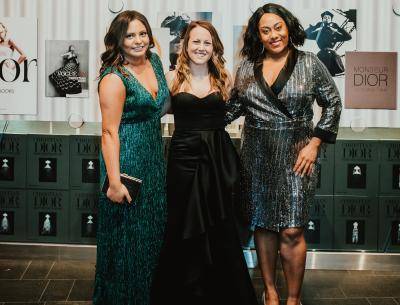 CultureHaus
CultureHaus, the Denver Art Museum's young philanthropist group, inspires and cultivates the next generation of arts patrons.
CultureHaus is comprised of young professionals who value creativity, culture, and philanthropy. They provide unique access to arts and culture at the Denver Art Museum and around the city by partnering with the museum to support programs and exhibitions.
CultureHaus membership is $50, and you must be a member of the Denver Art Museum at any level to join.
Tax Deduction
As a nonprofit organization, the Denver Art Museum is required by the IRS to provide written disclosure of the fair market value (FMV) of benefits received. For tax year 2019, the tax-deductible portion of memberships is as follows:
Senior/Student/Teacher $45; Individual $55; Dual $75; Family $83; Sustaining $148; Contributing $203; Supporting $365.
The Museum Associates membership levels: The Young Museum Associates $719; The Senior Museum Associates $1,219; The Museum Associates $2,219; First 100 Museum Associates $4,719
For more information, call the membership office at 720-913-0130 (10 am to 5 pm)
Membership FAQ
How do I create a member account?
Follow these step-by-step instructions to set up your account. If you need help, please contact a museum associate at 720-913-0130.
How do I renew my membership?
There are several ways you can renew your membership:
By phone: Call 720-913-0130 (10 am–5 pm)
In person: Visit the visitor service desk
Mail: Watch for your renewal letter in the mail (approx. 1-2 months in advance of your expiration date) and mail in the attached form
How do I purchase a membership as a gift?
You may purchase a gift membership over the phone (720-913-0130), online, or in person at the visitor services desk.
How many guests can I bring into the museum?
The number of guests you can bring in for general admission depends on your membership level:
Individual = 2 single-use guest passes
Dual = 2 single-use guest passes
Family = 2 single-use guest passes
Sustaining = 4 additional guests* + 4 single-use guest passes
Contributing = 4 additional guests* + 6 single-use guest passes
Supporting = 6 additional guests* + 6 single-use guest passes
*Applies to general admission only, excludes member-only events which are only available to named-cardholders.
How many tickets to Member Preview events can I purchase?
All membership events may only be attended by named cardholders on the membership account:
Individual = 1
Dual = 2
Family = 6 (2 adults and 4 children)
Sustaining = 2
Contributing = 2
Supporting = 4
How do I qualify for a Student/Senior membership?
Senior (age 65+), Student, and Teacher individual memberships are available at a discounted rate when you show proof of eligibility at the visitor service desk. We apologize for the inconvenience; however, these discounted memberships cannot be purchased or renewed online at this time.
Can I get in for free at other museums?
Reciprocal privileges start at Sustaining, Contributing, and Supporting level memberships. Your reciprocal membership benefits are valid at more than 70 art museums worldwide.
How many membership cards do I get?
When you receive your membership card packet by mail, you will find one, two or four cards, depending on your membership level. Student, Senior, Teacher and Individual members receive one card. Dual, Sustaining, and Contributing members receive two cards, while Supporting members receive 4 cards.
Family memberships receive cards for two adults all named children who live in the same household, ages 18 and under (up to six family member's total).
When will I receive my membership cards?
Cards typically arrive 2 weeks after your purchase. If you have not received your cards after this time, please call the membership office at 720-913-0130 or visit the visitor service desk at the museum. You can still visit the museum without your membership card by showing a photo ID at the visitor service desk to verify your membership.
I think I have lost my membership cards or never received them. What should I do?
Call the membership office at 720-913-0130 or notify one of our staff at one of the visitor service desk. A replacement card will be sent.
Is my membership tax deductible?
For tax year 2019, the tax-deductible portion of memberships is as follows:
Senior/Student/Teacher: $45
Individual: $55
Dual: $75
Family: $83
Sustaining: $148
Contributing: $203
Supporting: $365.
The Museum Associates membership levels:

The Young Museum Associates: $719
The Senior Museum Associates: $1,219
The Museum Associates: $2,219
First 100 Museum Associates: $4,719
For more information, call the membership office at 720-913-0130 (10 am to 5 pm)
Can I have my membership automatically renew every year?
At this time, we do not offer automatic renewal. We strive to make the renewal process as easy as possible for our members; as we have four easy ways to renew:
By phone: Call 720-913-0130 (10 am–5 pm)
In person: Visit the visitor service desk
Mail: Watch for your renewal letter in the mail (approx. 1-2 months in advance of your expiration date) and mail in the attached form
I renewed my membership; why am I still receiving notices?
Thank you for your renewal!
Due to processing time, some materials may cross paths in the mail. This should subside within 1 month. If it does not, please call the membership department at 720-913-0130.
Do Member Preview events ever sell out?
Yes, Member Previews do sell out at times. The Denver Art Museum takes timed-entry reservations for all of our Member Preview events. Advanced reservations are highly recommended to ensure your preferred entry time.
Please note: Member Preview events for ticketed special exhibitions require both advance reservation and purchase.
Why do members have to pay for ticketed special exhibitions?
Although ticketed special exhibitions have a surcharge, members always receive the best prices, guaranteed.
Contributing level memberships and above receive two free admissions for every ticketed special exhibition.
General museum admission remains free for members every day.
Why is there timed ticketing for special exhibitions?
Timed entry helps with overcrowding to ensure all members and guests enjoy their experience.
How can I stay informed about exhibitions, programming, and events?
A member-only email is sent to all members at least once a month. Content includes information about upcoming events, press announcements, and exhibition openings. It is the best way to remain up to date on timely Museum news. We do not share e-mail addresses and you may opt out of this service at any time.
Additionally, every membership includes a subscription to the DAM's magazine, On & Off the Wall, which is sent out every other month.
If you are not receiving member emails or magazines, please call us at 720-913-0130 to ensure we have the correct email and address.
How do I unsubscribe from e-communications?
We're sorry to see you go, but if you no longer wish to receive e-communications, you may unsubscribe by clicking the "Unsubscribe" link at the bottom of our emails.
Are there any special organizations for young professionals at the Denver Art Museum?
Yes! CultureHaus is a social and educational gateway to the Denver Art Museum that connects the "young at heart" with art. CultureHaus celebrates the Denver Art Museum's collections and programs by making them accessible to new art fans and longtime art lovers.
Please note: A membership to the Denver Art Museum is required to join CultureHaus or Museum Friends, which have separate membership dues.
Additionally, the Young Museum Associates is a membership level within The Museum Associates for members up to 45 years of age. This dynamic group supports the Denver Art Museum's mission to enrich our cultural community through programs and exhibitions. With a Young Museum Associates membership, you will receive invitations to exclusive events including exhibition openings, the museum's annual gala, and visits to private collections. Members at this level receive unlimited free general admission for eight, reciprocal privileges to national museums, and travel opportunities. To learn more, please call 720-913-0037.
How can I get more involved with the Denver Art Museum?
There are many ways to be involved with the Museum! You may volunteer, become a docent, join Museum Friends, or provide a donation to our annual fund.
For more information, call the membership department at 720-913-0130 and share your interests. We would be happy to recommend an area in line with your preferences.
COVID-19 FAQ for Members
What is the museum doing to ensure the safety of its members?
The safety and health of our members is a top priority, so we are working with state and regional health officials to comply with all guidelines related to COVID-19. This includes:
Limiting capacity and timed-reservations
Requiring all visitors to wear masks covering nose and mouth
Encouraging physical distancing
Having the highest quality air fltration system
Adding "no touch" faucets
Increasing daily cleaning and sanitization schedules
Learn more about the measures we're taking to ensure your safety on the Denver Art Museum's digital guide
What will the entry/check-in experience look like for members?
Members will be required to make an advance reservation for a timed entry ticket reservation prior to visiting. Upon arrival, you will check in at the visitor service desk and then can proceed going upstairs.
For help logging into your online account to make a reservation, call 720-913-0130.
If I have reserved a ticket and find that I'm unable to use it, what should I do?
Due to the extremely limited nature of ticket availability, if you are unable to use a ticket you have reserved, please let us know by calling 720-913-0130 so that others may be able to enjoy the museum.
Did members receive a credit for their membership during the closure?
All members (as of June 18, 2020) received an additional two months (14 months for the price of 12) when they renewed their membership.
Please note: Museum Friends membership expiration is tied to membership expiration, so this extensions was applied to Museum Friends as well.
Am I still able to use my guest passes while the museum is open at limited capacity?
Yes. Please contact an associate at 720-913-0130 for assistance.
Can I still renew my membership during my next visit?
Yes, however we encourage you to renew your membership online as to minimize person to person contact.
If I'm still not ready to visit the museum in person, what other ways can I take advantage of my membership?
The museum's expanded digital programming and offerings can be found on the Museum From Home section on our website. New hands−on projects, virtual tours, and collection moments in a digital format to enjoy from home will continue even after we open our doors. Plus, many of your favorite programs have been moved online including Untitled at Home, Drop-In Drawing, and Drop-In Writing.
Will there be any lectures for members this summer?
The adult programs team is hard at work developing lectures that will be presented virtually on Zoom. Stay tuned to our member email for announcements around online lectures happenning this summer.
Are there other ways in which I can help the Denver Art Museum?
Yes, please consider renewing or upgrading your membership, adding Museum Friends to your membership, or donating to our Annual Fund.
How far in advance can I reserve tickets?
Tickets are released every two weeks on Monday afternoons.