The richness I achieve comes from nature, the source of my inspiration.
Video Tour
Take a sneak peek inside the galleries, where artworks by Claude Monet, Berthe Morisot, Paul Cézanne, Édouard Manet, Willard Leroy Metcalf, Pierre-Auguste Renoir, Childe Hassam, and many others are on view.
Gallery Game
We need your help! A friendly dog named Rip leaped from his painting and got lost among the artworks. Piece together clues—marked with a paw print—to follow his trail and ensure he is back where he belongs. Look for a QR code in the galleries to start your search.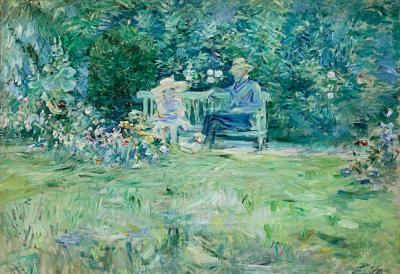 The Frederic C. Hamilton Collection
A key feature of The 19th Century in European and American Art is a collection of more than 20 Impressionist paintings, including four works by Claude Monet and the first paintings by Vincent Van Gogh and Paul Cézanne to enter the museum's collection, generously bequeathed by Frederic C. Hamilton in 2014. This was the largest gift of French Impressionist paintings the museum has ever received.