We would do this glorious exploring.
Many of Senga Nengudi's sculptures and performances are brought to life by collaborators. As participants, activators, witnesses, and documenters of her artwork, they help Nengudi realize the potential of her "thought experiments." She found kindred spirits as a founding member of Studio Z, a loosely organized group of Black artists in Los Angeles who collaborated and exhibited together in the 1970s. They often gathered outdoors to explore, stage improvised performances, and play out concepts before returning to their own studios to create.
For nearly fifty years, Nengudi has also collaborated with visual artist Maren Hassinger to develop choreographed activations of her R.S.V.P. sculptures. The nylon forms are like willing dance partners who follow along as the dancer manipulates them. Hassinger, who developed a relationship with Nengudi's works over decades, knows how to listen to what the works are asking her to do. There is a back and forth between dancer and sculpture that also inspires the audience to respond in new ways.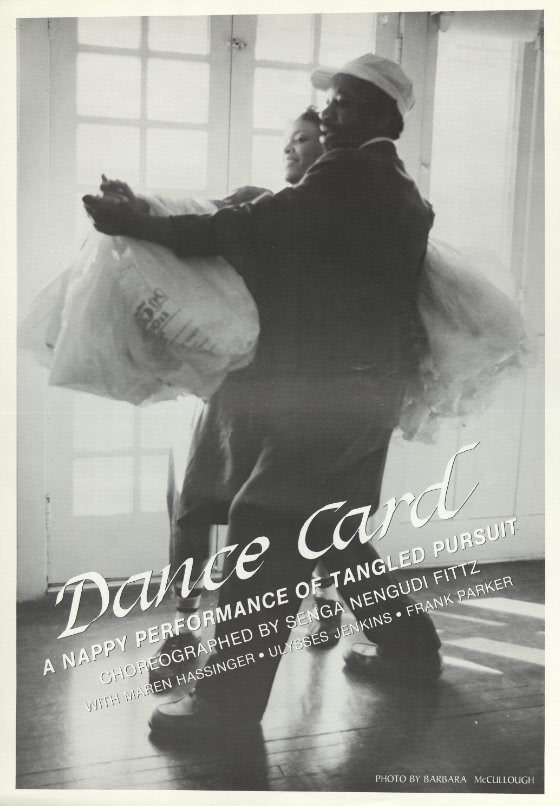 Senga Nengudi collaborators: Barbara McCullough, Maren Hassinger, Ulysses Jenkins, and Franklin Parker
Dance Card poster
1986
For this collaborative performance, Nengudi instructed artist friends to move expressively together across the space in coordinated motion. With circular moves, turns, and glides, the waltz-like dance became a metaphor for life itself: an unrehearsed performance comprised of smooth swings and occasional bumps. For Nengudi, the aim was to "just move on, but move on together."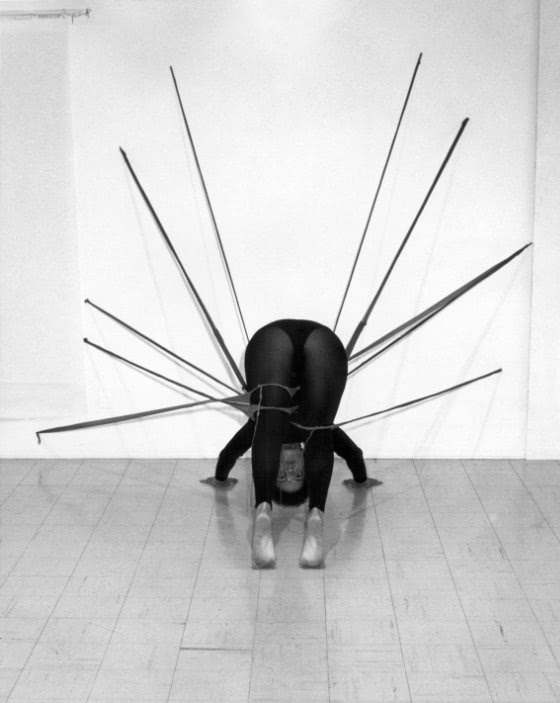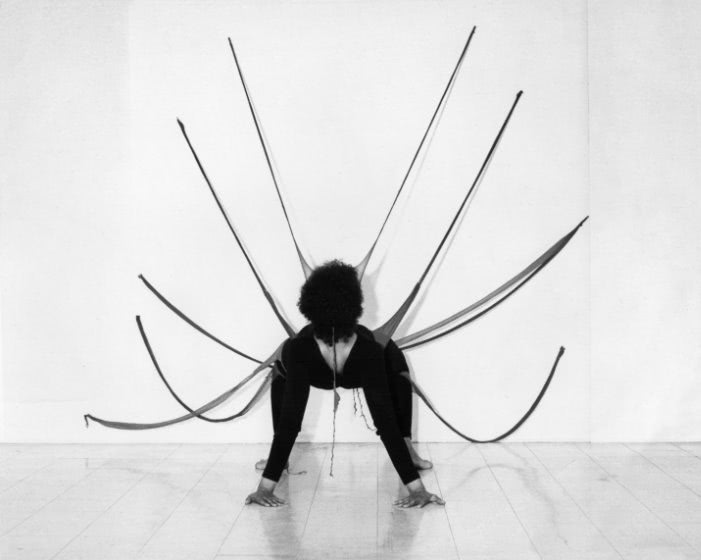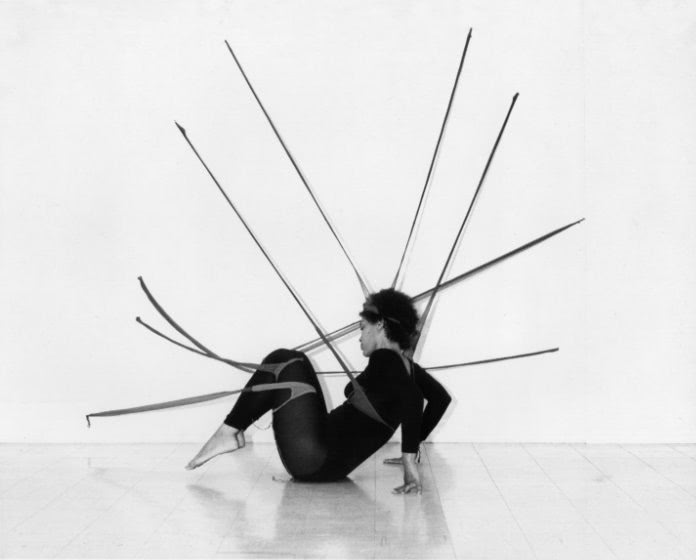 These photographs document an early activation of an R.S.V.P. sculpture, similar to the one on the left. Here, Maren Hassinger negotiates between space and the constraints of the sculpture, bending and weaving in and out of the nylon-mesh structure. The flexible movement of Hassinger's figure echoes the elastic properties of Nengudi's sculpture and invites us to think about the physical limits of the body in space.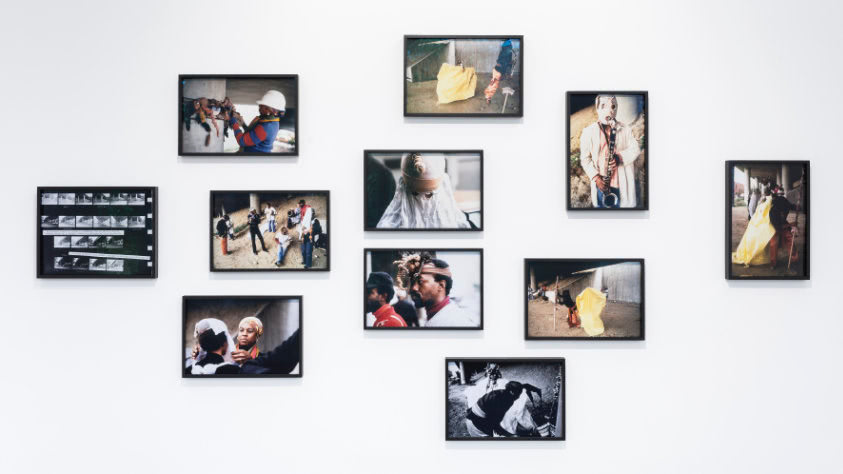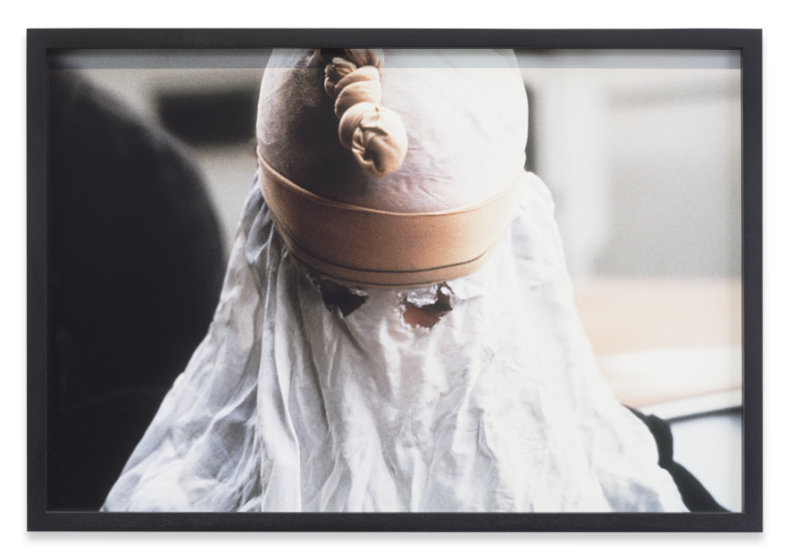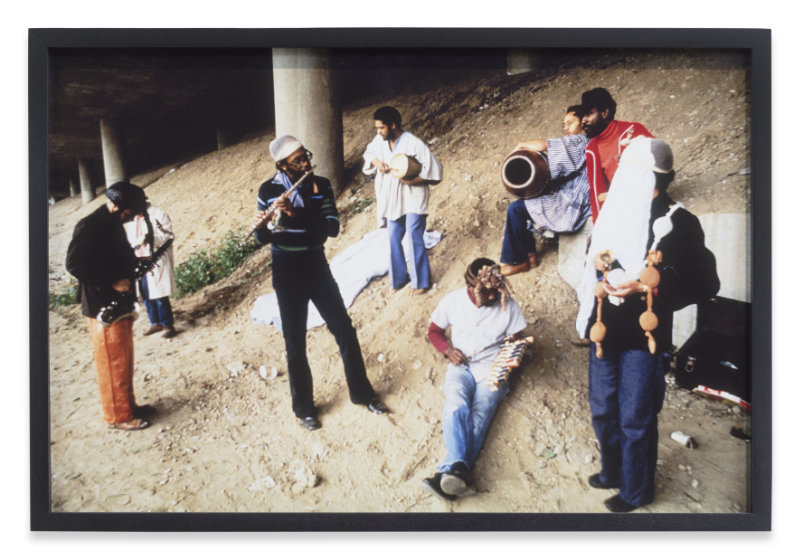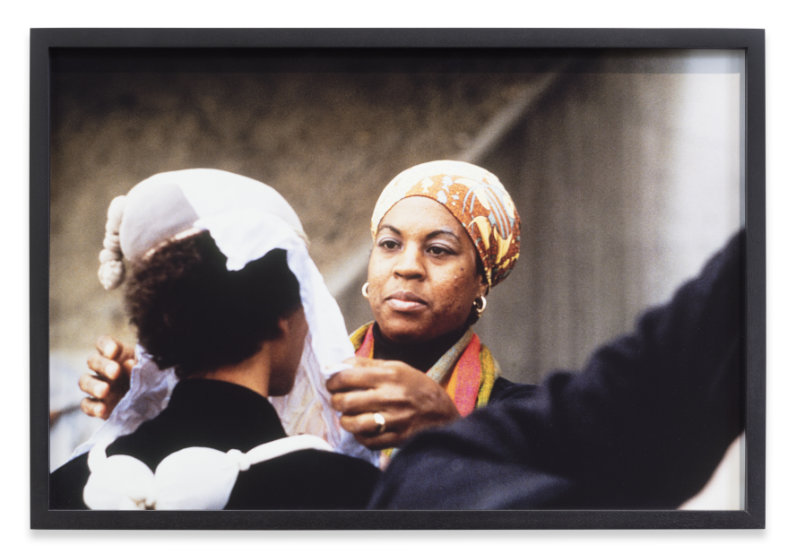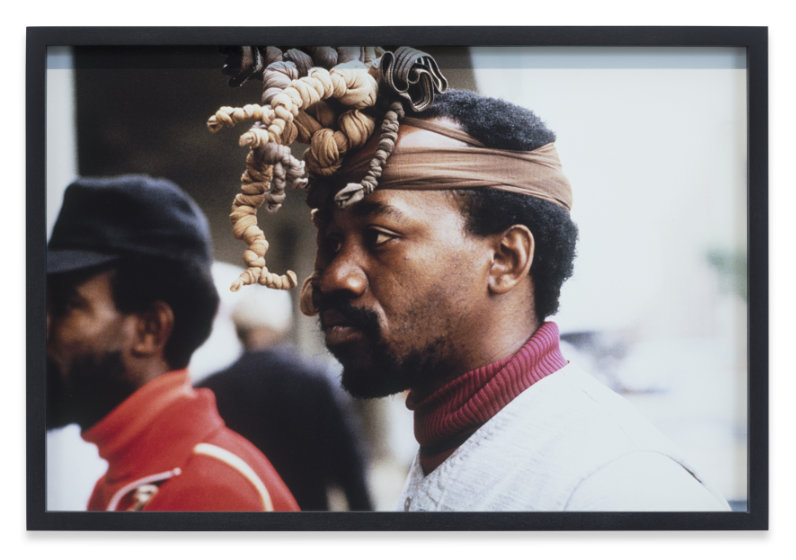 This series of photographs shows Senga Nengudi, David Hammons, Maren Hassinger, and other Studio Z members staging a collaborative public performance under a freeway overpass in Los Angeles. Intended as a christening, the improvisational ceremony referenced elements of West African Yoruba rituals and Japanese dance-theater. Acting as the unifying spirit, Nengudi made costumes and headdresses for the participants while mediating their improvised dance-like movements.

Senga Nengudi: Topologies is organized by the Lenbachhaus Munich, in cooperation with the DAM. Concept and idea by Stephanie Weber, Lenbachhaus. Funding is provided by the donors to the Annual Fund Leadership Campaign, and the residents who support the Scientific and Cultural Facilities District (SCFD). Promotional support is provided by 5280 Magazine and CBS4.