Senga Nengudi's practice begins with bodily experiences. She transforms these into sculptures, photographs, and performances that expand both the limits and possibilities of the body and embrace a wider view of social and political norms. Early on, she began experimenting with everyday materials including paper, worn pantyhose, rubber, sand, and discarded objects. Within a framework that was intentionally conceptual, these materials became poetic forms.
Nengudi was part of the vanguard of Black artists in the late 1960s and '70s who pushed the boundaries of creative practice and defied art historical traditions through a multitude of art forms and styles. Nengudi was committed to addressing Black experiences and social inequities through art, yet she found inspiration in abstract forms rather than in realistic figuration.
She also sought a universal message: "I want people to know that they can expand themselves, that they don't have to be viewed as one thing and kept in that box."
ANYTHING I MAKE
HAS BLACK FINGERPRINTS ALL OVER IT
BECAUSE I AM BLACK

ANYTHING I MAKE
HAS THE FRAGRANCE OF A WOMAN
BECAUSE I AM A WOMAN

ANYTHING I MAKE
HAS A RECOGNITION OF SPIRIT
AND A SALUTATION TO THE ONE
BECAUSE I AM THAT
-Senga Nengudi, 1996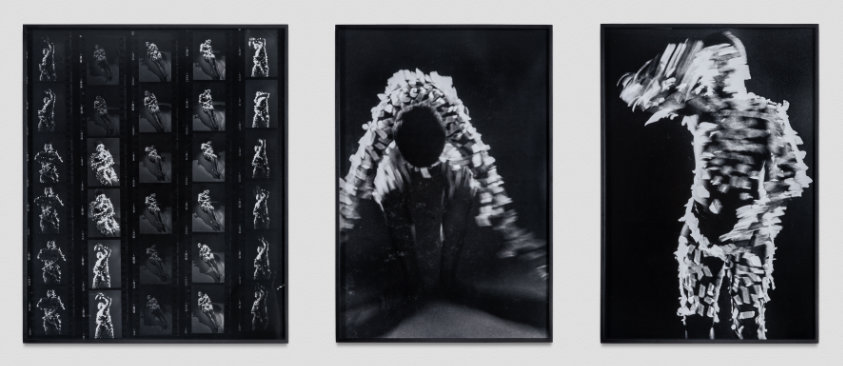 Senga Nengudi
Masked Taping
1978/79.
Contact sheet, silver gelatin prints.
3 panels: 41x34 in.
Edition 3/5 + 1 AP.
I involved myself in the activity of tearing off small pieces of masking tape from a roll and sticking them all over my body from the top of my head, including my face, to my knees. Thus adorned, moving about, I experienced the sensualness of the tape on my body in motion. The masking of myself was a way of exploring elements of my African heritage of mask making, dance, rites and rituals, revealing also my continued infatuation with paper in its many forms and its titillating possibilities.
— Senga Nengudi, 1978/79
In 1978, photographer Adam Avila documented a performance, Masked Taping, by Senga Nengudi in Los Angeles. Nengudi aimed to transform the utilitarian nature of masking tape into a medium with spiritual purpose. For the artist, simple everyday materials, bodily sensation, ritual, and movement are fundamental to her practice.
Senga Nengudi: Topologies is organized by the Lenbachhaus Munich, in cooperation with the DAM. Concept and idea by Stephanie Weber, Lenbachhaus. Funding is provided by the donors to the Annual Fund Leadership Campaign, and the residents who support the Scientific and Cultural Facilities District (SCFD). Promotional support is provided by 5280 Magazine and CBS4.