The relationship between artists and public figures of Mexico, in the wake of the Mexican Revolution, celebrated national identity, creative spirit, and appreciation of Indigenous cultures. Renowned artists Frida Kahlo and Diego Rivera were at the forefront of the Mexican Modernist art movement—influencing other artists and supporting various political and social issues.
Experience the transformative power of art and the excitement of the museum journey virtually with this free and easy to navigate Museum Web Quest: Virtual Visit and More. These activities can complement a family visit or be included in online classrooms with lessons adaptable for all grade levels (K-12). Mix and match lessons, videos, and artworks to create a customized experience that fits your needs.
What's included in this Museum Web Quest experience?
Activities include:
Close-looking exercises with high-resolution artwork images from the exhibition.
A printable Illustrated Art Walk, created by local artist Andres del Valle, to help guide kids through the exhibition virtually.
Critical thinking activities include kid-friendly research opportunities, connecting art, history and geography, as well as developing empathy and cultural understanding. These activities provide opportunities to reflect on meaningful topics through hands-on fun, such as experimenting in the kitchen and collaboratively working to get inside the minds of artists.
Artmaking activities include open-ended projects that incorporate materials which can be found at home or in the classroom. These activities explore themes of identity, cultural heritage, relationships, and other complex ideas found in the exhibition.
Videos with local artists that challenge students to connect with the exhibition's artworks and explore their own creativity through reflection and artmaking.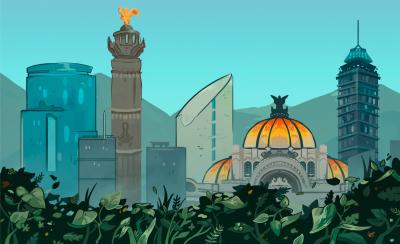 Illustrated Art Walk
What is in the Illustrated Art Walk? This downloadable guide walks you through the exhibition exploring art and artists from during and after the Mexican Revolution. Guided by the teenage narrators, kids are asked to respond with sketching and writing prompts and think about various questions posed.
Read page one of the Illustrated Art Walk below.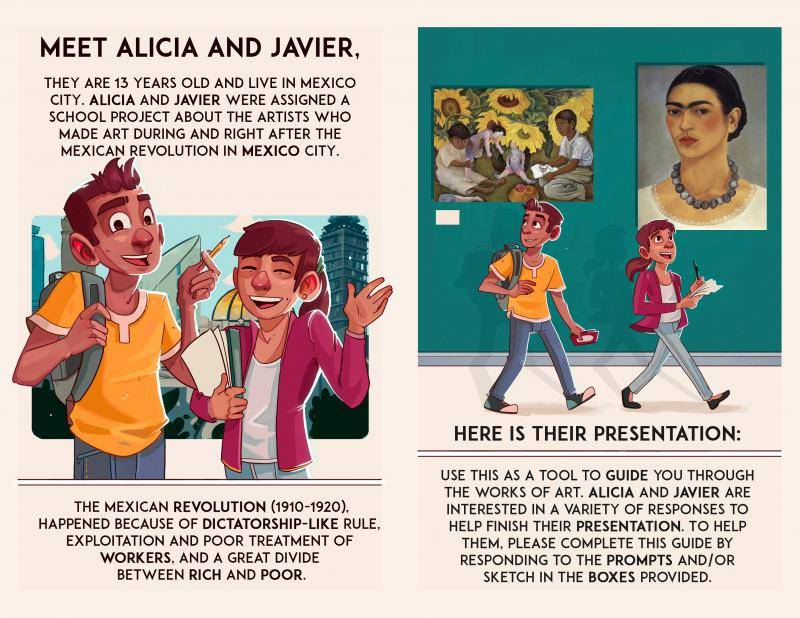 Continue your Illustrated Art Walk
Illustrated Art Walk Sections
Interview with Andr

é

s del Valle
Learn more about the artist of the Illustrated Art Walk, Andrés del Valle, an illustrator originally from Mexico City, Mexico. Andrés attended Savannah College of Art and Design where he got his BFA in illustration. He enjoys painting both digitally and traditionally. Watch a video interview with Andrés.
Join curator Rebecca Hart and interpretive specialist Ann Lambson as they share highlights from Frida Kahlo, Diego Rivera, and Mexican Modernism from the Jacques and Natasha Gelman Collection.
Frida Kahlo, Diego Rivera, and Mexican Modernism from the Jacques and Natasha Gelman Collection is organized by the Vergel Foundation and MondoMostre in collaboration with the Instituto Nacional de Bellas Artes y Literatura (INBAL).
The Denver Art Museum exhibition is generously supported by John and Sandra Fox, the Birnbaum Social Discourse Project, and Craig Ponzio.
Additional funding is provided by the Aegon Transamerica Foundation, Lisë Gander and Andy Main, Lauren and Geoff Smart, Xcel Energy, the Kristin and Charles Lohmiller Exhibitions Fund, the Fine Arts Foundation, the donors to the Annual Fund Leadership Campaign, and the residents who support the Scientific and Cultural Facilities District (SCFD). Promotional support is provided by 5280 Magazine and CBS4.
Kids and Family programs are supported by the William Randolph Hearst Endowment for Education Programs, Nancy Benson Education Endowment Fund, CenturyLink Endowment, and Jim Kelley and Amie Knox Education Endowment Fund. Funding is also provided by Tuchman Family Foundation, The Virginia W. Hill Foundation, Colorado Creative Industries, Margulf Foundation, Riverfront Park Community Foundation, Sidney E. Frank Foundation – Colorado Fund, Aegon Transamerica Foundation, Lorraine and Harley Higbie, an anonymous donor, and the residents who support the Scientific and Cultural Facilities District (SCFD).
The Free for Kids program at the Denver Art Museum is made possible by Scott Reiman with support from Bellco Credit Union.