Looking Together
This dress from the Paris to Hollywood: The Fashion and Influence of Véronique and Gregory Peck exhibition reminds us of the unique quilts in the DAM collection, like Crazy Quilt. Crazy quilting is actually a term often used to refer to textile work of chaotic patchwork.
Compare and contrast these two crazy quilts.
What are some similarities?
What are some differences?
What are these quilts made out of?
Why do think types of patterns are called crazy?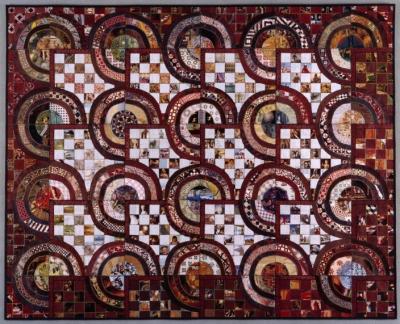 Creating Together
Fashion sometimes utilizes bold and unique prints made from repeating patterns and designs. Check out some of the fashionable outfits that are part of the DAM's online collection and look for eye catching patterns.
Next, it's your turn to create a pattern using collage inspired by Jane Mathew's collaged artwork called DAM Crazy. Follow along with this artmaking activity to explore layering pattern making using tissue paper and other scraps.
Another method to experiment with pattern making is by creating your own stamps. Practice repetition in this art exploration by using various textures and ink or paint to create patterns on paper.
Related Creativity Resources