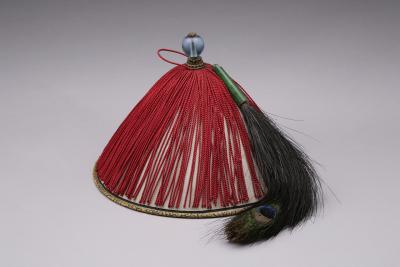 Summer Official's Hat
1900-1911, Qing dynasty
Maker
Artist not known, China
Artist not known, China
1900-1911, Qing dynasty
Width: 12 in. Height: 8.5 in.
Neusteter Textile Collection: Gift of Mrs. Carrol B. Malone, 1973.258
Photograph © Denver Art Museum 2011. All Rights Reserved.
About the Artist
This hat belonged to a civil official of the third rank (the smaller the number, the higher the rank). Such a man might have been a provincial judge, director of banqueting, or a salt controller. The owner would have ordered his hat made to exact specifications that followed the imperial rules about what rank person could wear what kind of hat.
This is a summer hat. Making summer hats was a highly skilled craft. In certain provinces, such as Sichuan and Shandong, the craft was passed down from generation to generation. It usually took two days to weave the bamboo framework.
Most important for the owner would be the color of the bead at the top since this indicated his rank among other officials.
What Inspired It
Hats were an integral part of Chinese clothing, worn on all public occasions. Hats were strictly regulated as far as rank, occasion, and time of year. Not only did officials wear different hats in the summer and winter, but everyone changed their hats on a specific day announced by the emperor!
This hat is a summer hat because it's made of bamboo (winter hats were made of fur, velvet, or satin). Summer hats were worn from the middle of the third month until the middle of the ninth Chinese month, according to the lunar calendar.
Rank was granted to a man by the emperor. A person proudly signaled his rank by wearing the correct hat. By changing hats for specific occasions and time of the year the owner demonstrated his respect for imperial rule.
Details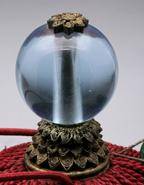 Blue Bead
The round glass bead on top of the hat is called a "hat sphere" and indicates the wearer's rank. Civil officials of the third rank wore transparent blue spheres.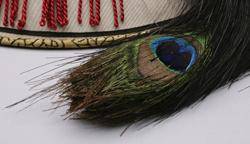 Peacock Feather
Peacock feathers were originally bestowed by the emperor for commendable service and, therefore, were a sign of honor. However, by the early 1900s when this hat was made, officials might purchase feathers directly or bribe higher-ranking officials to obtain them. The more "eyes" the feather had, the higher the status it conferred. Some officials wore feathers with two or three eyes.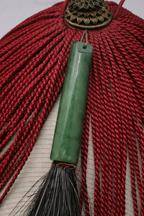 Glass Tube
The feather attaches inside a green glass tube in much the same way that a brush tucks into a handle. A loop at the other end of the tube secures it to the hat. This tube was probably meant to imitate a more precious material like jade.
Hat Box
People treated their hats with great care. At home, officials kept their hats on special stands usually made of bamboo or ceramic. When it was time to put a hat away for the season, they used boxes custom-made for just this purpose.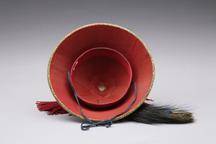 Underside
The underside of the hat is lined with red silk. Where the hat would sit on the official's head is a stiffened sweatband. Strings tied under the chin kept the hat securely on the head.
More Resources
Making Silk
Learn about the tradition of silk making and how it is done today. This video from the American Museum of Natural History is illustrated with old images of how silk making was done in the past, and has an interview with an expert. About 3 minutes.
Silkworm Care, Part 1
Silkworm Care, Part 2
This two part (each part is about 6 minutes) video features a young boy telling, in detail, how he cares for his silkworms. Great information that might be interesting for students to watch.
Websites
Includes PDF to print, details on symbols, excellent overview.
Pictures and descriptions of hats, coats, dragon robes and other clothing worn by high ranking people in Qing Dynasty China.
Learn about a recent exhibition at Smithsonian's Sackler Museum of Asian Art about the Empress Dowager Cixi (1835–1908) , who was the dominant political figure of China's Qing dynasty.
Books
Dickenson, Gary, and Linda Wrigglesworth. Imperial Wardrobe. Berkley, CA: Ten Speed Press, 2000.
Well illustrated book about the clothing that imperial authorities dictated must be worn for various ceremonial events in China's last imperial dynasty.
Garrett, Valery. Chinese Dress: From the Qing Dynasty to the Present. North Clarendon, VT: Tuttle Publishing, 2007.
A comprehensive look at the wide range of dress from the Qing dynasty in China up to the present day. Shows clothing worn not only the wealthy but by the merchants and women as well.
Garrett, Valery. Chinese Clothing: An Illustrated Guide. New York: Oxford University Press, 1994.
This valuable comprehensive reference covers the whole range of Chinese clothing including court dress, textiles, accessories, children's wear, rural clothing, and wedding and funeral attire.
Coleman, Teresa. Dragons and Silk from the Forbidden City. Odyssey Publications, Ltd., 1999.
A concise introduction to a complex topic. Good for teachers and secondary students, this book is short and well illustrated.
Children's Books
Friedman, Mel. Ancient China. New York: Children's Press, 2010.
Fun facts about China and its culture including inventions, military history, traditions and dress. Best for grades 2-6.
Yen Mah, Adeline. China: Land of Dragons and Emperors. New York: Delacorte Press, 2008.
A general history of China from 259 BCE to the present, focusing on the role of the dragon and the emperor. A chapter book with lots of maps and pictures, this book is best for grades 5-8.
Smith, Jeremy, and Jackie Gaff. The Last Emperor. Ohio: Brighter Child, 2002.
Recommended for grades 4-8. A great way to see history through the eyes of a child, Puyi, who became emperor at age 3, but then lived through a revolution in China that destroyed imperial rule. Well illustrated.
Cotter, Charis. Kids Who Rule: The Remarkable Lives of Five Child Monarchs. Buffalo, NY: Annick Press, 2007.
For ages 9-12, this book covers the lives of five child monarchs, including Puyi, the last emperor of China.
Funding for object education resources provided by a grant from the Morgridge Family Foundation. Additional funding provided by the William Randolph Hearst Endowment for Education Programs, and Xcel Energy Foundation. We thank our colleagues at the University of Denver Morgridge College of Education.
The images on this page are intended for classroom use only and may not be reproduced for other reasons without the permission of the Denver Art Museum. This object may not currently be on display at the museum.