Suit of Armor and Helmet
18th century
Artist
Juryo Mitsumasa, Japanese, blank

Haruta Katsumitsu, Japanese, blank
suit of armor
iron, silver, lacquer, leather and silk
Anonymous Gift
1978.225.1-12
About the Artist
This samurai suit of armor was made by multiple Japanese artisans in the 1700s. The armor consists of over 740,000 individual pieces made of a slew of different materials, including silver, iron, lacquer (a clear varnish), leather, silk, and ivory. Many of these materials would have required specialized skills and would have been made by separate workshops. Though we do not know the names of all of the artisans who contributed to this elaborate suit, two of them signed their work: the helmet was signed by Juryo Mitsumasa and the breastplate by Haruta Katsumitsu. The fact that these men had surnames (the surname, or family name, comes before one's given name in Japan) and were allowed to sign their names to their work indicates their importance; ordinary craftsmen were allowed neither.
This suit of armor was crafted during the Edo Period, a period of over 250 years of peace in Japan. The armor was not intended for actual use. By the time of its construction, war had not been a part of Japanese life for more than a century. During this period, samurai (professional warriors) had to find a way of life that didn't include war. The owner of this armor would have worn the suit only during ceremonies; otherwise he would have displayed it prominently in his home.
What Inspired It
This suit of armor was inspired by the romantic world of the samurai warrior, a world that, by the 1700s, was a thing of the past. The samurai who ordered or bought this suit admired the samurai warriors of the past and their ideals of faithfulness, loyalty, devotion, and dedication. This suit of armor has many of the traditional elements that older suits might have had and was, therefore, a sign of respect for the past. The armor balances details of delicacy and ferocity. It is decorated with flowers, vines, and leaves. The face mask, however, is designed to inspire fear. It hides the face of the person wearing it, making him appear strong and impenetrable. The red lacquer surface on the inside of the mask may have given a fierce reddish cast to the face and eyes of the wearer.
A samurai was not merely a warrior, however; he was expected to excel in the arts of civilized life as well. "Practice the arts of war on the right hand and the arts of peace on the left," went a famous samurai saying. In addition to being skillful warriors, samurai knew poetry and calligraphy (artistic lettering). They also practiced the intricacies of the Japanese tea ceremony, which involves specific rituals that are performed for preparing and serving tea in an atmosphere of deep calm and respect.
Details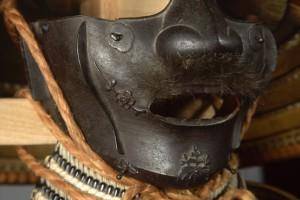 Leaves and Flowers
The delicate leaves on the metal chin are paulownia leaves. The paulownia leaf is a family crest and would be used to decorate everything from the suit of armor to a lady's cosmetic box. Note also the samurai's taste for delicacy in the delicate flower on a branch that sits on the side of the mouth.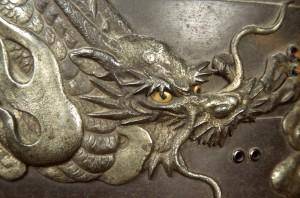 Chest Plate
This samurai wore an image of a dragon in the middle of his chest. Note the long, curling whiskers, bristly mustache, and eyebrows. The technique used to create the dragon is called repoussé [reh-poo-SAY] and involves hammering the iron from behind.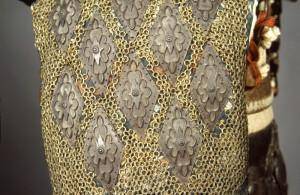 Mail
Mail is flexible armor made of interlinked metal rings. Even the mail, which protects the wearer's arms, is elaborate. It is made by thousands of circles of iron wire linked together in an intricate pattern. Underneath the mail is flower-patterned blue silk.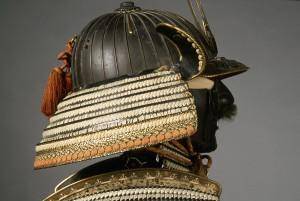 Neck Guard
One common form of attack during battle was a sword stroke from above; the neck guard protected against this blow. The neck guard is made of lacquered iron pieces laced together with off-white silk cord. Several hundred yards of this silk cord, hand-braided and carefully dyed, were needed to make a suit of armor, making silk one of the most important components in the armor.
More Resources
Websites
Hunter, Edward. "The Japanese Blade: Technology and Manufacture". In Heilbrunn Timeline of Art History. New York: The Metropolitan Museum of Art, 2000–. (October 2003).
A Web resource for elementary and secondary teachers
Denver Art Museum Asian Art Web Page
Denver Art Museum Web Page, Kids Books about Japan
Books
Sato, Kanzan. The Japanese Sword: A Comprehensive Guide. Translated by Joe Earle. Tokyo: Kodansha, 1983.
Looking over the 1,500 years of sword history in Japan, Kanzan Sato notes how the major developments—were the result of both technical innovation and changed fighting techniques. He examines the various fashions in sword mounts and the at times precious, highly decorated work of the smiths who specialized in sword guards, or tsuba, during the Momoyama and Edo periods.
Hickman, Money L., ed. Japan's Golden Age: Momoyama. New Haven: Yale University Press, 1996.
This book displays spectacular Momoyama masterpieces in many media-paintings, sculpture, calligraphy, tea ceremony utensils, lacquerware, ceramics, metalwork, arms and armor, textiles, and Noh masks-and places each work of art into its historical and cultural context.
Mason, Penelope. History of Japanese Art. Upper Saddle River, NJ: Pearson Prentice Hall, 2004.
A comprehensive, extensively-illustrated, detailed overview of Japanese art -- from the Joman period (10,500 B.C.E. to 300 B.C.E.) through World War II.
Kuniyoshi, Utagawa. 101 Great Samurai Prints. Mineola, NY: Dover Publications, 2008.
A full color book of wood-block prints of samurai with an overview of their portrayal in Japanese illustrations and art.
Miller, David. Fearsome Weapons in Samurai Warriors. New York: St. Martin's Press, 1999.
This is a serious, broad, but detailed exploration of the samurai tradition. Lots of information is presented in a readable, handsome format, suitable for casual browsing or more concentrated study.
Baird, Merrily C. Symbols of Japan: Thematic Motifs in Art and Design. New York: Rizzoli International Publications, 2001.
Beginning with a brief but insightful examination of the development of symbols throughout Japanese history, the book looks at thematic motifs encountered in both the classical fine arts and the applied arts. The motifs are organized according to broad thematic categories such as "the cosmos, heaven and earth" and "animals of the land and sea," among others, making this an indispensable guide for a wide variety of audiences.
Reeve, John. Japanese Art: In Detail. London: British Museum Press, 2005.
Arranged thematically, the book includes chapters on nature and pleasure, landscape and beauty, all frames by the themes of serenity and turmoil, the two poles of Japanese culture, ancient and modern. Highlighting, close up and in color, examples of design and craft in prints, paintings and screens, metalwork, ceramics, wood, stone, and lacquer.
Patt, Judith, and Barry Till . Haiku: Japanese Art and Poetry. California: Pomegranate, 2010.
Haiku: Japanese Art and Poetry presents thirty-five pairs of poems and images, organized seasonally. The Introduction details the origin and development of haiku, the lives of the most famous poets.
Children's Books
Doran, Claire, and Andrew Haslam. Old Japan. CENGAGE Learning, 1995.
Practical role-play and activities, based on the lifestyles of ancient peoples, are combined with a sensitive and wide-ranging text to create a stimulating experience of Japanese history. Includes section on kendo (the way of the sword).
Donegan, Patricia. Haiku (Asian Arts and Crafts For Creative Kids). Boston: Tuttle Publishing, 2003.
This book introduces five styles of haiku to readers. It includes the following projects for elementary age children: your first haiku; your favorite season; your own personal haiku; haiku with pictures; and haiku with a friend.
McCarthy, Ralph F. The Inch-High Samurai. Kodansha International, 2001.
A Japanese fairy tale of a boy named Inchy Bo, the Japanese cousin of Tom Thumb and Thumbelina.
Funding for object education resources provided by a grant from the Morgridge Family Foundation. Additional funding provided by the William Randolph Hearst Endowment for Education Programs, and Xcel Energy Foundation. We thank our colleagues at the University of Denver Morgridge College of Education.
The images on this page are intended for classroom use only and may not be reproduced for other reasons without the permission of the Denver Art Museum. This object may not currently be on display at the museum.