Soliloquy: Life's Fragile Fictions
1997
Artist
Moyo Ogundipe, Nigerian, b. 1948

Work Locations: Denver, CO, Nigeria
painting
Acrylic paint on canvas
Joan Evans Anderman Memorial Fund
2000.243
About the Artist
Moyo Ogundipe was born in Nigeria in 1948, of Yoruba heritage, and lived there until the 1980s when he fled the country's military dictatorship. He moved to Denver in 2002, where he lived for six years before recently returning to Nigeria. He spent part of his time in Colorado as an adjunct instructor of painting and drawing at the University of Colorado at Denver. Moyo graduated from the University of Ife in Nigeria with a B.A. in Fine Art and Education, and received his M.A. in Studio Art from the Maryland Institute College of Art. His work has been shown extensively in Nigeria and in U.S. museums including the Denver Art Museum, the Orlando Museum of Art, the Maryland Museum of African Art, and the New Museum of Contemporary Art in New York.
"It is futile to classify me as a Yoruba, African, or Nigerian artist," says Ogundipe. "I am a human being. I am an artist who happens to express myself in the mode of painting. I paint the intense mystery and beauty of this world, the symphony of life, from the atomistic to the cosmic, the perfect orchestration of the universe—this is what artists do, whether European, American, or Asian. We try as human beings to express the deepest joys and sorrows, the feelings and the emotions of this harmony."
What Inspired It
Ogundipe paints in the rich tradition of the Yoruba culture of Nigeria, but uses Western materials such as acrylic and oil. Because his father was a teacher, Moyo grew up living in Christian school compounds that were surrounded by African villages. Living in an environment with both Western and African influences, he gained what he calls a "hybrid experience." He says, "I have tried to find a synthesis among my training, my exposure to the art of other people, and the diversified beauty of my own indigenous traditions. I am striving to produce an art that is a genuine reflection of me, as well as a universal statement."
Details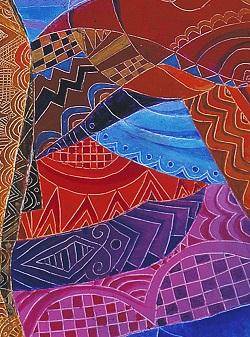 Color
"My colors are African, free, full, unrestrained, vibrant," says Ogundipe. The explosion of color on the canvas is similar to the explosion of color that surrounds a masquerade; or the saturation of color found in the marketplaces—rural and urban landscapes of Ogundipe's native Africa.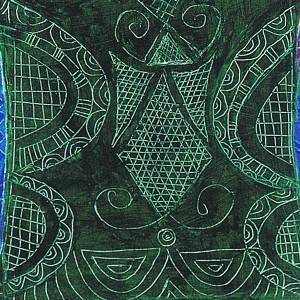 Pattern
Ogundipe applies paint to the canvas, then carves into the paint [by etching] to create the textured pattern of the background. He finds inspiration in textile designs, Yoruba carving, and body paint (detail on right taken from the body of the woman). "I belong to a school that we cal onaism. Ona is a Yoruba word that means decoration or embellishment," says Ogundipe.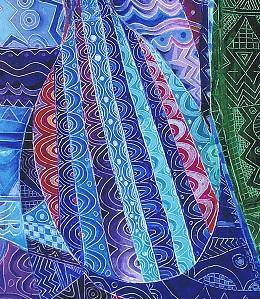 Rhythm & Repetition
"There is considerable improvisation," says Ogundipe. "There is the element of jazz, of musicality. I repeat a lot of things to generate rhythm. At first I was worried that I repeated things so many times. That I should be more innovative. But then I discovered that there is a rhythm where there is repetition. Repetition is easy on the eye and draws you into the picture. It is predictable, yet it may also surprise you."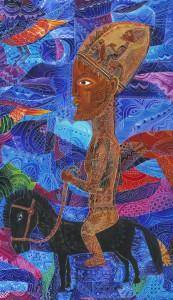 Horse & Rider
The horse and rider are homage to Africa—they remind us of the iconography of Yoruba carving. Ogundipe pays tribute to the artists/carvers that have come before him by painting, not carving, this horse and rider.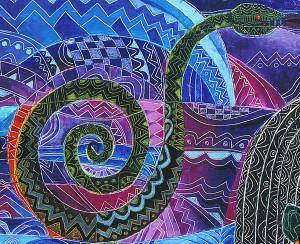 Snake
Among the Yoruba, a snake can be symbolic of no beginning and no end. They are mysterious, in part because they live in the ground and have no legs.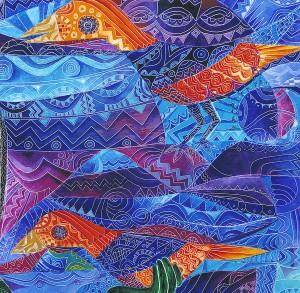 Birds
"I try to use birds to create magical moments, they are not just mere decorations, birds have meaning, add some text to an overall narration of the image," says Ogundipe. "Among the Yoruba, a bird is a symbol for freedom, for flying, for power, for majesty."
More Resources
Websites
Ogundipe was very influenced by jazz. This website has lesson plans and audio files featuring Ella Fitzgerald, Duke Ellington, Louie Armstrong and Benny Carter.
Books
Beier, Ulli and Bakare Gbadamosi. Yoruba Poetry. Nigeria: General Public Section, 1959.
A collection of Yoruba poetry.
Drewal, Henry John and John Pemberton III. Yoruba, Nine Centuries of African Art and Thought. New York: Harry N. Abrams Publishers, Inc., 1989.
A very comprehensive collection of Yoruba art that also elaborates on Yoruba history and culture.
Okediji, Moyo. African Renaissance: New Forms, Old Images in Yoruba Art. Boulder: University Press of Colorado, 2002.
A catologue to a Denver Art Museum exhibition that included several works by Ogundipe.
Okediji, Moyo. The Shattered Gourd, Yoruba Forms in 20th Century American Art. United States: University of Washington Press, 2003.
An exploration of the application of African artistic forms in contemporary American art.
Owomoyela, Oyekan. Yoruba Trickster Tales. United States: University of Nebraska Press, 1997.
A compilation of Yoruba stories about trickster "Ajapa" the tortoise, stemming from their tradition of evening storytelling.
Children's Books
Hetfield, Jamie. The Yoruba of West Africa. New York: Rosen Publishing Group, Inc., 1996.
An early childhood book about the Yoruba people.
Levy, Patricia. Cultures of the World: Nigeria. New York: Marshall Cavendish, 1996.
A children's book for ages 9-12, about different aspects of Nigerian life.
Funding for object education resources provided by a grant from the Morgridge Family Foundation. Additional funding provided by the William Randolph Hearst Endowment for Education Programs, and Xcel Energy Foundation. We thank our colleagues at the University of Denver Morgridge College of Education.
The images on this page are intended for classroom use only and may not be reproduced for other reasons without the permission of the Denver Art Museum. This object may not currently be on display at the museum.