Sacred Bull of Shiva (Nandi)
1000s-1100s
Maker
Artist not known, South India
sculpture
granite
Gift of Mrs. Irene Littledale Downs
1964.14
About the Artist
An artist from the Tamil Nadu Province in southern India carved this sculpture sometime between the years 1000 and 1100 CE, during the reign of the Chola Empire. During this time, the Cholas ruled most of south India, Sri Lanka, and parts of the Indonesian island of Java from their homeland on the southeastern coast of India. The Chola rulers are remembered most for what they created rather than for what they conquered. Chola rulers were active patrons of the arts, and during their reign, poetry, drama, music, and dance flourished. They also constructed enormous stone temple complexes decorated inside and out with painted and sculpted representations of the Hindu gods. Hinduism, called the oldest living religion, is more a way of life than a single religion. Based on living a good life, Hinduism is a combination of a variety of religious practices from throughout India.
What Inspired It
Nandi, which means "giving delight" or "giving joy," is the sacred bull of the Hindu god Shiva, one of the most important Hindu gods. When the world becomes evil, Shiva destroys it to make way for beneficial change. Nandi is Shiva's animal form, his means of transportation, and his most ardent worshiper. Sacred animals served as vahanas, or mounts for Hindu deities to travel on. Shiva and Nandi's association in Hindu scriptures and art can be traced to very early Indian culture, where dairy farming was the most important occupation, thus explaining the importance and sacredness of the cow and bull. Vahanas symbolize or complement the energy or character of their deity. The white color of the bull symbolizes purity and justice. Nandi is also believed to promote fertility; passing temple visitors may touch the image's genitals for a blessing. A temple to Shiva would almost always have a Nandi sculpture. Nandi sculptures would often be decorated with fresh flowers and given other offerings.
Details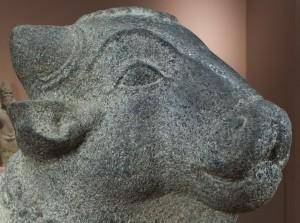 Youthfulness
A youthful Nandi is shown licking his muzzle in an engaging gesture of rapt devotion to Shiva. Hindu gods are usually depicted as being sixteen years old (sixteen being four times four, a number signifying perfection). Nandi is always shown as a young bull, his horns not fully developed.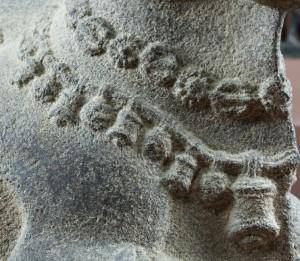 Carving
The surface of the sculpture is enriched with shallow carvings that heighten the volume of the body. The blanket across the back, flowers on the head, double row of necklaces, and leggings (perhaps made of leaves or flowers) are all realistically carved.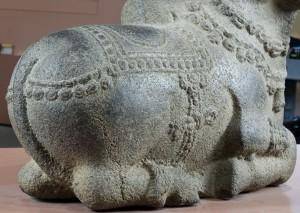 Saddle
A decorative strap encircles the animal's body in order to secure a load or saddle on its back. It is tied in a knot.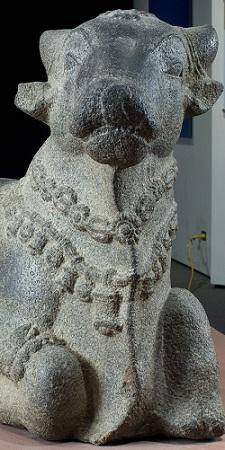 Movement
Subtle shifts in direction and position make the sculpted animal seem natural and almost moving. When looking head on, note the turn of Nandi's head to your left, and its tilt to your right. Also, one leg is tucked under Nandi's body while the other is raised up.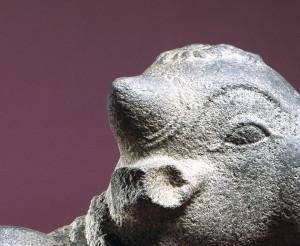 Brahman Bull
Nandi is a Brahman bull, the male zebu, or Indian ox. Brahman bulls have a hump on their back, horns, and a dewlap (a fold of loose skin hanging from the neck).
More Resources
The Nandi Seekers India Tour
Video showing Nandi sculptures throughout India.
Websites
This website tells the story of the birth of Ganesha, and Shiva and Nandi's involvement.
A website explaining nonverbal communication, with exercises to practice.
Children's Books
Prime, Ranchor. Hinduism (World Religions Series). British Columbia, Canada: Whitecap Books, 2004.
Ages 9-12. This book provides an overview of six major religions: Christianity, Islam, Judaism, Buddhism, Hinduism, and Sikhism.
Ganeri, Anita. This Is My Faith: Hinduism. Barron's Educational Series, 2006.
Ages 4-8. This book features true-life photographs and an interview with a child who talks about Hinduism.
Funding for object education resources provided by a grant from the Morgridge Family Foundation. Additional funding provided by the William Randolph Hearst Endowment for Education Programs, and Xcel Energy Foundation. We thank our colleagues at the University of Denver Morgridge College of Education.
The images on this page are intended for classroom use only and may not be reproduced for other reasons without the permission of the Denver Art Museum. This object may not currently be on display at the museum.