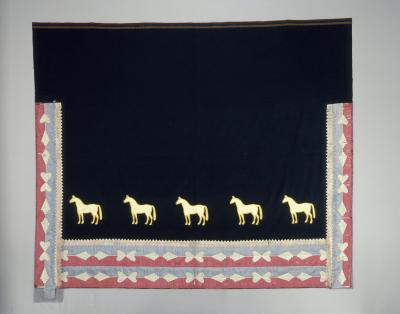 Ribbon Appliqué Wearing Blanket
early 1900s
Maker
Artist not known, Osage
59 in x 70.75 in.
Native arts acquisition funds, 1953.131
Photograph © Denver Art Museum 2009. All Rights Reserved.
About the Artist
A woman from the Osage tribe sewed this blanket in the early 1900s for a special dance called the I-loⁿ-shka [ee-LONSH-kah]. European explorers entered the Osage territory in the early 1600s and the Osage began trading with the French for things like wool cloth and silk ribbon—materials that were used in the making of this blanket. Ribbonworkers are female and the art form is learned from female relatives. Each Osage ribbonworker creates her own patterns. To make the silk decorations, the artist used a template to trace a design on colored ribbon, then she cut and folded the ribbon to form stylized arrowhead shapes and horses. She then stitched each shape onto a second colored ribbon, which she sewed by hand onto the wool blanket. Once complete, the blanket would have been worn by an Osage woman over her shoulders or as a skirt. Today, artists continue to produce ribbonwork, but they might use sewing machines to construct the patterns. These blankets are still worn today on ceremonial occasions.
What Inspired It
Every Osage who dances the I-loⁿ-shka, both male and female, wears clothing decorated with ribbonwork. Blankets like this one are often given as gifts at the dance. When worn during the I-loⁿ-shka dance, the blanket moves and sways with the dancer, surrounding him or her with a sense of history and tradition. Symbols and use of colors may vary between clans or even families. Horses, like those on this blanket, often symbolize prosperity and may also indicate a family's name.
I-loⁿ-shka means "playground of the eldest son." An eldest son is chosen keeper of the drum for a year or more. The drum-keeper chooses committee members who are knowledgeable in tribal traditions to plan the dance. His family gives gifts to committee members, pays for the dance, and prepares food for participants. Dances are held outdoors and dancers circle around a drum, moving in a counterclockwise direction. In the early days, only warriors danced the I-loⁿ-shka. Today all men and boys, and some women, dance around the singers and the drum.
Details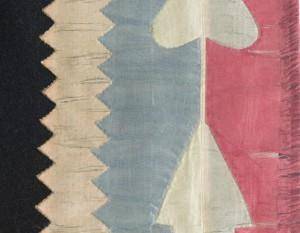 Ribbon
The horses and border are made from silk ribbons. After the French Revolution of 1789, silk had become unpopular in Europe and the French silk industry turned to America as a market for the unwanted ribbons.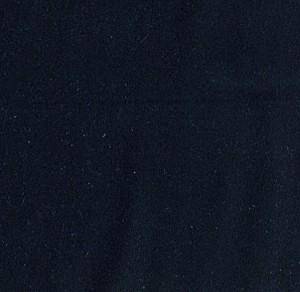 Wool Cloth
The Osage acquired wool cloth through trade with Europeans. Wool came in different colors including red, black, navy, and white.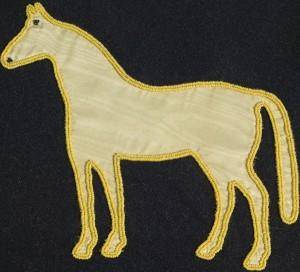 Horses
Horses symbolize prosperity and can also indicate family names. Notice the tiny yellow beads that outline the silk horses.
More Resources
Journey of the Osage
This 10-minute video from the St. Louis Art Museum was created in conjunction with their 2004 exhibit "Art of the Osage." Discusses Osage history; talks about blankets, ribbon-work, and the I-loⁿ-shka dance; and includes interviews with tribal historians and members.
Websites
See another example of a Wearing Blanket from the Metropolitan Museum of Art's collection.
Information on different cultural events, Osage language, and media.
Books
Bailey, Garrick; Swan, Daniel C. and Nunley, John W. Art of the Osage. Seattle: University of Washington Press, 2004.
An illustrated volume of Osage art.
Burns, Louis F. Osage Indian Customs and Myths. Tuscaloosa: University of Alabama, 2005.
An in-depth look at Osage culture.
Callahan, Alice Ann. The Osage Ceremonial Dance I'n-Lon-Schka. Norman, OK: University of Oklahoma Press, 1990.
An examination of contemporary (1970s-1980s) Osage ceremony, specifically the I'n-Lon-Schka dance. Includes oral interviews and the author's personal observations of I'n-Lon-Schka dances.
Kapoun, Robert W., with Charles J. Lohrmann. Language of the Robe: American Indian Trade Blankets. Salt Lake City, Utah: Gibbs Smith, 1997.
With over 300 photographs, this book explores the American Indian trade blanket: its history, symbolism, construction, and contemporary designs and manufacture.
Children's Books
Riehecky, Janet Catherine. The Osage. Mankato, Minn: Bridgestone Books, 2003.
For children ages 9 and up, this book introduces the Osage people.
Simermeyer, Genevieve. Meet Christopher: An Osage Indian Boy from Oklahoma. Oklahoma: Council Oak Books, 2008.
A good book for elementary school children; a young boy explains his life as an Osage Indian.
Funding for object education resources provided by a grant from the Morgridge Family Foundation. Additional funding provided by the William Randolph Hearst Endowment for Education Programs, and Xcel Energy Foundation. We thank our colleagues at the University of Denver Morgridge College of Education.
The images on this page are intended for classroom use only and may not be reproduced for other reasons without the permission of the Denver Art Museum. This object may not currently be on display at the museum.