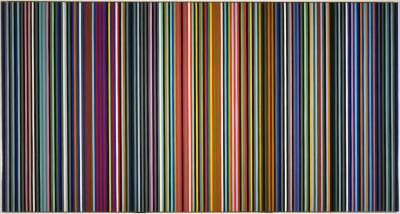 Phantom Tattoo
1965
Maker
Gene Davis, United States
Gene Davis, United States
1965
9.8 ft. X 18.8 ft.
Denver Art Museum Collection: Gift of Mr. Vance H. Kirkland, 1980.405
Photograph © Denver Art Museum 2008. All Rights Reserved.
About the Artist
Gene Davis was born in Washington DC in 1920 and spent nearly all his life there. Before 1968, when he was able to turn his painting into a full-time job, Davis worked as a journalist, taking on jobs as a sportswriter and as a White House Correspondent during the Truman administration. He was a self-taught artist who is best known for his colorful acrylic stripe paintings. Davis made a point that he was not an abstract artist: "I'm interested in the stripe as subject matter," he explained. "Just as Picasso will take the human figure and do all kinds of twists on it; I take the simple stripe use it in all of its many variations." He made stripe paintings in sizes from micro-mini to colossal, including a painting that spread across an entire street outside of the Philadelphia Museum of Art.
What Inspired It
Davis began making paintings of stripes in the late-fifties, when much of painting was created with expressive gestures like flinging and dripping. He made crisp, hard-edged paintings, which he purposefully made as neat as possible by using masking tape. "It was like a breath of fresh air," said Davis, describing how his straight-and-narrow color bands forged a new artistic direction in an art scene dominated by "messy" paintings.
In making Phantom Tattoo, Davis carefully laid down masking tape on the canvas to create approximately 220 stripes, each of equal width. When he filled the stripes in with color, he relied on his gut instinct to create a pattern that was like rhythmic music for the eyes.
Details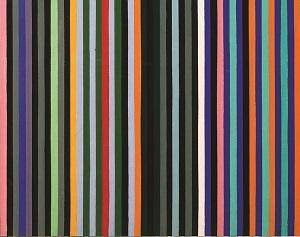 Color
Davis has said that the regular structure of his paintings—a series of stripes of equal length and width—allows the color to stand out. He has suggested that viewers "look at the painting in terms of individual colors. In other words, instead of simply glancing at the work, select a specific color . . . and take the time to see how it operates across the painting . . . when the viewer selects individual colors and looks across the surface of the work, he's almost reliving the painting process, because I often do put all of one color down at a session. And then I'll come back and use another color."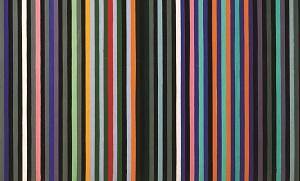 Rhythm
Davis's paintings typically repeat particular colors to create a sense of rhythm and repetition with variations. He compared himself to a jazz musician, using colors instead of notes. He worked from gut instinct, choosing colors on the spot and laying each one down in an irregular, unpredictable sequence. "I'm a real shoot-from-the-hip artist," he said.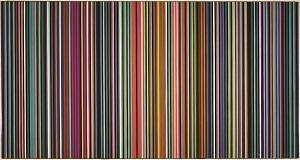 Title
Davis liked to have fun with the different titles that he gave his artworks. He said in an interview, "Well, I'll tell you. The only other artist who—I'll say this modestly—the only artist who does as interesting titles as me is Paul Klee, who titles his work such things as The Twittering Machine and lovely titles like that. I was very influenced—Klee was my first love. And the idea of putting ambiguous titles on paintings came from my first inspiration from Paul Klee."
More Resources
Websites
Smithsonian Oral Histories Interview with Gene Davis, conducted by Buck Pennington at the artist's home in 1981.
This is an NPR piece about the "Color Field Show" at the Smithsonian American Art Museum in 2008. It discusses Gene Davis from 0:25 - 1:46.
This short video is from the Smithsonian American Art Museum's Luce Foundation Center for American Art.
This website contains an article about the Washington Color School, which Davis was involved with.
This website has lesson plans and audio files featuring Ella Fitzgerald, Duke Ellington, Louie Armstrong and Benny Carter.
Books
Rich, Sarah K. Gene Davis: 1960s Stripe Paintings. New York, NY: Charles Cowles Gallery, 2004.
An illustrated catalogue from a 2004 exhibition at Charles Cowles Gallery.
Wilkin, Karen, and Carl Belz. Color as Field: American Painting, 1950–1975. New Haven, CT: Yale University Press, 2007.
This catalogue for a traveling exhibition includes information on several Color Field artists.
Children's Books
Reynolds, Peter. The Dot. Cambridge, MA: Candlewick Press, 2003.
A fun children's book for ages 5 and up about a girl who proclaims to her art teacher that she can't draw, but then discovers her inspiration from artistic variations on the dot.
Funding for object education resources provided by a grant from the Morgridge Family Foundation. Additional funding provided by the William Randolph Hearst Endowment for Education Programs, and Xcel Energy Foundation. We thank our colleagues at the University of Denver Morgridge College of Education.
The images on this page are intended for classroom use only and may not be reproduced for other reasons without the permission of the Denver Art Museum. This object may not currently be on display at the museum.