Monkey God (Hanuman)
19th Century
Maker
Artist not known, Southern India
sculpture
wood with pigment
Funds From Collector's Choice
1991.1012
About the Artist
This wooden sculpture was carved by an unknown artist during the 1800s in Southern India (perhaps in the regions of Tamil Nadu or Kerala). This sculpture shows Hanuman, the Hindu monkey-god, kneeling in devotion to the god Rama. Rama is a form of the Hindu god Vishnu, one of the most important gods in the Hindu tradition and the protector and preserver of the universe. The figure, carved on all sides, would originally have been painted in vivid colors and carried in a Hindu festival procession. This sculpture would have probably been regularly re-painted for festival appearances. The artist carved carefully defined muscles to show Hanuman's incredible strength, and flowers and jewelry to decorate the body.
What Inspired It
This sculpture was carved to honor the monkey-god Hanuman during Hindu festivals. In Hindu tradition, Hanuman was the son of the wind god. As a youth, Hanuman got in trouble with the gods and was struck down. His father, seeing his beloved son lying helpless, drew in a mighty breath and sucked away all the air from the cosmos. "Let all those who have harmed my son choke to death," he thought aloud. Predictably, there was panic in the cosmos. Without air, life on every level was threatened. The gods, realizing their folly, went in unison and asked for forgiveness. To make amends, they showered blessings and powers on the monkey child. As a result, Hanuman received a power greater than even that of his father: speed faster than the mightiest wind. One well-known story tells of Hanuman's strength when he helped Rama, one of the most important Hindu deities, recover his wife from a demon. In his devotion to Rama, Hanuman is upheld as a model for human devotion to the gods. His image reminds the viewer to humbly and devotedly serve god. This sculpture shows Hanuman kneeling in devotion to Rama, his face animated and his hands gesturing elegantly. During festivals, villagers would have placed garlands of fresh flowers (marigolds and chrysanthemums were frequently used) over the carved flowers that Hanuman wears. The figure was carried on the shoulders of several men.
Details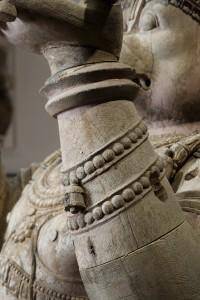 Elaborate Jewelry
Hanuman wears a crown, earrings, multiple necklaces, upper and lower arm bracelets (some decorated with bells), and multiple rings.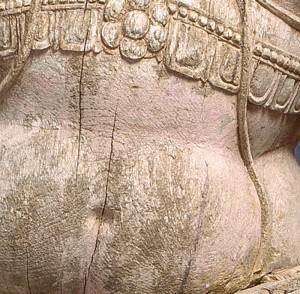 Traces of Color
Look for traces of color that once covered sculpture. There are traces of green in the garland, orange-red on the side decorations, and pink on the body. Hanuman probably had his colors regularly re-painted for festival processions.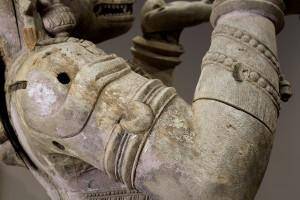 Shoulder
On the back of Hanuman's shoulder is a slot where a metal bar used to hold the arm to the shoulder. There is a similar bar in the inside of the thigh.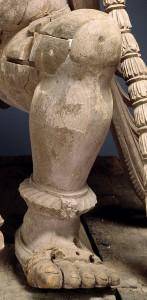 Strength vs. Reverence
Hanuman's physical strength is apparent throughout this sculpture. Notice the thick muscles of his calves, chest, and buttocks. And yet, don't forget that Hanuman is shown in an act of kneeling devotion to his lord, Rama.
More Resources
This short video offers a glimpse at modern day worship of the important Hindu god Hanuman.
Websites
Essay "Hinduism and Hindu Art" from the Metropolitan Museum of Art's Heilbrunn Timeline of Art History, with accompanying images.
A short introduction to the life of Hanuman.
Information and a story about Hanuman.
A brief story about Hanuman.
Books
Barnard, Nicholas. Arts and Crafts of India. London: Conran Octopus Ltd., 1993.
The foundations and inspirations for artworks from different regions, highlighting the various mediums of wood, stone, paint, textiles, and others.
Children's Books
Ganeri, Anita. This is My Faith: Hinduism. Barron's Educational Series, 2006.
For ages 4-8, this book features true life photographs and an interview with a child who talks about Hinduism
Jendresen, Erik, and Joshua M. Green. Hanuman: Based On Valmiki's Ramayana. Berkeley, CA: Tricycle Press, 1998.
A wonderfully illustrated story for children ages 4 and up. This story from the epic Hindu text, the Ramayana, is retold for children. Hanuman helps to rescue Princess Sita, the wife of the Hindu deity Rama.
Prime, Ranchor. Hinduism (World Religions Series). British Columbia, Canada: Whitecap Books, 2004.
For ages 9-12, this book provides an overview of six major religions: Christianity, Islam, Judaism, Buddhism, Hinduism, and Sikhism.
Raju, P.T. Philosophical Traditions of India. Pittsburgh: University of Pittsburgh Press, 1972.
For older students, an in-depth look into some of the foundations of philosophy, such as the Vedas, Upanishads, Indian Epics, and Ethical Codes.
Sharma, Bulbul. The Ramayana for Children. New Delhi: Penguin Books India, 2003.
A retelling of the great Hindu epic, the Ramaya, written for children ages 8 and up.
Sperling, Vatsala. Hanuman's Journey to the Medicine Mountain. Vermont: Bear Club Books, 2006.
A beautifully illustrated children's story about Hanuman's heroic deeds, which also includes a fun coloring sheet to photocopy at the back of the book. For ages 6 and up.
Verma, Jatinder. The Story of Divaali. Cambridge: Barefoot Books, 2002.
For children ages six and up, this story based on the Hindu epic the Ramayana explores the events celebrated during the festival of Divaali, the Indian festival of lights.
Funding for object education resources provided by a grant from the Morgridge Family Foundation. Additional funding provided by the William Randolph Hearst Endowment for Education Programs, and Xcel Energy Foundation. We thank our colleagues at the University of Denver Morgridge College of Education.
The images on this page are intended for classroom use only and may not be reproduced for other reasons without the permission of the Denver Art Museum. This object may not currently be on display at the museum.