Molten Polyester
2005
Artist
Edward Ruscha, American, 1937-

Born: Omaha, NE
Work Locations: Los Angeles, CA
painting
Acrylic paint on canvas
Collection of Vicki and Kent Logan and promised gift of Vicki and Kent Logan with additional funds from the Wesley R. Spurry bequest, 2003 Vanderversary Gala, and Museum deaccession funds, in honor of Dianne Vanderlip
2005.89
About the Artist
Edward Ruscha (roo-shay) was born in 1937 in Omaha, Nebraska, and raised in Oklahoma City. In 1956, at the age of 18, he took a road trip with a friend to Los Angeles, California, where he planned to begin his studies in commercial art. The journey proved to be incredibly influential. A few years later, using black-and-white photographs of gas stations he had encountered along Route 66, Ruscha created a new medium, the artist's book. These artist's books, along with his paintings of popular icons and single words, launched his professional career. Although Ruscha abandoned his study of commercial art to concentrate on painting, certain techniques acquired during his training, such as layering and lettering, continued to influence his work.
What Inspired It
Ruscha has incorporated land formations and popular icons that dot the American landscape into much of his work. Often, Ruscha pushes the landscape to the background to make way for words, which are also prominent in his work. "Paintings of words can be clearer to see when there is an anonymous backdrop…And so there's a landscape that's a background, but I don't see it. It's almost not there. It's just something to put words on," says Ruscha.
Ruscha loves the "evocative power of words." In choosing to paint words, he lets the words evoke images on their own—instead of painting an image of a liquefied chemical oozing across the canvas, he paints the words MOLTEN POLYESTER themselves. Ruscha does not feel that it is important for the viewer to interpret his work in any particular way: "I know that viewers of my work looking at an English word are going to try to translate it into a meaning. But often I'd like them to lose the meaning and just look at the word as an abstract jumble. Yet I'm not giving the viewer any guidance as to how to respond. I think the artist should stand by in silence." He says, "I love language. Words have temperatures. When they reach a certain point and become hot words, they appeal to me."
Details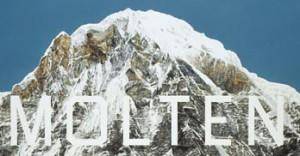 Landscape as Background
The top half of the painting shows a snow-covered craggy mountain. The mountain is inverted in the bottom half of the painting, and the contrast between the snow and rock is much more subtle than in the image on top. The inverted image extends beyond the body of the canvas and is shrouded in a vibrant, artificial blue.

Words
Ruscha painted these words in such a way as to demand our attention—they are centered across the canvas and measure 7 ½ inches in height. The word POLYESTER, in particular, stands out against the vibrant blue on the bottom of the canvas.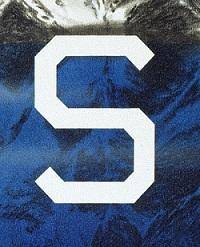 Letters as Shapes
Each letter that comprises the words MOLTEN and POLYESTER is made from a line, just like the line that delineates the mountain from the sky, and the line that divides the bottom of the canvas from the top. When viewed as simply shapes on the canvas, the squiggly lines that make up the words MOLTEN and POLYESTER don't have any meaning. As Ruscha says, "well isn't it curious that those little squiggles-the way they come about, and they way they form and follow one another and precede one another-go to make up that funny word? If you isolate a word for just a moment and repeat it ten, fifteen times, you can easily drive the meaning from the sound of the word. I do that a lot with the printed word."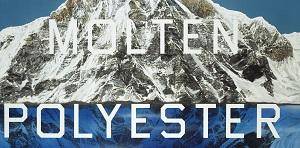 Words as Carriers of Meaning
When lines are arranged in shapes and put together to form a word, they automatically take on meaning for us. When a viewer brings to the canvas his or her personal understanding of the words MOLTEN and POLYESTER, or the phrase MOLTEN POLYESTER, and combines those with a landscape of a mountain, any number of interpretations can come about. Consider the relationship between the word MOLTEN and the frozen landscape scene on top of which it sits; or the juxtaposition of the wilderness of the landscape and the idea of industry evoked by the word POLYESTER. The viewer is free to interpret the artwork in a variety of ways. According to Ruscha, "My work doesn't come with a set of instructions. There are no rules for looking at my paintings. They come, as I have said, from my intuition…"
More Resources
Typography: Off Book PBS
<iframe width="560" height="315" src="https://www.youtube.com/embed/eKKDL6lekmA" frameborder="0" allowfullscreen></iframe>
A nice corollary to Ruscha's use of type, this short episode of the PBS Arts online series "Off Book" discusses type and the people who use this art form in creative and expressive ways.
Video: Ed Ruscha on the Borders of Art
This is a short video about the relationship between commercial and traditional in Ruscha's Art.
Websites
This site has an online catalogue of Ruscha's paintings, and includes other resources about the artist.
An online interview with the artist featured in the February 12, 2008 issue of TimeOut London.
Books
Benezra, Neal, and Kerry Brougher. Ed Ruscha. Washington D.C.: Hirshorn Museum and Sculpture Garden, 2000.
A biography of Ruscha, supplemented with many examples of his work.
Le Coultre, Martijn F., and Alston W. Purvis. Graphic Design 20th Century.New York City: Princeton Architectural Press, 2003.
A study of the development of modern graphic design, accompanied by a visual recount of the various styles seen during the century.
Meggs, Philip B. History of Graphic Design. New York: Van Nostrand Reinhold Publishers, 1992.
A comprehensive study of the maturation of graphic design, reaching as far back to the invention of writing and following graphic design's course up through the information age.
Ruscha, Ed. Gunpower and Stains. Munich: Monika Spruth, 2000.
A catalogue from a Ruscha exhibition, featuring the artist's illustrations from the 1970s.
Ruscha., Edward. They Called Her Styrene. London: Phaidon Press Ltd., 2000.
A series of Ruscha's language-based images, arranged in a book format so as to be a novel, which form an implied narrative rather than a clear plot.
Ruscha, Edward. Words Without Thought Never to Heaven Go. Lannan Museum, 1988.
Information on Ruscha's life and numerous examples of his work.
Ruscha, Edward. I Don't Want No Retrospective, The Works of Edward Ruscha. New York: Hudson Hills Press, 1982.
A collection of essays about Ruscha, his chronology, and some of his work.
Funding for object education resources provided by a grant from the Morgridge Family Foundation. Additional funding provided by the William Randolph Hearst Endowment for Education Programs, and Xcel Energy Foundation. We thank our colleagues at the University of Denver Morgridge College of Education.
The images on this page are intended for classroom use only and may not be reproduced for other reasons without the permission of the Denver Art Museum. This object may not currently be on display at the museum.