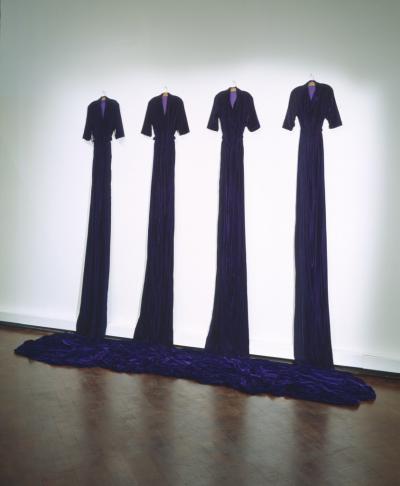 Four Purple Velvet Bathrobes
1991
Maker
Beverly Semmes, United States
Beverly Semmes, United States
1991
Height: 144 in. Width: 132 in. Depth: 36 in.
Funds from Alliance for Contemporary Art, Mr. & Mrs. Bernard Rosen, Judy and Ken Robins, Carley Jane Warren, Carol and Larry Levin, and Jerry and Jo Anne Friedman, 1991.844
Photograph © Denver Art Museum 2009. All Rights Reserved.
About the Artist
Beverly Semmes was born in Washington D.C. in 1952. She credits her lifelong interest in fabrics and sewing to her grandmother, who lived with the artist's family and created clothing for herself, and for Semmes. It was in the late 1980s that Semmes began mixing art and clothing. She began filming moving and still figures wearing exaggerated or oversized garments in constructed landscapes such as an English garden or a cathedral. In many cases, the garments themselves resembled aspects of landscape: waterfalls, bushes, and trees. In the early 1990s, she experimented with removing the physical body from these costumes, and the garments became sculptures in their own right. She liked being able to focus on the garment itself and not the human form meant to go inside it. She says, "Using fabric was sort of an idea that I could have the skin of the thing be the thing."
What Inspired It
The initial inspiration for this artwork was the interaction between body, dress, and nature. Semmes saw the robes as trees when creating them. She explains, "Those dresses were like characters in a kind of opera that would have been taking place in a garden." Semmes also says that in her view, Four Purple Velvet Bathrobes holds "the feeling of the brief moment one emerges from a hot shower followed by a billow of steam," somewhere outside of "real space." The weight and draping of the fabric might suggest the flow of water, pooling at the base of the robes. Semmes sewed these garments on a regular home sewing machine after trying and disliking an industrial sewing machine. She used her own body for the sizing of the robes.
While Semmes sees this piece as a relationship between body and landscape, others have found largely feminist connotations. Upon seeing the robes, former DAM curator Dianne Vanderlip had this thought: "A woman can never be too thin, too tall, or too rich." Others see the towering robes as a comment on female power or superiority. Semmes, who views the robes as unisex, says that feminist qualities never stood out to her until she began receiving outside response to the piece. "I sort of had to see myself through these kind of external eyes," she says, "and realize, 'Jeez! How can you spend years making giant dresses and not own up to any feminist reading in this piece?'"
Details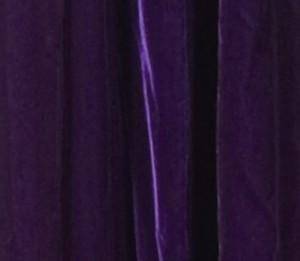 Fabric
"I decided to make something to kind of overdo the idea of luxury," Semmes says. The robes are made of purple velvet, evoking a sense of royalty. The weight of the fabric allows the robes to fall smoothly to the floor.
Absence of the Body
Without the presence of a physical body, we can only imagine what kind of a being this clothing might have been created for.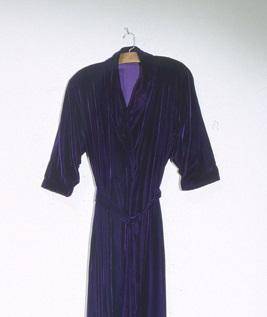 Gender
To many people, these seem like feminine garments—perhaps because of the robe's associations with domesticity, the cut of these particular garments, and the material. However, Semmes sees these robes as unisex.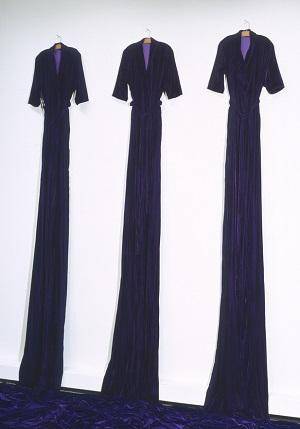 Height
These fabric "structures" stand at 12 feet tall and tower over their viewers like trees. The first time Semmes installed the robes in an art gallery she experimented with hanging them at different heights, finally deciding to hang them as high as she could. "I like seeing them monumental," she says.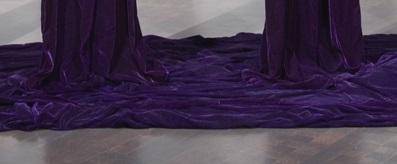 "Puddle"
The four robes pool together on the floor, creating what Semmes calls a "puddle." Notice how the robes become indistinguishable as individual pieces where they come together.
More Resources
Websites
The artist's official website.
Tips on writing one-act plays from Virginia Commonwealth University
List of dictionary definitions for various types of fabrics.
Books
De Oliveria, Nicolas et al. Installation Art in the New Millennium: The Empire of the Senses. New York: Thames & Hudson, 2004.
This book contains images of installation art from around the world.
Funding for object education resources provided by a grant from the Morgridge Family Foundation. Additional funding provided by the William Randolph Hearst Endowment for Education Programs, and Xcel Energy Foundation. We thank our colleagues at the University of Denver Morgridge College of Education.
The images on this page are intended for classroom use only and may not be reproduced for other reasons without the permission of the Denver Art Museum. This object may not currently be on display at the museum.