Dance Examination (Examen de Danse)
1880
Artist
Edgar Hilaire Degas, French, 1834-1917

Born: Paris, France
drawing
Pastel on paper
Anonymous Gift
1941.6
About the Artist
Edgar Degas was born in Paris in 1834, and was drawn to art at an early age. As a young man, he registered as a copyist at the Louvre Museum where he studied and copied works of art by great artists of the past, from the Renaissance to Roman times. Degas eventually entered law school under pressure from his father, but his passion for art led him to abandon his studies to pursue a career as a professional artist. Although Degas undertook some formal training, for the most part he directed his own curriculum, forming a foundation of independence that would be the hallmark of his entire career. Degas traveled throughout Italy and France, absorbing the people, landscapes, and works of art he encountered, and filled out countless notebooks of sketches and ideas. Returning to Paris, he became drawn to more modern subject matter, including horse racing, the cafes, the theater, ballet, and electric light. Degas also embraced experimentation, both in his techniques and materials (even inventing new recipes in his attic studio). An artist with a sharp sense of humor, he wrote: "Fortunately for me, I have not found my method; that would only bore me."
Fiercely independent, he exhibited with the Impressionists, who were exploring radical new ways of making art, but he never joined their group. After becoming more successful and well-known in the Parisian art world, Degas stopped exhibiting as frequently, especially as he began losing his eyesight. As he aged, his eye problems severely halted his work on paper and canvas, and sculpture became his primary medium, only having to eventually abandoning that as well. Degas died in Paris in 1917 at the age of 83 after a very long and prolific career.
What Inspired It
While living and working in Paris, Degas frequently attended the Paris Opera, and became intrigued with the performers and musicians he saw there, including ballet dancers. Dancers became some of Degas's favorite subject matter, as they provided a way to investigate movement and his love of materials. He rendered them in charcoal, oil paint, prints, pastel, watercolor, wax, and clay. Degas would often portray the dancers rubbing sore muscles, stretching, gossiping, or prepping for a number on stage. Few of his works show the dancers actually on stage performing. Most were like this pastel; showing the true work and realism that go into creating a ballet performance. He once wrote: "People call me the painter of dancing girls. It has never occurred to them that my chief interest in dancers lies in rendering movement and painting pretty clothes."
Details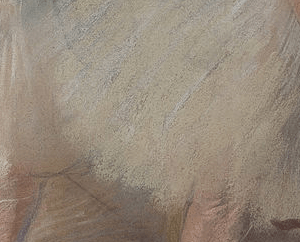 Brushwork
Degas's brushwork is light and feathery, especially seen in the tutus of the ballerinas, which seem like they're full of movement and made of slightly see-through tulle.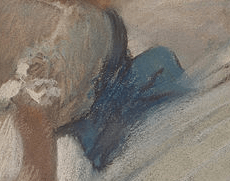 Color
Neutral colors dominate Degas's palette here, but the sharp touch of blue in the sash of one of the dancers draws the viewer's eyes to the center of the composition.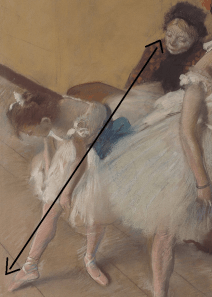 Composition and Line
Each figure is looking down, drawing the viewer's eye in an invisible line from the top right hand corner, through the blue sash, down to the ballerina's foot on the bottom left.
Point of View
Often, Degas portrays his ballet figures as if he is secretly looking in on them; they are not posed, instead shown as performing their normal duties. With this composition, Degas makes the viewer feel like a fly on the wall, watching the examination from a slightly elevated position.
Realism
Degas incorporated realism into his treatment of the figures and facial expressions. He would often ask dancers to pose a certain way, especially if painting them in his studio.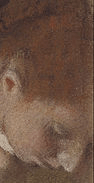 Cut-off Figures
Seen as almost a snapshot of a single moment, Degas cuts off some of the figures on the side. This makes the work look less posed and more realistic.

Slanted Composition
The composition seems slanted or compressed—a technique that Degas picked up from famous Japanese prints. This point of view adds to the asymmetry of the composition and makes it more dynamic.
More Resources
Funding for object education resources provided by a grant from the Morgridge Family Foundation. Additional funding provided by the William Randolph Hearst Endowment for Education Programs, and Xcel Energy Foundation. We thank our colleagues at the University of Denver Morgridge College of Education.
The images on this page are intended for classroom use only and may not be reproduced for other reasons without the permission of the Denver Art Museum. This object may not currently be on display at the museum.