DAM Crazy
2006
Artist
Jane Mathews, American, 1941-
quilt, wall hanging
Paper quilt with machine stitching and cotton backing
Neusteter Textile Collection: Helen Strange Patterson Memorial Fund and funds by exchange from Katherine Hicks
2007.4
About the Artist
Jane Mathews is a multi-media artist who likes to combine and transform materials in her work. "I try to mix it up," Mathews says. She spent her 1950s childhood "always making things," inspired by her father who taught her how to draw and paint and her mother who taught her how to sew. She combined these two skills, drawing and sewing, to design and make ruffled dresses for her dolls. To this day she continues to make some of her own clothes.
In graduate school, Mathews studied textiles from different countries and observed how artists produced textiles from materials common to their local environments. She realized how prevalent paper was in her daily life, from a newspaper on her driveway to printer paper in the workplace. Keen to use recycled materials, she employed junk mail and old magazines to create paper quilts such as Junk Mail Garden (exhibited at Denver Art Museum in Fabulous Floral Fabrics in the textile art gallery) and DAM Crazy (exhibited in both Debut and Sleight of Hand in the textile art gallery).
What Inspired It
Commissioned by Alice Zrebiec, curator of Textile Art at the Denver Art Museum (DAM), the paper quilt DAM Crazy was purchased partially with funds donated by volunteers and docents to honor the deceased mother of Carl Patterson, the former Chief Conservator of the DAM. These funds were supplemented with acquisition funds from the Textile Art department. In addition to being a docent, Jane Mathews also worked at the DAM for many years as a conservation assistant and reviewed many of the textiles in the collection. Mathews' familiarity with large segments of the collection and her love of textiles in particular combined to inspire DAM Crazy.
For DAM Crazy, Mathews re-imagined quilting by swapping fabric for paper, using calendar pages and artwork images taken from the bi-monthly DAM newsletter On and Off the Wall. She also used copies of the photographs of quilts she took when she worked as a surveyor of the Museum's quilt collection. Mathews cut these papers into shapes, arranged them by color and image, and machine-stitched them together in a zigzag thread pattern to give the appearance of a quilt.
Details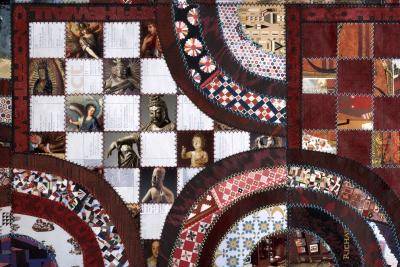 On and Off the Wall Calendar Squares
Mathews estimates that she collected stacks of the bi-monthly DAM newsletter On and Off the Wall for about 20 years. The white squares in DAM Crazy are pieces cut from the monthly calendars published in the newsletter. These calendar squares were chosen at random and reference the importance of time in a museum. As Mathews states, "When is a museum open, when does an exhibit close, when was this object made, how long did the artist live, when did the museum obtain work, and how long will it take to prepare an object for display, are all pertinent questions that I have become aware of while working at DAM."
These white calendar squares are interspersed with image squares to create a checkerboard motif.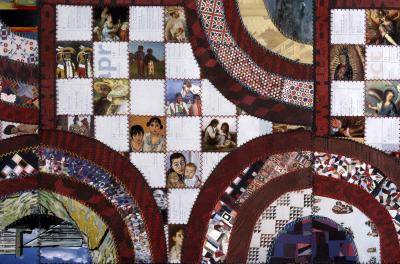 Subject Matter
The image squares are filled with photographs of works of art from the DAM collection, taken from On and Off the Wall and grouped according to subjects such as animals, families, flowers, houses, and other architecture. According to the artist, she placed the textile patterns from On and Off the Wall photographs around these images to act as a protective wrap, similar to how actual textiles can provide us with protection and comfort.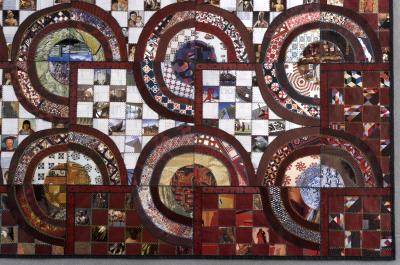 Painted Sections
Mathews cut out On and Off The Wall titles, lined them into strips, and photocopied and painted them to create the border of brick red squares around the edge of her artwork. In her words, "Being a quilt with so many different colors in it you need something to tie the whole piece together. You can use shape – the squares and circles do that but also color unifies the whole piece. By putting a darker red border on the outside says this is the end of all this busyness – stop here and stay within this rectangle."
More Resources
Funding for object education resources provided by a grant from the Morgridge Family Foundation. Additional funding provided by the William Randolph Hearst Endowment for Education Programs, and Xcel Energy Foundation. We thank our colleagues at the University of Denver Morgridge College of Education.
The images on this page are intended for classroom use only and may not be reproduced for other reasons without the permission of the Denver Art Museum. This object may not currently be on display at the museum.