Students will use Harry Fonseca's painting Shuffle Off to Buffalo #V to spur their imaginations. They will write their own stories about how Coyote came to dance on stage dressed up as Uncle Sam.
Intended Age Group
Elementary (grades K-5)
Standards Area
Language Arts
Lesson Length
Two 45 minute lessons
Objectives
Students will be able to:
write a short story that incorporates what they learned about Coyote and that teaches a lesson; and
read or tell their story aloud to a small group of students in their class.
Lesson
Day 1
Warm-Up: Show students Harry Fonseca's painting Shuffle Off to Bufalo #V. Ask them what they think is going on in the painting, and give them time to just say what they think.
Using material from the About the Art section, tell the students about Harry Fonseca and why he chose to use Coyote in his paintings. Discuss with the students why they think Fonseca had Coyote dressed up as Uncle Sam dancing on stage (for older students you may choose to explore the cultural implications discussed on the About the Art section).
Share with the students that they are going to write their own story about how and why Coyote came to be dressed up as Uncle Sam, dancing on stage.
Creativity warm-up: Play the song "Shuffle Off to Buffalo" and have the students write down or sketch thoughts that come to mind as they listen to the song. Tell them to write down everything they think of without holding back, in order to let their creativity and ideas start flowing.
Have students outline some basic ideas for their story.
Day 2
Warm-up: Have students circle up. Tell them that they are going to tell a story as a class (you can set parameters in regards to content to keep things psychologically safe). Say that it's okay to be silly and creative. You will start the story and the person to your right will say, "Yes, and…" and add a small section. The person to his or her right will say, "Yes, and…" and add another section. This process will continue until the story has gone around the entire circle.
Have students revisit their outlines and make changes as needed. Give them time to finish their stories. Set parameters for the story that fit your needs.
Allow students time to get into groups of three to share their stories and receive feedback.
Students should revise stories and submit them, if needed, for grading. If time allows, it may be fun to have students volunteer to read their stories to the entire class. They may also share their stories with students in lower grades as a mentoring opportunity.
Materials
One copy of the song "Shuffle Off to Buffalo" from the musical 42nd Street and a CD or tape player (or online access to play a video version of the song)
Lined paper and pencil/pen for each student
About the Art section on Harry Fonseca's painting Shuffle Off to Buffalo #V (included with the lesson plan) or student access to this part of Creativity Resource online
One color copy of the painting for every four students, or the ability to project the image onto a wall or screen
Standards
CO Standards
Visual Arts

Observe and Learn to Comprehend
Relate and Connect to Transfer
Envision and Critique to Reflect

Language Arts

Oral Expression and Listening
Writing and Composition
21st Century Skills
Collaboration
Critical Thinking & Reasoning
Information Literacy
Invention
Self-Direction
Shuffle Off to Buffalo #V
1983
Artist
Harry Fonseca, Maidu, American, 1946-2006

Born: Sacramento, CA
Work Locations: Santa Barbara, CA, Sacramento, CA, Santa Fe, NM
About the Artist
Harry Fonseca was born in Sacramento, California in 1946, and passed away in December of 2006. He came from Maidu, Hawaiian, and Portuguese background, and his Maidu ancestry largely influenced his work. Much of his early inspiration came from traditional Native art forms, including basketry and dance, and from the Maidu creation story. Fonseca also studied the art of European masters and loved the opera. He connected to tradition in new ways, combining themes and patterns from his heritage with his own artistic vision and ideas from contemporary society. Fonseca traveled internationally to paint and lecture, and participated in numerous exhibitions, including the Venice Biennale in Italy in 1999. He was the recipient of a number of grants and awards, including the Alan Houser Memorial Award, presented to him by New Mexico Governor Bill Richardson, celebrating "an outstanding individual who has demonstrated artistic success and community involvement."
What Inspired It
Fonseca began using the character Coyote in the late 1970s (the Denver Art Museum owns two from the series; Coyote #1 shows a Maidu dancer dressed as a coyote wearing a condor feather cape). Coyote appears in several traditional Native legends from different tribes and has many meanings, including, but not limited to, the trickster, the wise man, and the changer or transformer. He has a strong place in the Maidu creation story. Fonseca created a series of paintings that places Coyote in contemporary settings—as a biker, or a dancer in the ballet Swan Lake, for example. In placing the Native American folk hero in contemporary, mainstream settings, Fonseca created imagery that can break down stereotypes. He shows both Natives and non-Natives that Native people are active participants in making mainstream life and culture.
Details

Title
The title, Shuffle Off to Buffalo #V, comes from a song in the Broadway play 42nd Street.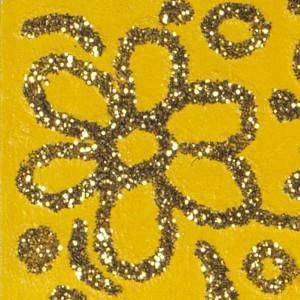 Glitter
Fonseca applied glitter to the border, adding to the theatrical and playful look of the painting. Fonseca may also have used glitter here to reference the California gold rush. Between 1846 and 1870, in California alone, the gold rush caused an 80 percent decline in American Indian populations that directly affected Maidu culture.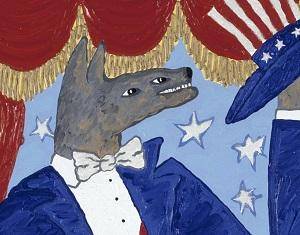 Coyote
Fonseca placed Coyote on a stage dressed in an Uncle Sam costume. By placing Coyote in this contemporary setting, Fonseca made the suggestion that Coyote is the president of the United States. Coyote himself represents Native Americans, and in this painting asserts that Native people can take on any role they choose.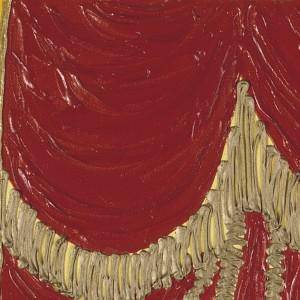 Thick Application of Paint
Fonseca chose to apply the paint thickly. The red curtains appear velvety and heavy. The yellow frame, enhanced with glitter, seems to emphasize Coyote as a celebrity.
Funding for object education resources provided by a grant from the Morgridge Family Foundation. Additional funding provided by the William Randolph Hearst Endowment for Education Programs, and Xcel Energy Foundation. We thank our colleagues at the University of Denver Morgridge College of Education.
The images on this page are intended for classroom use only and may not be reproduced for other reasons without the permission of the Denver Art Museum. This object may not currently be on display at the museum.