Students will learn about Moyo Ogundipe's creative process and concept of self through his painting Soliloquy: Life's Fragile Fictions. Through journaling, large and small group discussions, and painting, they will explore aspects of their own identities.
Intended Age Group
Secondary (grades 6-12)
Standards Area
Language Arts
Lesson Length
Two 55 minute lessons
Objectives
Students will be able to:
define "soliloquy" and express a theory as to why Ogundipe's Soliloquy: Life's Fragile Fictions might have the word in its title by recognizing, expressing, and defending their points of view orally;
describe Moyo Ogundipe's creative process;
explain how a person's surroundings influence his or her choice of artistic materials and content, identity development, and worldview; and
describe how at least two features of Ogundipe's Soliloquy: Life's Fragile Fictions reflect his environment (growing up and as an adult).
Lesson
Day 1: Moyo Ogundipe's Soliloquy: Life's Fragile Fictions
Share with students that you will be looking at how people explore and express concepts of identity, culture, and personal experiences. Say that you will be using the work of Moyo Ogundipe, an artist who was born in Nigeria and lived in Colorado for a number of years.
Project the painting, or pass out the color photocopies to groups of three students, to see the artist's work. Ask them to talk a little bit about what they see with the members in their group. Share with students information from the About the Art section.
Tell students that they will be watching a video of Ogundipe talking about his work, and that during the video they should focus on these questions (display the questions where they can see them, or give each student a handout with the questions on it):

Why is music important to Ogundipe's creative process?
What different cultures/influences are present in his work?
What does he want his work to do?
What is his art about in general?
What does he often do after he makes an image? Why?
What does he think about while painting?
Where does he want his images/forms/colors to come from?
How come he doesn't agonize over what to do next in his paintings?

Play the video of Ogundipe talking about his work and creative process. Students may jot down notes during the video and answer the questions more completely once it is finished.
Have students discuss their answers in their small groups. You will lead a large group discussion after a while to bring some key ideas together for the entire class.
Day 2: Student Soliloquies
Warm-up: Working in pairs, have students select three items that are part of their everyday culture. Tell them they need to describe the role of the objects in their lives. Have the students imagine that people from the 1600s find the object somehow magically transported back to the past. What would they think about the object? Would it scare them? What would happen if they started playing around with it? How would it impact what they think they know about the world?
For a large group discussion, ask students if objects and culture influence how people think about and define themselves. If so, how? How is Ogundipe influenced by such things? What external and internal factors motivate his creativity?
Working alone, students will write a soliloquy weaving together different elements from their various cultures (peer groups, immediate family, extended family, the broader society). Review with students what a soliloquy is, using resources such as this one offered by K12 Reader
Put on the music the class has selected, perhaps playing different types of music throughout the period. Allow students the remainder of the period to write. You can choose to give them extra time at home to revise and/or finish their work.
Materials
Ability to display a set of questions on a board where every student can see it, or a handout for each student with the questions on it
Journal or sufficient paper and a pen or pencil for each student
Ability to share with students a resource on soliloquys, such as this one by K12 Reader
Music and a CD player (you may have students select the music or you may provide your own)
About the Art section on Moyo Ogundipe's Soliloquy: Life's Fragile Fictions (included with the lesson plan) or student access to this part of Creativity Resource online
Internet access to play a video of Ogundipe talking about his art
One color photocopy of the painting for every three students, or the ability to project the image on a wall or screen for the students to see (ideal)
Standards
CO Standards
Visual Arts

Invent and Discover to Create
Observe and Learn to Comprehend
Relate and Connect to Transfer
Envision and Critique to Reflect

Language Arts

Oral Expression and Listening
Research and Reasoning
Writing and Composition
Reading for All Purposes
21st Century Skills
Collaboration
Critical Thinking & Reasoning
Information Literacy
Invention
Self-Direction
Soliloquy: Life's Fragile Fictions
1997
Artist
Moyo Ogundipe, Nigerian, b. 1948

Work Locations: Denver, CO, Nigeria
About the Artist
Moyo Ogundipe was born in Nigeria in 1948, of Yoruba heritage, and lived there until the 1980s when he fled the country's military dictatorship. He moved to Denver in 2002, where he lived for six years before recently returning to Nigeria. He spent part of his time in Colorado as an adjunct instructor of painting and drawing at the University of Colorado at Denver. Moyo graduated from the University of Ife in Nigeria with a B.A. in Fine Art and Education, and received his M.A. in Studio Art from the Maryland Institute College of Art. His work has been shown extensively in Nigeria and in U.S. museums including the Denver Art Museum, the Orlando Museum of Art, the Maryland Museum of African Art, and the New Museum of Contemporary Art in New York.
"It is futile to classify me as a Yoruba, African, or Nigerian artist," says Ogundipe. "I am a human being. I am an artist who happens to express myself in the mode of painting. I paint the intense mystery and beauty of this world, the symphony of life, from the atomistic to the cosmic, the perfect orchestration of the universe—this is what artists do, whether European, American, or Asian. We try as human beings to express the deepest joys and sorrows, the feelings and the emotions of this harmony."
What Inspired It
Ogundipe paints in the rich tradition of the Yoruba culture of Nigeria, but uses Western materials such as acrylic and oil. Because his father was a teacher, Moyo grew up living in Christian school compounds that were surrounded by African villages. Living in an environment with both Western and African influences, he gained what he calls a "hybrid experience." He says, "I have tried to find a synthesis among my training, my exposure to the art of other people, and the diversified beauty of my own indigenous traditions. I am striving to produce an art that is a genuine reflection of me, as well as a universal statement."
Details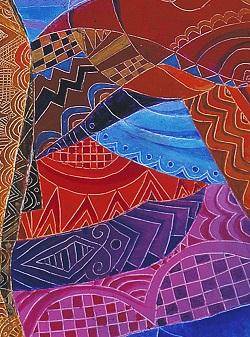 Color
"My colors are African, free, full, unrestrained, vibrant," says Ogundipe. The explosion of color on the canvas is similar to the explosion of color that surrounds a masquerade; or the saturation of color found in the marketplaces—rural and urban landscapes of Ogundipe's native Africa.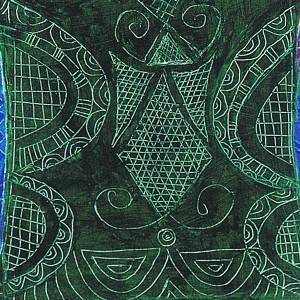 Pattern
Ogundipe applies paint to the canvas, then carves into the paint [by etching] to create the textured pattern of the background. He finds inspiration in textile designs, Yoruba carving, and body paint (detail on right taken from the body of the woman). "I belong to a school that we cal onaism. Ona is a Yoruba word that means decoration or embellishment," says Ogundipe.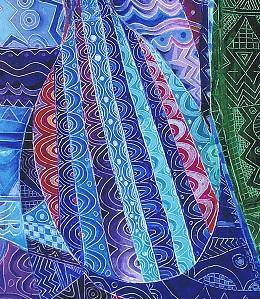 Rhythm & Repetition
"There is considerable improvisation," says Ogundipe. "There is the element of jazz, of musicality. I repeat a lot of things to generate rhythm. At first I was worried that I repeated things so many times. That I should be more innovative. But then I discovered that there is a rhythm where there is repetition. Repetition is easy on the eye and draws you into the picture. It is predictable, yet it may also surprise you."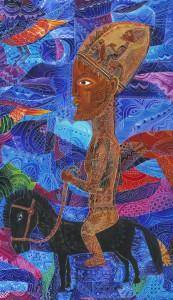 Horse & Rider
The horse and rider are homage to Africa—they remind us of the iconography of Yoruba carving. Ogundipe pays tribute to the artists/carvers that have come before him by painting, not carving, this horse and rider.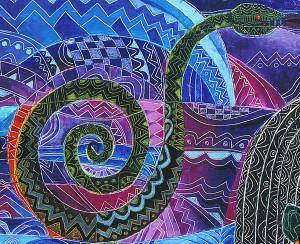 Snake
Among the Yoruba, a snake can be symbolic of no beginning and no end. They are mysterious, in part because they live in the ground and have no legs.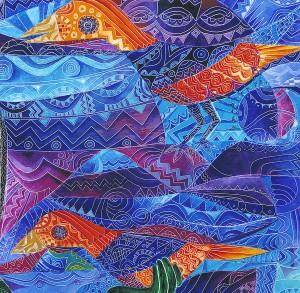 Birds
"I try to use birds to create magical moments, they are not just mere decorations, birds have meaning, add some text to an overall narration of the image," says Ogundipe. "Among the Yoruba, a bird is a symbol for freedom, for flying, for power, for majesty."
Funding for object education resources provided by a grant from the Morgridge Family Foundation. Additional funding provided by the William Randolph Hearst Endowment for Education Programs, and Xcel Energy Foundation. We thank our colleagues at the University of Denver Morgridge College of Education.
The images on this page are intended for classroom use only and may not be reproduced for other reasons without the permission of the Denver Art Museum. This object may not currently be on display at the museum.