In this lesson children will have an opportunity to linger outside and watch the clouds go by. They will then use shaving and/or whipped cream to shape and sculpt the clouds that floated by, paints to explore the color of the sky, and movement to feel like a cloud. Children will compare these experiences to the clouds and sky in By June the Light Begins to Breathe.
Intended Age Group
Early childhood (ages 3-5)
Standards Area
Visual Arts
Lesson Length
One 30 minute lesson
Objectives
Students will be able to:
use words to describe what they see, whether in nature or in a painting;
feel comfortable using different materials to create visual representations of what they've seen; and
make comparisons between different sets of observations.
Lesson
Warm-up: Take the students outside and have them watch the clouds and the sky. While you're lying there, talk about the shapes of the clouds, how they move, the color of the sky, etc.
When they return inside, allow them to shape clouds on a table covered with wax paper using whipped cream or shaving cream (depending on allergies and ages; each has a unique texture and you might want to use both).
Have the children use the paints to mix different blues, trying to make colors of the sky they rested under.
Show students the painting By June the Light Begins to Breathe.
Talk about the blue of the sky and compare the colors to what they saw outside, as well as to the blue colors they mixed.
Talk about what the sky and air look and feel like when clouds float by. Talk about the clouds—their texture, shape, etc.—and compare them to the clouds they saw outside and the ones they made. Do the clouds in the painting look like they're moving? How? Why? If you have access to a stove-top, bring a pot of water to a boil and then move the steam with a fan. Talk with the children about movement of the clouds. End the lesson with children moving and dancing like clouds.
Materials
An outside space where children can lay down and look up at the sky
Shaving and/or whipped cream
Wax paper to cover tables
Assorted colors of blue paint
White, yellow, and gray paint
One inch foam or large bristle brushes
Paper on which to paint
Stove-top and a pan of water (optional)
About the Art section on By June the Light Begins to Breathe
One color copy of the painting for every four children, or the ability to project the image onto a wall or screen
Standards
CO Standards
Visual Arts

Observe and Learn to Comprehend
Relate and Connect to Transfer

Language Arts

Oral Expression and Listening
21st Century Skills
Critical Thinking & Reasoning
Information Literacy
Invention
Self-Direction
By June the Light Begins to Breathe
1999-2000
Artist
Keith Jacobshagen, American, 1941-
About the Artist
Artist Keith Jacobshagen [JAY-cobs-hay-gen] says, "I'm a Midwesterner who has stayed put to make sense of where I live. My interest in the land is crystallized in my paintings about it." Born in Wichita, Kansas, in 1941, Jacobshagen attended the Kansas City Art Institute, focusing on graphic design and illustration, and worked as an illustrator for Hallmark cards. He then completed the Master of Fine Arts program at the University of Kansas, during which time he began taking an interest in the landscape paintings he is known for today. In 1968, Jacobshagen moved to Nebraska, where he currently teaches art at the University of Nebraska in Lincoln. His paintings focus almost exclusively on the 60-mile radius around Lincoln.
What Inspired It
Jacobshagen says, "When people ask me 'where is this?' I point to my head… Some people are disappointed in hearing that. But all painting is fiction anyway." Jacobshagen is inspired by the land around him. This particular painting draws upon the land, weather, and light around the Platte River Valley near Lincoln, Nebraska. But Jacobshagen doesn't just paint what he sees; his process is more like putting a puzzle together. Even though the material for his landscapes comes from a very definable, 60-mile radius around Lincoln, his paintings can't be traced back to a single view. In his studio, Jacobshagen combines fragments from field sketches and sometimes photographs of the land to develop his final work. For him, the overall arrangement of a piece is more important than recreating a specific scene.
Although he has limited himself geographically for 37 years, Jacobshagen has yet to tire of creating these landscapes. Every Tuesday, Thursday, and Saturday, regardless of weather, he drives into the countryside seeking places that appeal to him in color, form, or design—often returning to the same areas again and again. When his paintings begin to take form in his studio, one of Jacobshagen's most useful tools is his memory. He blends specifics from his field sketches, like location and subtle changes in light and weather, with his state of mind and emotional response to the land. What happens in the studio, he says, "is something removed from the direct source of observation."
Details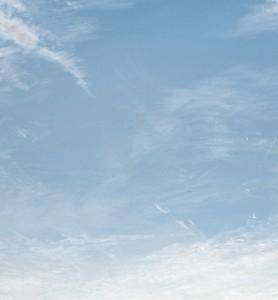 Atmosphere
Jacobshagen is very attentive to atmospheric conditions when he is on site. On his field studies he notes things like date, temperature, wind directions, and types of scents in the air. Even without Jacobshagen's notes, we can speculate details like the season, temperature, or where the sun is in the sky. His sensitivity to shifts and changes in the light and air might also help us think about the poetic title he gave this piece.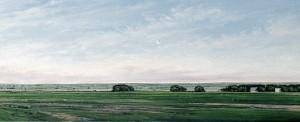 Vantage Point
The slightly elevated vantage point from which we seem to be viewing the scene might be one that is familiar to the artist. As a child, Jacobshagen flew in small planes with his father who was a test-pilot. Jacobshagen has also taken his turn as a pilot.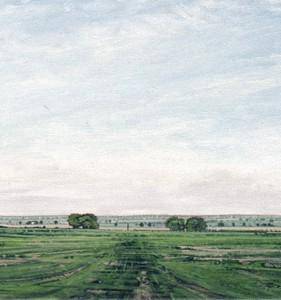 Sense of Distance
A dark path leads straight through the field to an off-center vanishing point toward the horizon. Jacobshagen remembers Sunday drives, "…sitting in the back seat of my father's Ford looking between my parents' heads at the road that seemed to move out, cutting through the wheat of grass fields. I think the space and thrust of those roads and how they defined the slight slope and flatness of the plains…the distance of things attracted me in an intuitive way."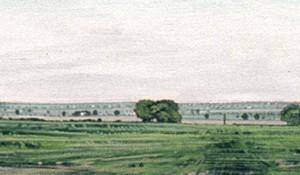 Details
Jacobshagen uses details to create a sense of depth in this landscape. Trees and small buildings mark the horizon and give scale to the vast panorama. As objects move farther away, they only appear as dots and dashes.
Funding for object education resources provided by a grant from the Morgridge Family Foundation. Additional funding provided by the William Randolph Hearst Endowment for Education Programs, and Xcel Energy Foundation. We thank our colleagues at the University of Denver Morgridge College of Education.
The images on this page are intended for classroom use only and may not be reproduced for other reasons without the permission of the Denver Art Museum. This object may not currently be on display at the museum.