Explore architecture with the idea that buildings don't have to be box-shaped. Students will create their own architectural designs by literally thinking outside the box.
Intended Age Group
Elementary (grades K-5),Secondary (grades 6-12)
Standards Area
Visual Arts
Lesson Length
One 60 minute lesson
Objectives
Students will be able to:
Create their own building/artwork; and
Have fun!
Lesson
Introduction: Introduce or review the role of an architect as decision-maker and problem-solver. "What decisions do architects have to make?" Introduce or review images of the North and Hamilton buildings of the Denver Art Museum. "Are they box-shaped?" Talk about the idea of thinking/building outside the box. "What does that mean?"
Show flat forms (foldable cube outlines) and corresponding 3D boxes- square and rectangular. Open up the flat form and suggest possibilities of how to manipulate the shape: cutting, folding, scoring, tearing, sitting on, scrunching up, etc. Show non-box building models, like the Denver International Airport model. "What kind of building can you make with your box?"
Making a building/artwork: Have students come up table by table to get 1 flat form box and 1 base each. Have students think about what their building will be and its needs. "What's your building going to be? What will a _____________ need?" Introduce an architect's use of models. "Why would architects make models? Do they get it 'right' on their very first try?" Studio Daniel Libeskind makes hundreds of models in planning for one building. Architects are problem-solvers. They keep trying and re-trying.
Demonstrate scoring technique at each table. "Is anyone having trouble bending the cardboard?" To make a crisp, sharp fold, make an indention with scissors or a pencil with the cardboard on the table, then fold on that indentation. If students want more materials, offer scraps only and introduce the idea of a budget for a building. "Do you think architects have unlimited materials?" Students may combine resources on a collaborative building.
Have students attach their building to the base, if they haven't already, midway through. Suggest the addition of windows, doors and check light/shadow inside.
Encourage students to consider their buildings sculpturally. "What will your building look like from every angle? - from the front, back, sides, top? What makes this building an artwork? Can it be both at the same time?"
About 5 minutes before cleanup, let students know they only have a few minutes left to work.
Have students put their name on their artwork and cleanup materials.
To extend the activity:
Suggest the addition of decoration- markers or tape design.
Suggest the addition of landscaping. Create a city on the floor.
Lay out the streets with masking tape. Discuss choices in creating a city.
Materials
flat box forms (2 types: rectangular and square shaped): 1 box per student
bases: 1 base per student
paper scrap box
markers
pencils
scissors
glue sticks
masking tape
black trash bags
Standards
CO Standards
History

Understand the concept that the power of ideas is significant throughout history

Visual Arts

Invent and Discover to Create
Observe and Learn to Comprehend
Relate and Connect to Transfer
Envision and Critique to Reflect

Mathematics

Shape, Dimension, and Geometric Relationships
21st Century Skills
Collaboration
Critical Thinking & Reasoning
Information Literacy
Invention
Self-Direction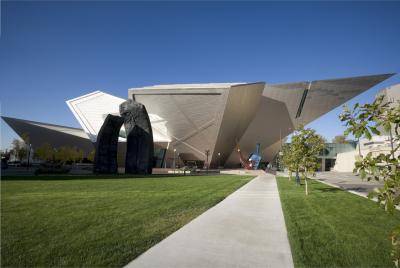 Frederic C. Hamilton Building
2006
Daniel Libeskind and Davis Partnership Architects, United States
2006
146,000 sq. ft.
Photo by Jeff Wells, Courtesy of the Denver Art Museum
Photograph © Denver Art Museum 2009. All Rights Reserved.
About the Artist
Architect Daniel Libeskind worked with Denver-based Davis Partnership Architects to design the Denver Art Museum's Frederic C. Hamilton Building.
Libeskind was born in Poland in 1946, the son of two Holocaust survivors. At the age of eleven, he immigrated to Israel with his parents, where his family lived for two years before they left for New York. Libeskind was one of the last immigrants to arrive by boat through Ellis Island and he became an American citizen in 1965.
As a child Libeskind was a musical prodigy, winning international competitions with his performances on the accordion. He left music to study architecture at New York's Cooper Union for the Advancement of Science and Art, followed by graduate work at Essex University in England. He went on to work as a professor and theorist before completing his first commission, Berlin's Jewish Museum, at the age of fifty-two.
The Denver Art Museum's Hamilton Building is Libeskind's first completed building in the United States. He was also chosen as the master plan architect for the World Trade Center site in New York City.
What Inspired It
In 1999, museum director Lewis Sharp and then-mayor Wellington Webb decided it was time for the museum to expand. A new building would allow the DAM to display more of its world-class collection and provide the space needed to host major traveling exhibitions.
With the Hamilton Building, Daniel Libeskind continued a tradition of bold architecture that began with Gio Ponti's North Building. Libeskind tells us that he was inspired by the "craggy cliffs of the Rockies" and by his experiences in Denver. He describes Denver as "a dynamic place, the people are dynamic. And that is part of the composition of the building." The lively architecture signals to the public that new things are going on inside; the experience begins before one even enters the DAM.
Details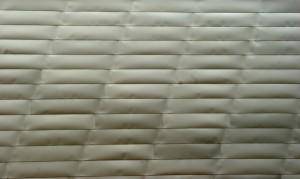 Titanium
Libeskind chose to complement Gio Ponti's million gray glass tiles of the North Building by selecting another reflective and unusual material: 9,000 titanium panels. Libeskind said, "We had an aim from the beginning: a building that is luminous." The Hamilton Building's different sides reflect light at different angles, and thus appear to be different shades of gray. The titanium also reflects varying colors throughout the day. It often appears more rosy in the early morning hours and golden at sunset, depending on the weather.
Fun Fact: 9,000 titanium panels cover the building's surface.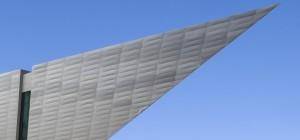 The Prow
The tip of the building, which we call the "prow," makes a reaching gesture across 13th Avenue toward the North Building and Civic Center. The angled walls of the prow, and the many other angled walls that shape the building, are reflected inside and create unique interior spaces. These dramatic spaces have provided new opportunities for innovative displays of artwork.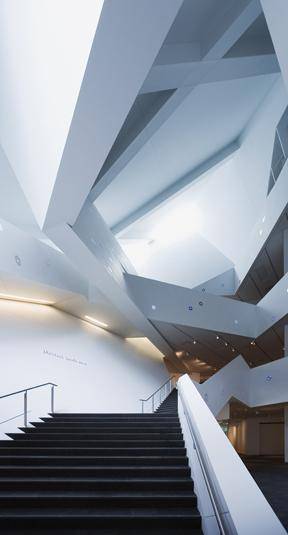 The Atrium
Libeskind spoke of the atrium as an introduction to the visitor's experience of the building: "The first sounds, the atmosphere, the connectivity with that atmosphere—the mood is set. And I think it's proper that an atrium should set those moods because that's where you quite literally enter, get informed, get ready for an adventure with art." The walls and ceiling of the atrium create a variety of shaped spaces, making it one of the most dramatic spaces in the building.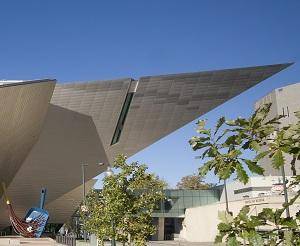 How Does the Building Stay Up?
The building is essentially a giant truss, meaning its steel frame is a balanced network of interlocking triangles. After all the steel beams are set in place, the building holds itself up and transfers weight to "anchors" of concrete pillars that reach down into bedrock. Libeskind described the building as a tree, branching out from these anchoring "roots."
Fun Fact: 2,750 tons of steel and 50,000 steel bolts were used in the Hamilton Building.
Funding for object education resources provided by a grant from the Morgridge Family Foundation. Additional funding provided by the William Randolph Hearst Endowment for Education Programs, and Xcel Energy Foundation. We thank our colleagues at the University of Denver Morgridge College of Education.
The images on this page are intended for classroom use only and may not be reproduced for other reasons without the permission of the Denver Art Museum. This object may not currently be on display at the museum.