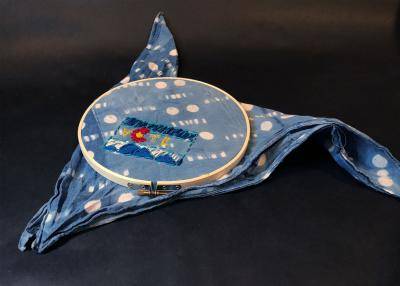 What would the world look like if, as humans, we thought of ourselves as companion species? Can acts of creative collaboration help heal broken bonds with the environment and with each other? Artists Cannupa Hanska Luger and Marie Watt invite the public to consider such questions while contributing to the physical manifestation of a large-scale sculptural installation. Through national and international participation, the artwork will become a temporary monument to collective relationship and collaborative handwork, bringing audiences into a tactile encounter with critically relevant issues of protection, shelter, reciprocity, sustenance, exchange, power, action, stewardship, wildness, kinship, vulnerability, and ferocity.
Contribute to a monumental artwork. Embroider a message onto a bandana which artists Cannupa Hanska Luger and Marie Watt will incorporate into a forthcoming large scale sculpture for the Each/Other exhibition at Denver Art Museum, opening May 31, 2021.
Embroidered bandanas needed by December 1, 2020.
Instructions:
Acquire a bandana or a piece of repurposed fabric roughly the size of a bandana
Fold bandana/fabric corner to corner to create a triangle
Embroider/stitch text, imagery or any other visual sentiment onto a corner portion of the fabric
Ship to the artists at this address:
Camp Colton
℅ Each/Other
30088 S Camp Colton Dr.
Colton, OR 97017
Tips for embroidering with kids
Familiarize kids with the tools they'll use and review safety tips working with scissors and needles.
If this is someone's first time using a needle and thread, have them practice on an open weave fabric like burlap or on a styrofoam plate.
An embroidery hoop can help keep the fabric taut (or tight) and make it easier to keep fingers away from the needle.
As long as it can pass through the fabric easily, a blunt tapestry needle or plastic needle may be safer and easier options for kids.
The artists are asking for embroidered words or pictures on the bandanas—it's up to you! Help kids choose a design depending on their level of experience, and encourage them to take their time. If they finish their initial idea, they can always try out different stitches and add more details to their creation.
Experiment and embrace mistakes! Don't like the color thread, or think a letter isn't looking how it should? It's easy to undo a stitch, or cut away the thread, and try again.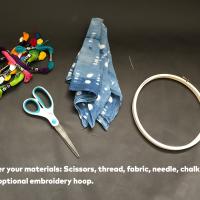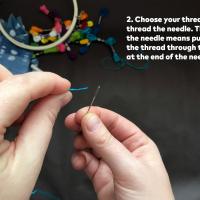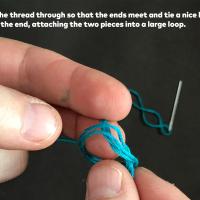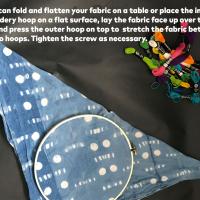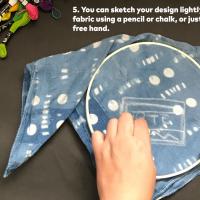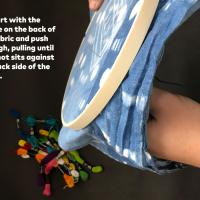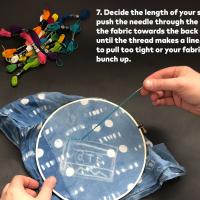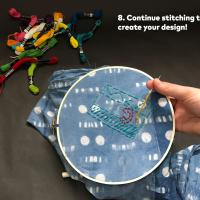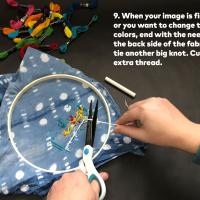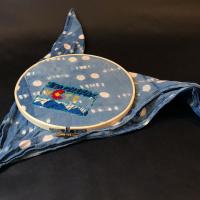 Sewing Conversation Questions:
What does it feel like to contribute to a project that lots of people are adding to? What does it feel like to sew together?
Can you share any memories or stories related to traditions in your family or community group? Who do you learn from? How did you learn? How did it feel?
What are some other traditions, skills or knowledge that you learn from your family or community?
What is something you have always wanted to learn from someone else?
Reflection Questions:
How and why did you choose your fabric?
What kind of image or text did you choose to embroider? What do you hope to communicate? What kinds of things did you talk about while sewing together?
Did you feel connected while sewing together? How did you support one another?"
What surprised you about the process of embroidering together?
What do you think Marie Watt means when she says "Collaboration is not simply a means to an end"?
Related Creative Activities