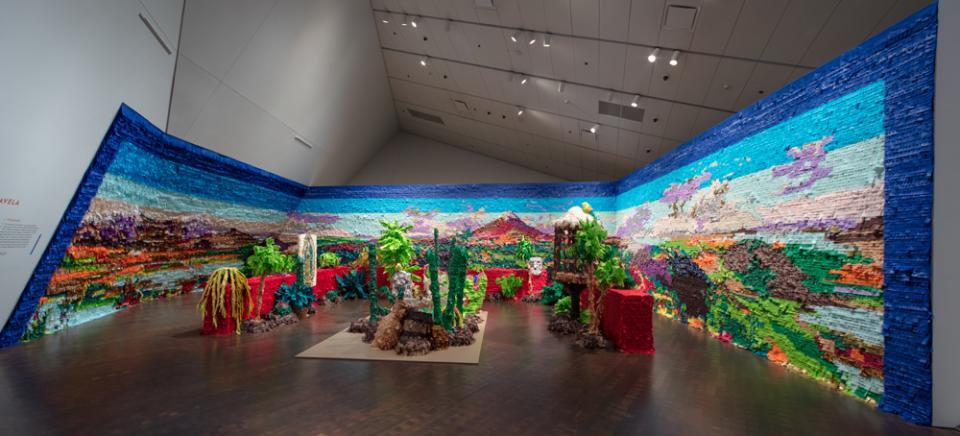 Justin Favela
Justin Favela is one of 13 contemporary artists whose work was featured in Mi Tierra: Contemporary Artists Explore Place featuring installations that express experiences of contemporary life in the American West.
Using piñatas as stylistic inspiration, Justin Favela takes stereotypes and exaggerates them to create his work. In his work, Fridalandia, Favela questions perceptions about Mexico and the Americas and the associated imagined symbols.
I really want to create an environment people can walk through. I don't want there to be any negative space. I want everything to be filled and really create a set. Really colorful.

— Justin Favela
Guiding Questions:
How could you use a group time to brainstorm a list items they would find in a specific place (ex: on the playground, in their room, on the bus, etc). How can you encourage students to think about themselves and the things at home or school that surround them?
What is something special to you in that space? (ex: in my room, I love my reading chair) How can you encourage students to choose a material or object that they love?
Can you create or draw that special item? Can we use various colors of tissue paper to create different colors and texture? How can you provide one material, like tissue paper, and create an entire display with your students?
TIP: Encourage children to put their individual pieces together to create a group installation. Have students choose a material or object to inspire them to create. Have them create a room or object from their home that is important to their life. Have the students put all their pieces together to create a space that people can explore or walk through.
Related Creative Activities