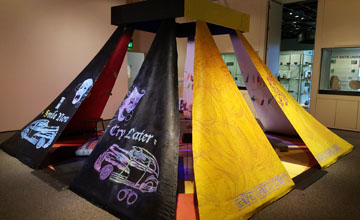 Times have changed; we have computers, we have the wheel. We have modern conveniences, but the culture has changed and transformed. It's still going on.

–Carlos Frésquez
Guiding Questions:
How will you invite discussion around how culture can inspire art?

Choose a few pieces of art (either contemporary or historic) from various geographic locations and have students discuss the differences and similarities and how the location and culture may have had influence.

How can you engage students in exploring how a culture may be transformed or changed over time?
TIP: Have students create a collage with images from popular culture that tell something about their own cultural identity.
Related Creative Activities