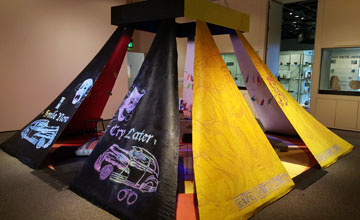 This culture is still living. Just because we see something ancient and old that was created a thousand years ago, the culture is still existing today. And it's in me.

– Carlos Frésquez
Guiding Questions:
How will you invite discussion around what cultural influences there are in students' lives?
How would you have students explore their own cultural background? What about exploring other cultures?
How can you engage students in exploring culture (both contemporary and ancient) through art?
How can cross-cultural influences be explored to understand the ways the world has changed and cultures inform each other?
TIP: Have students create a piece of art focused on a culture they are inspired by through their exploration of cultures (ancient or contemporary). Have students choose a material to work with (ex: wood, paint, etc.) as a starting point.
Related Creative Activities