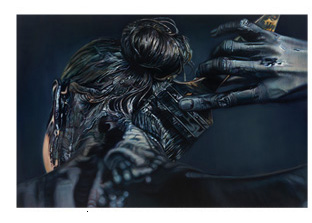 Ana Teresa Fernández
Performance is a large part of Ana Teresa Fernández's work along with her Mexican American identity. Erasure, consisting of both large scale paintings and video is her reaction to the abduction of 43 male students in Iguala, Guerrero, Mexico that have not been seen since their disappearance on September 26, 2014.
When something's no longer there it intrigues people. People want to find out more about it. They want to see it again. Through absence there's a yearning.

— Ana Teresa Fernández
Guiding Questions:
How can a basic concept like color, lead to critical thinking and analysis?
Have your students analyze why the artist chose black (absence of color) rather than a different color.
Have your students think about another color and decide whether it would have been more or less effective than black.
How could you encourage students to explore a current event and create an expression of what's happening?
How could you explore absence or removal in other ways through art?
Tip: Have students create their own piece focused on the idea of absence or removal. Let them decide what form they will use (poem, drawing, photo, etc.).
Related Creative Activities