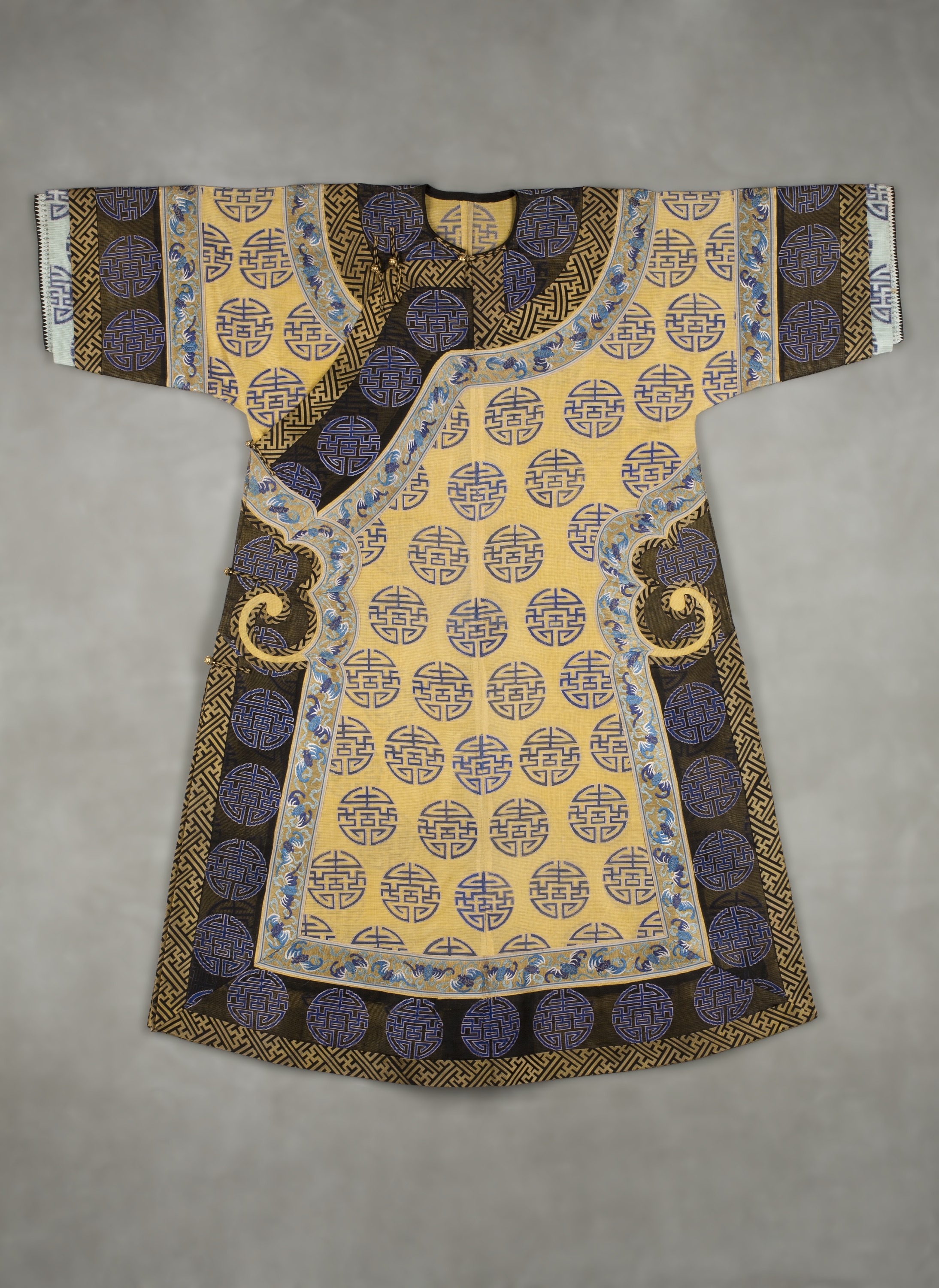 Inspired By
Empress Dowager Cixi
Topic
Learn about a few ways Empress Dowager Cixi defied societal norms and how her gender, identity, and gender expression played a pivotal role in her rise to political power. Inspired by these objects related to Cixi, further the conversation around what gender means today, connecting history to the present day.
Rationale
Examining gender dynamics throughout history is one of many critical lenses that help us understand power and privilege throughout time and place. Gender justice is about more than women's rights. It also includes the rights of transgender, intersex, nonbinary, and gender-nonconforming individuals. Historically, many dominant systems of power and privilege are based on heteropatriarchy. This lesson examines how power dynamics and gender roles intersected in Qing Dynasty China and demonstrates how Empress Dowager Cixi expressed self-empowerment in order to navigate her world.
Resources Include
For Facilitators
This how-to facilitation guide (includes information on theme and individual artworks, links for background research, and video demonstrating the art project)
Links to high-resolution images of the artworks
Teaching slides with condensed information and discussion questions: Elementary and Middle/High School
For Kids
Gender Relations are Power Relations
Examining the history of Cixi, we can dispel misconceptions that women in Qing Dynasty China were passive figures. Empresses were honored as the "mother of the state"; they counseled the emperor and served as a role model for the women of their time. In addition to upholding these traditional roles and social perceptions, Empress Dowager Cixi exerted more direct power, including in the international arena.
Power and privilege are built into all aspects of society, including gender. However, identifying where power and privilege intersect with identities related to race, color, class, gender, sexuality, ability, and religion/belief status is important. Constructs of gender and gender stereotypes are just two dimensions of an infinitely complex system of power and privilege that are determined by different societies and within cultural and historical contexts.
This lesson focuses on the story of Empress Dowager Cixi to encourage students to think about gender and the role gender plays in various power relationships. First, learn about how Empress Dowager Cixi capitalized on her personal power in order to gain political power while defying gender stereotypes and societal expectations of the time. Then explore ways to express your own personal power and how expression might relate to your gender identity.
Start by watching Denver Art Museum Through a Different Lens: Historian and Political Strategist Discuss Empress Cixi
About Empress Dowager Cixi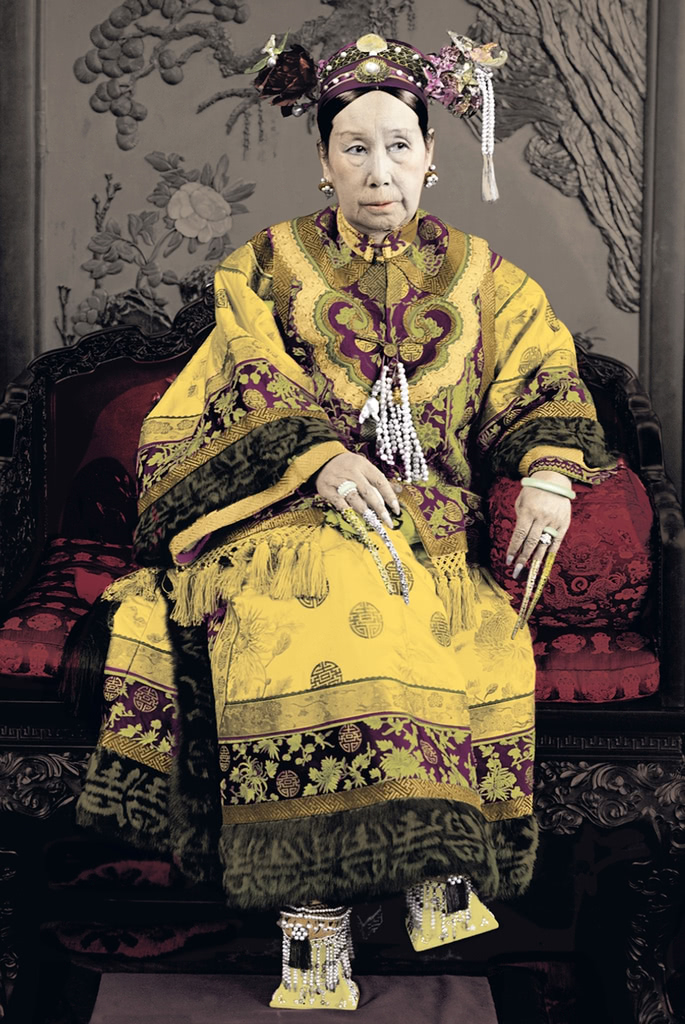 There have been several very powerful empresses in China's history, and Cixi was able to take power (with the support of many of the men at court) because there was already a system in place for women as de facto rulers China. This was called "ruling from behind the curtain." Cixi followed in the footsteps of powerful empresses throughout history.
Empress Dowager Cixi was the de facto ruler of China for decades, during which her son and then her nephew were officially the emperors, but she retained great influence over China's government. Her rise to power began in 1851, when she was chosen at 16 years old to be a concubine or consort (someone who bore children for the emperor, a position that came with prestige and access) of the Xianfeng Emperor. Motherhood is a key element in how Cixi seized the power. Cixi gave birth to the only son of the emperor and represented herself as mother of both the emperor and the country—and as a benevolent and wise ruler herself. Cixi did not seize power alone, but along with the former emperor's principal wife and his two brothers. She did this with the support of men as well as other powerful women. Conversely, she had a reputation for being a power-hungry and iron-fisted ruler. She made great steps in modernizing China and implemented social reforms like banning foot-binding and allowing interethnic marriage.
Empress Dowager Cixi is a complicated figure, and her reputation was largely shaped by her critics. While critics and historians debate the efficacy of Cixi's political actions, it is important to note that judgment due to her gender undoubtedly played into her characterization. While women in the Qing Dynasty were dominant at home, ambitious empresses found ways to exercise influence in the realm of politics. Mothers of emperors had a powerful advisory role that did not conflict with the tradition that "women shall not rule." But as a consequential woman who maintained that power during a period of incredible difficulty for China, Cixi was clearly intelligent and had great influence over her country and its position worldwide. Empress Dowager Cixi made many calculated decisions in order to gain political power. From learning key skills to circulating photographs and paintings of herself, we can see how Cixi used intentional strategies to gain power within China and represent China internationally.
Object Story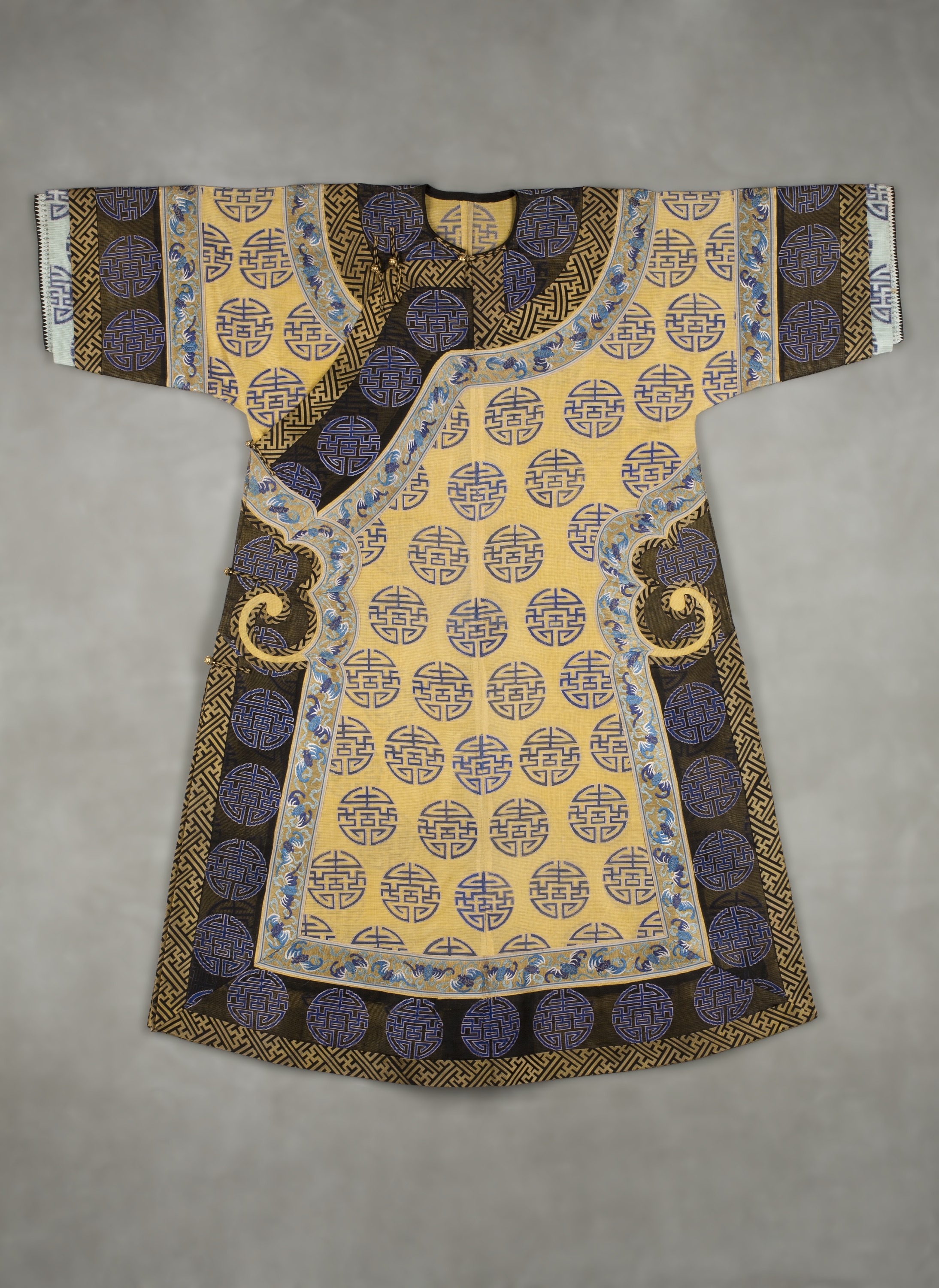 Using these slides and conversation questions, consider the many strategic moves Cixi made in order to gain or maintain status/power during her time.
Cixi frequently wore bright yellow robes. Bright yellow like this could only be worn by those of the highest rank. Yellow in Manchurian culture is reserved only for the imperial families. Commoners are not allowed to use this color.
What did Cixi's fashion choices communicate?
What kinds of items might you wear to express a high status/rank in our current society?
Who has defined those cultural norms?
Could status/rank be symbolized in a different way?
Object Story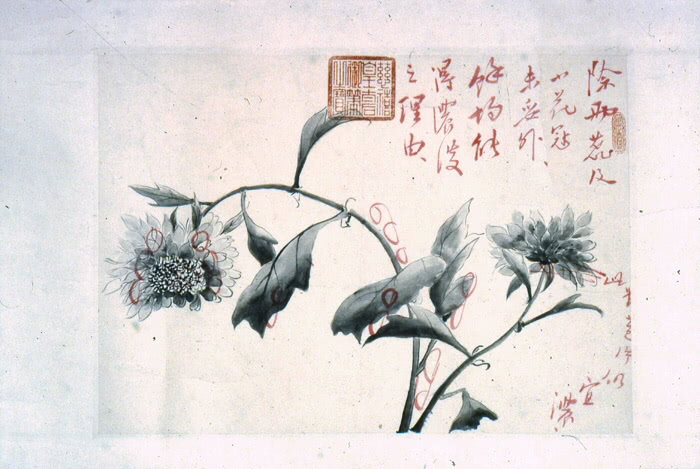 Cixi's practices of painting and creating calligraphy reveal her effort to participate in the gentlemen's arts. This painting is painted with ink, which is traditionally associated with literati (male scholar) culture, and represents purity, nobility, and moral rectitude. Cixi intentionally used ink to align her characteristics with literati culture. In addition, by using the written word as an alternative to her physical presence, Cixi was able to work around the gender segregation that prohibited a woman's bodily appearance in the outer court. (Peng, p. 180)
Why do you think these gendered associations were originally formed?
What is one skill or activity that seems to be distinguished by gender that you hadn't considered participating in previously that you might like to try?
How can we empower one another regardless of gender representation?
Object Story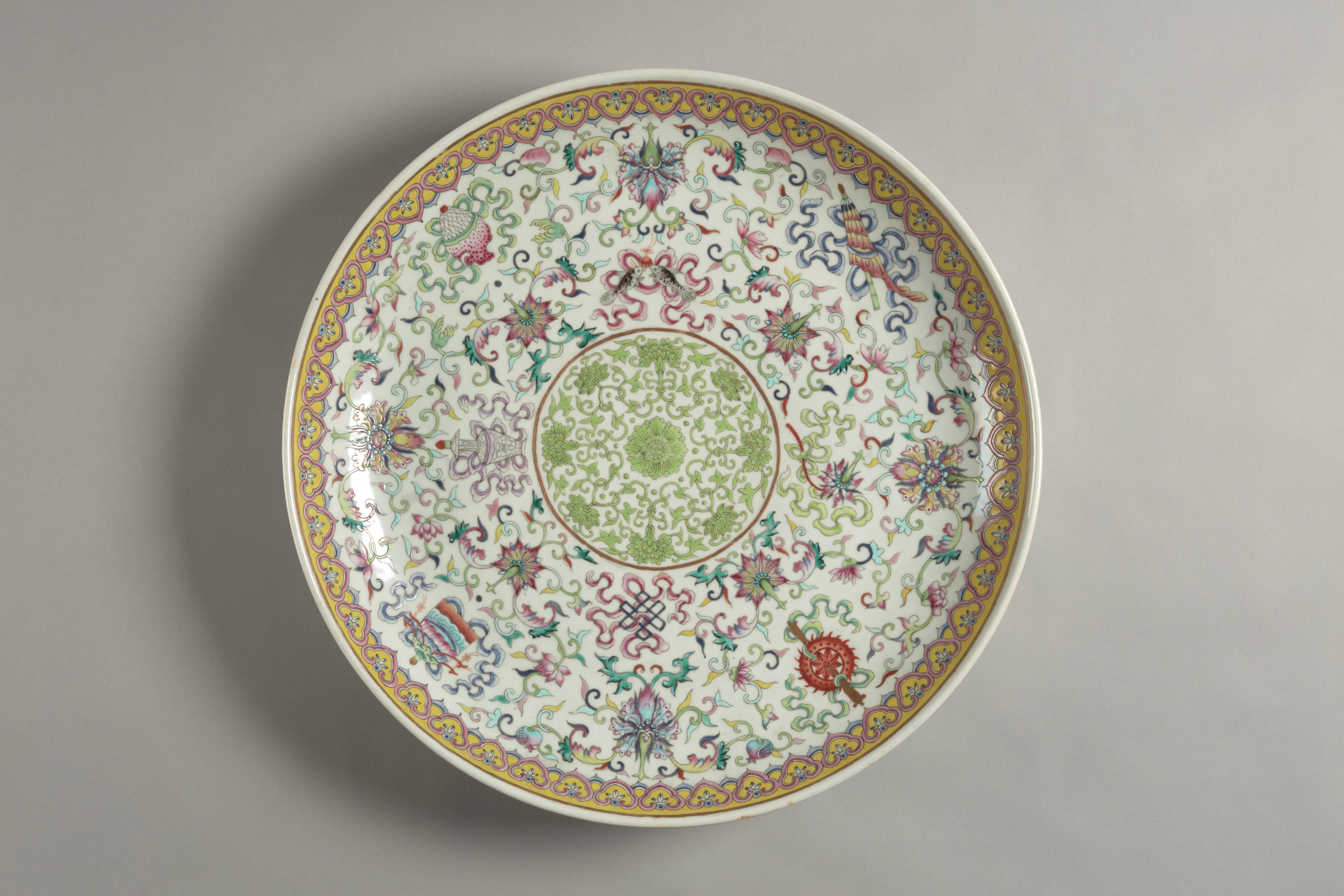 Those in powerful positions, such as emperors, often used or requested special objects that we now interpret as holding rich political meanings. For example, emperors often commissioned, or requested, special ceramic pieces, paintings, or calligraphies. During her time as ruler, Empress Dowager Cixi had porcelain commissioned for her, a request that was uncommon for women in this period.
Can you think of any objects commissioned by or produced in collaboration with powerfulindividuals? What kinds of meaning do these objects take on?
In order to express political power, what kind of object might make sense to produce today?
Empress Dowager Cixi and a Conversation About Gender
Empress Dowager Cixi's example shows us how people navigate gender and power and how women have challenged a patriarchy (a system of society in which men hold the most power). Her actions demonstrate the complexities of power and gender, specifically as it applies to gender binaries as it did during the Qing Dynasty. However, gender justice is a larger concept that is about more than women's rights. It also includes the rights of transgender, intersex, nonbinary, and gender nonconforming individuals.
It is important to note gender is not an isolated category of being but is inextricably linked to other aspects of one's identity, including race, class, and age, among others. This means that power dynamics are contingent on other factors, especially race, ethnicity, and class. Cixi's class and ethnicity played a role in her having been chosen as a consort. Those parts of her identity afforded her this privilege and were a key element of her rise to political power.
Contemporary Connections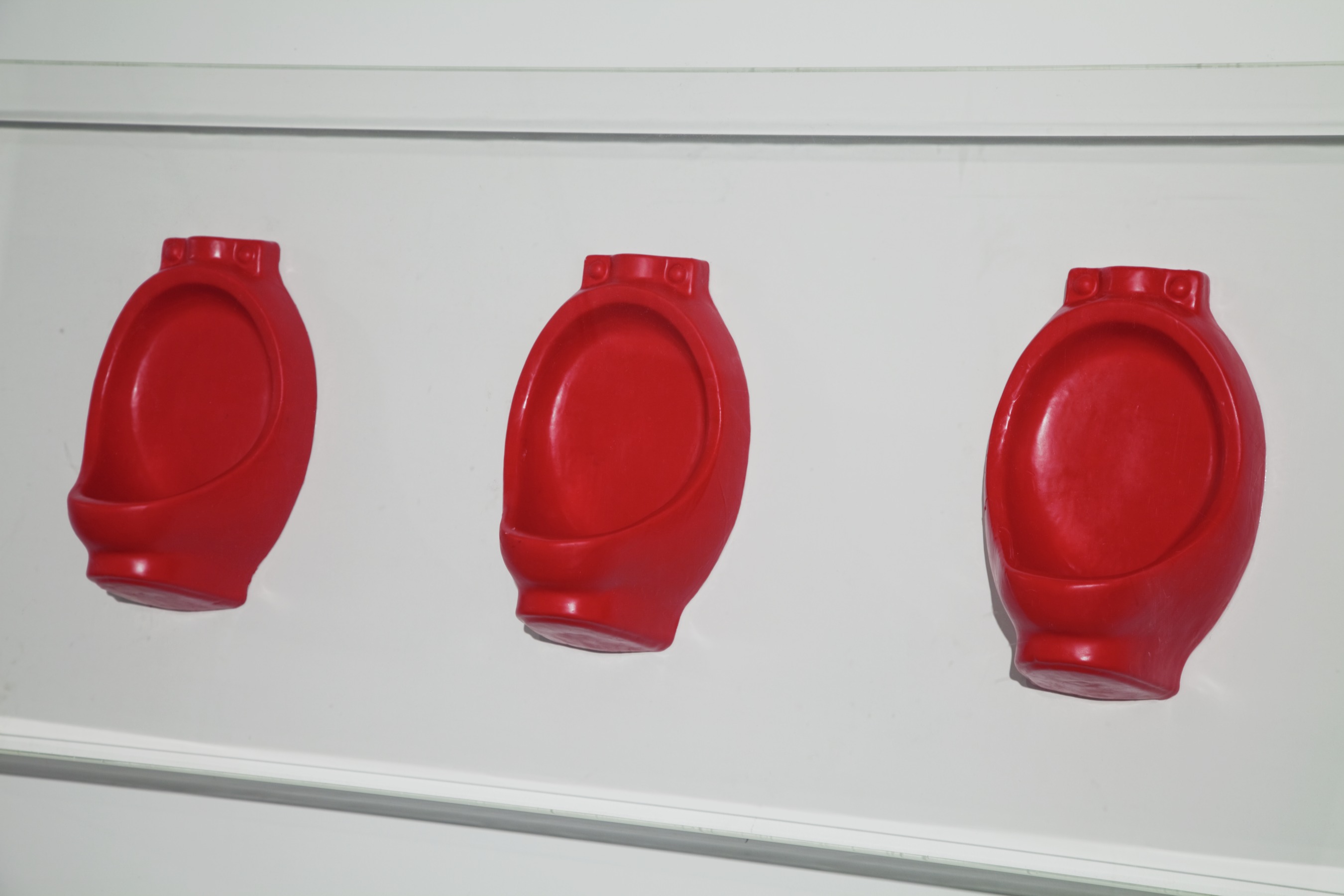 Compare the ways Cixi embodied traits and skills traditionally attributed to masculinity in her drawings, calligraphy, and porcelain to these two contemporary artists exploring gender in different ways.
Here Rachel Lachowicz casts three miniature urinals created from bright red lipstick. Rachel Lachowicz is known for critiquing the male-dominated world of modernism. Her work is a study of recontextualizing artworks by famous male artists using unorthodox artmaking materials that are associated with femininity such as eye shadow, face powder, and lipstick for her sculptures. In Untitled (Lipstick Urinals), Lachowicz explores social constructions of gender by juxtaposing the feminine associations of color and lipstick with the appropriation of Marcel Duchamp's overtly masculine and seminal ready made Fountain (1917)
Contemporary Connections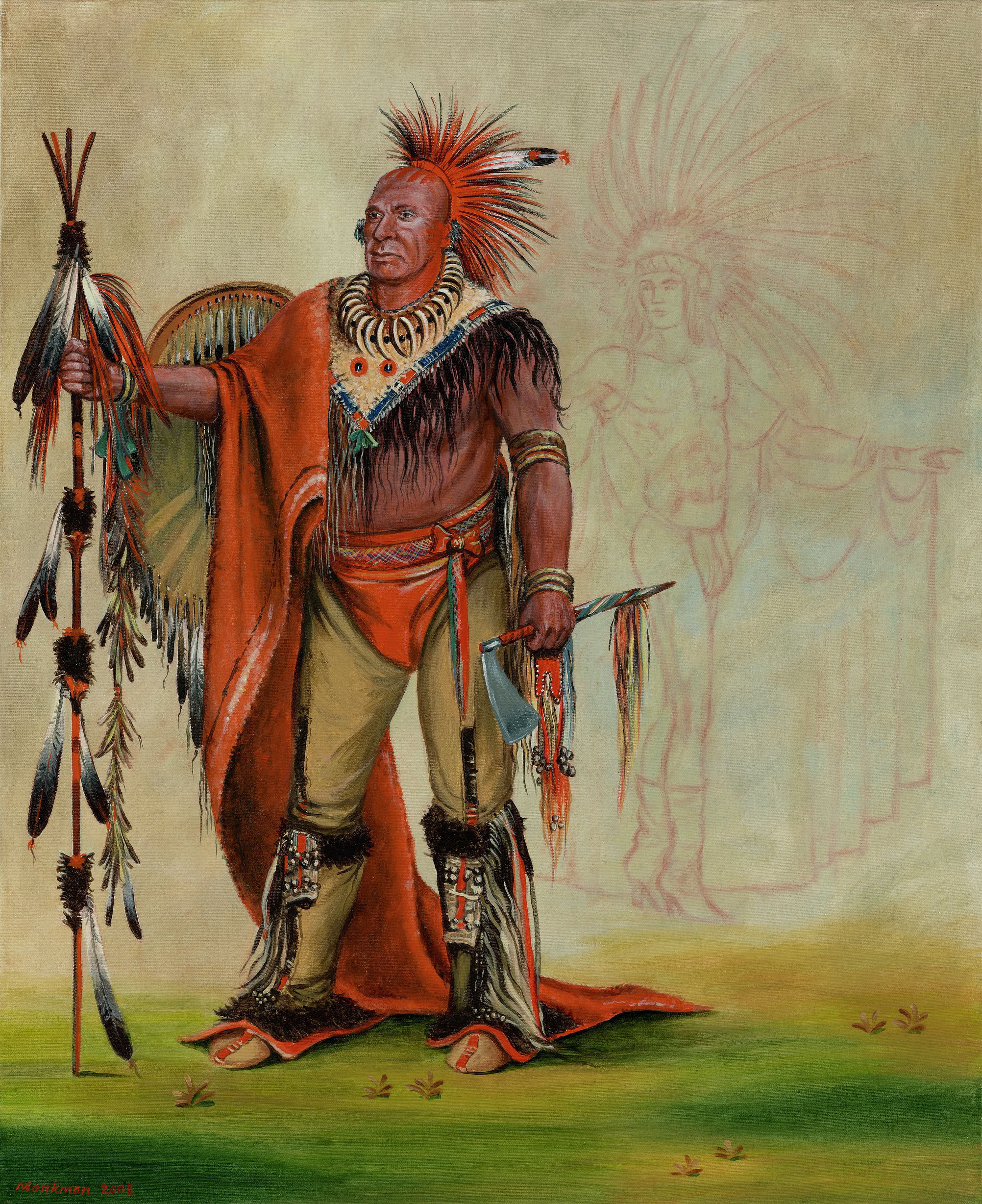 Here Kent Monkman revisited a subject by the painter George Catlin but added into the background a character of his own invention, "Tinselled Buck." The primary figure is faithful to the stoic Catlin rendering, while the figure in the background is whimsical and flamboyant. Monkman's work explores gender nonconformity in indigenous identities through representing reoccurring characters in their artwork. The ghostlike image is a reminder of the historical presence of two-spirit, or gender-variant, individuals and a recognition of their erasure by both Native and non-Native artists.
How does Monkman question or challenge assumptions about gender?
Compare how Cixi and Monkman question or challenge assumptions about gender.
A few contemporary artists whose work explores and engages with gender identity: Ajamu, Travis Alabanza, Amrou Al-Kadhi and Holly Falconer, Lyle Ashton Harris, Sadie Benning, Nayland Blake, Pauline Boudry and Renate Lorenz, Flo Brooks, Luciano Castelli, Jimmy DeSana, Jes Fan, Chitra Ganesh, Martine Gutierrez, Nicholas Hlobo, Peter Hujar, Juliana Huxtable, Joan Jett Blakk, Tarek Lakhrissi, Zoe Leonard, Ad Minoliti, Pierre Molinier, Kent Monkman, Zanele Muholi, Catherine Opie, Planningtorock, Christina Quarles, Hannah Quinlan and Rosie Hastings, Hunter Reynolds, Athi-Patra Ruga, Tejal Shah, Victoria Sin, Jenkin van Zyl, and Del LaGrace Volcano.
Fashion can be a way to define one's cultural and gender identity or to resist authority. Fashion includes textiles, accessories, colors, etc. Cixi saw value in constructing her image to express her most empowered self. Empress Dowager Cixi used the way she dressed and how her image was shared to gain power.
What role does fashion play in your life?
Your Turn
Cixi seized power in many ways and both challenged perceptions of herself and owned her personal power through skills, image, dress, and cunning. She was the mastermind behind her own persona, accoutrements (accessories, items of dress, or equipment), and the performances of making and presenting works of art to assert the ruling power she exercised. This strong matriarch purposefully designed and constructed her own space only to transform it into a stage for her performance.
While Cixi's class and ethnicity put her in a position to acquire positional power, we can also view power through the lens of personal power. Personal power is about the "power within" rather than an attempt to exert control over others. Personal power is about self-mastery: competence, vision, positive human qualities, and service.
In this project we challenge you to investigate your own persona, accoutrements, and performance in order to harness your own personal power.
Investigate your own power. Use any of this personal power brainstorming worksheet inspired by psychology and business practices to home in on what your personal power is and how you want to use it.
Explore the Denver Art Museum collection and beyond to discover how status is shown through dress and cultural symbols across time and place.
Reflect on the many ways power has been expressed throughout time and brainstorm your modern-day spin. Make a list of possible accoutrements that reflect your personal power and goals in a unique way.
Design an avatar that represents your most empowered state! Draw by hand, use a digital drawing program or avatar-building website, create a paper doll with interchangeable outfits and tools, or sew a stuffed version of your creation.
Share your avatar and describe all the ways in which you are challenging perceptions – or your "power moves" like Empress Dowager Cixi – and transforming our world!
The DAM established Creativity Resource thanks to a generous grant from the Morgridge Family Foundation. Featured activities are supported by funding from the Tuchman Family Foundation, The Freeman Foundation, The Virginia W. Hill Foundation, Sidney E. Frank Foundation – Colorado Fund, Colorado Creative Industries, Margulf Foundation, Riverfront Park Community Foundation, Lorraine and Harley Higbie, an anonymous donor, and the residents who support the Scientific and Cultural Facilities District (SCFD). Special thanks to our colleagues at the University of Denver Morgridge College of Education. The Free for Kids program at the Denver Art Museum is made possible by Scott Reiman with support from Bellco Credit Union.