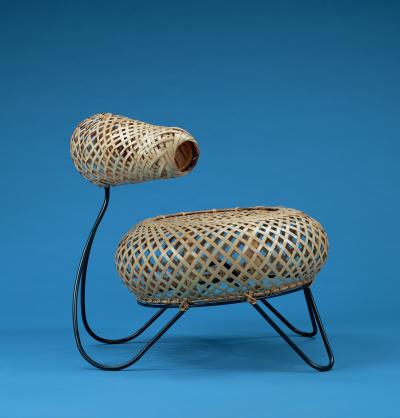 Inspired By:
Basket Chair by Isamu Noguchi and Isamu Kenmochi
Topic:
Learn how design uniquely combines aesthetics and function through the design process.
Rationale:
By considering how design connects with their daily lives, kids will discover how designers think and create, empowering them to shape and design the world around them.
Resources Include:
For Facilitators:
This how-to facilitation guide (includes information on theme and individual artworks, links for background research, a video highlighting the artwork, and a video demonstrating the art project)
Links to high resolution images of the artwork
Teaching slides with condensed information and discussion questions: Elementary and Middle/High School
For Kids:
What is Design?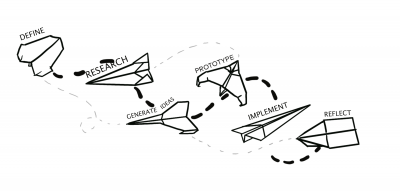 Design is the method of putting form and content together. Design, just as art, has multiple definitions; there is no single definition. Design can be art. Design can be aesthetics. Design is so simple, that's why it is so complicated.
Design is all around us, whether it takes the form of objects and spaces, images and interactions, or systems and processes. Design shapes our lives in fundamental ways, and we, as designers ourselves, can shape design by participating in the creation of it. Beyond meeting a need, design can be an expression of a concept or aesthetics (beauty) and can experiment with forms, techniques, or materials.
Design involves a creative problem-solving process. Design is not fully linear or sequential; it is not simply a straight path from point A to point B. The process often has many cycles and jumps back and forth among stages of the process until a solution has been found. Each project invariably has its own unique path. No matter what kind of design problem you are trying to solve, you will most likely engage with these key phases:
Define: Start with a question or need.
Research: Learn about your problem and users.
Generate ideas: Brainstorm and come up with as many solutions as you can.
Prototype: Test your ideas using models and sketches.
Implement: Produce your best idea.
Reflect: Evaluate, seek, and incorporate feedback.
What makes design unique?
Design sits at the intersection of empathy and creativity. While some might argue that art and design are not synonymous, others feel design is where aesthetics and utility become blurred. Beauty might be subjective and in the eye of the beholder, in which case it is not simply superficial. It is difficult to separate the content of a work and its form; thus designers have a unique ability to instill beauty into their work in order to stimulate our senses and connect an item to the culture in which it is produced. Great designers find solutions and the aesthetics that accentuate its value.
Watch Denver Art Museum Through a Different Lens: Weaver and Engineer Discuss Basket Chair featuring the Basket Chair by Isamu Noguchi and Isamu Kenmochi and consider the form and function of this design.
Learn more about this object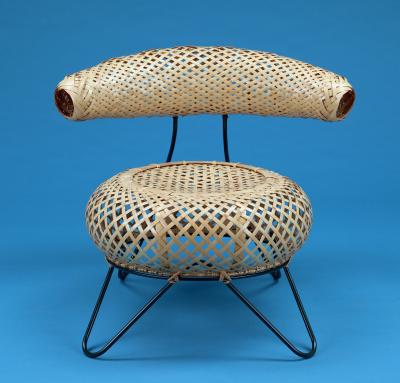 This collaboration between Isamu Noguchi (a Japanese-American sculptor) and Isamu Kenmochi (a Japanese industrial designer) expanded the concepts of both Western and Japanese modernism. This chair exemplifies their aspirations to create universally functional objects that also incorporate the basic beauty of simplicity grounded in a knowledge of natural materials. They also embraced experimental techniques and resources.
The bamboo Basket Chair was designed as a prototype for mass production, although ultimately it was not produced for the general public. While Noguchi was not specifically looking to incorporate Western design with a Japanese aesthetic, Kenmochi was deeply interested in remaking the chair for daily use in Japan.
Tatami mats are a traditional type of seating in Japan and are part of important cultural traditions such as meditation and the tea ceremony. In the 1920s the use of chairs more commonly in Japan began, in both public and private places, due to the globalization of business. For both designers, the process of creating the experimental bamboo chair (in 1952) was dedicated to the purpose of advancing the modernization of Japanese forms in tandem with the use of traditional Japanese techniques and materials that could be brought together for a Japanese and foreign market.
Weaving Innovations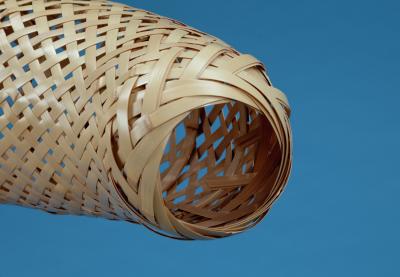 An interesting quality of the Basket Chair is that it is woven with bamboo strips. Weaving is a centuries-old art form with a rich and extensive history that continues to evolve. From a necessary household chore to a skill-driven occupation to a form of personal expression, weaving has been re-envisioned and transformed by generations of dedicated makers. Weaving is a practice that transcends cultural boundaries. Examples of different techniques and uses from cultures around the globe emphasize how the craft reflects cultural traditions. Today, contemporary artists, designers, and craftspeople are producing exciting new work drawn from the lessons of those who came before. The materials used and their varied applications make for incredibly surprising objects in an array of forms. Compare this bamboo Basket Chair to these other woven artworks (historic and contemporary) in the Denver Art Museum collection.
Activity Extension
Basket Chair is just one chair in a long history of chairs, and of designers exploring the design process, making it a perfect place to start. Learn about design thinking by looking at two aspects of the process–define and iterate–using the evolution of the office chair as an example.
Throughout history, chairs have encapsulated the life and times of designers and consumers. Like any work of art, a chair's construction, materials, maker, and style can tell volumes about the culture from which it emerged. Materials and methods of production multiplied by imagination yields a nearly unlimited number of solutions to the problem of where to sit. What was important at the time?
Who were they made for? What spaces did they inhabit? As art and design evolve over time, chair design does too. However, the primary purpose has not changed–for millennia, people have needed a place to sit. As such, the chair is a perfect marker for the ever-changing history of design. Check out just a few of the chairs in the Denver Art Museum collection and use these discussion questions to frame your understanding of the design process.
Define the problem
Iteration
As a group, rearrange these task chairs found on pages 8 and 9 chronologically, based on the dates found on the labels.
Conversation Questions
What are some of the changes you notice in chair design over time?
Why do you think that is?
Which elements of these chairs have remained the same?
Why do you think that is?
Your Turn
After learning how designers blur the boundaries between beauty and utility, are inspired by culture, and experiment with form and materials with chairs, it is your turn to think like a designer and redesign the world around you. We will intentionally start designing with our own ideas of beauty, in order to investigate the role of aesthetics in the design process.
Make a list of interesting objects that are useful/purposeful in your life. (e.g., headphones, a teapot, sneakers, etc.)
Choose one object to redesign with your own requirements for beauty/intrigue in mind. Consider how cultural elements that are important to you could play a role in how your object looks. Think about how your material choices impact your design, just like the use of bamboo in the Basket Chair.
Prototype your idea: create a drawing or 3D model (life-size or miniature).
Share your redesign with others and collect their feedback. How do they feel about how it looks? How do they feel about how it works?
Next you are redesigning for another user. Use this Virtual Spinner to select an end user for your object. Miles the Bronco, Harry Potter, Black Panther, Sponge Bob, Among Us Crewmate, Ms. Marvel, Nya-Nya/Miko Tezumi (Teen Titans), Hector Rivera, Hello Kitty.
Empathize with your end user. What do you think their needs might be? And why? Look up any information about your end user that you can.
Iterate your design by making another version of your drawing or prototype.
Share your newest iteration with others and collect their feedback.
Continue reflecting and iterating as many times as you would like.
Chairs for Iteration Activity
As a group, rearrange the task chairs below chronologically, based on the dates found on the labels.
The DAM established Creativity Resource thanks to a generous grant from the Morgridge Family Foundation. Featured activities are supported by funding from the Tuchman Family Foundation, The Freeman Foundation, The Virginia W. Hill Foundation, Sidney E. Frank Foundation – Colorado Fund, Colorado Creative Industries, Margulf Foundation, Riverfront Park Community Foundation, Lorraine and Harley Higbie, an anonymous donor, and the residents who support the Scientific and Cultural Facilities District (SCFD). Special thanks to our colleagues at the University of Denver Morgridge College of Education. The Free for Kids program at the Denver Art Museum is made possible by Scott Reiman with support from Bellco Credit Union.