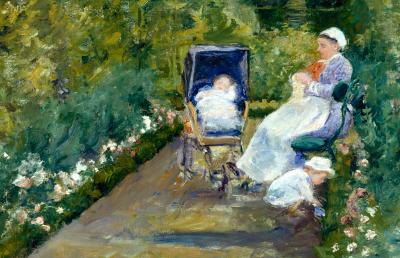 Whistler to Cassatt: American Painters in France will be on view at the Denver Art Museum from November 14, 2021, through March 13, 2022. This special ticketed exhibition features more than 100 paintings made between 1855 and 1913 in the first comprehensive examination of France's stylistic impact on American painting of the period.
This comprehensive look at France's stylistic impact on American painting in the 19th and early 20th Century will take your students on a journey from the atelier to salon and from the countryside to private galleries. Along the way, you will explore and identify the defining traits of American Art.
Tickets are available now.
Audio Guides
The Kids Audio Guide is best for students in grades K-5. The audio guide tells an imaginative story where students meet up with a time traveler from the year 1913 and get to know the art and artists of their time. Through the course of the story, students will learn why these artists traveled to study and perfect their practice in France and how they influenced American art.
The Adult Audio Guide is best for students in grades 6-12. The audio guide takes students back in time to follow the path these American painters forged in Paris. Students will learn how the artists studied and received training in private studios and public art schools, showed their artworks in the Grand Salon, rejuvenated in the French countryside during summers, and headed back to the United States to share new approaches in art circles and with the public. Students will hear stories and perspectives shared by three voices: 19th century scholar Emily Burns, painter Ron Hicks, and curator Timothy Standring.
Related Creativity Resources