Talking about art can feel challenging if you haven't practiced. Here are some tips!
Breaking artworks down into big ideas can help
Start by discussing what you see
Find ways to connect the art to your own experiences
Encourage inquiry, exploration and experimentation
Ask open-ended questions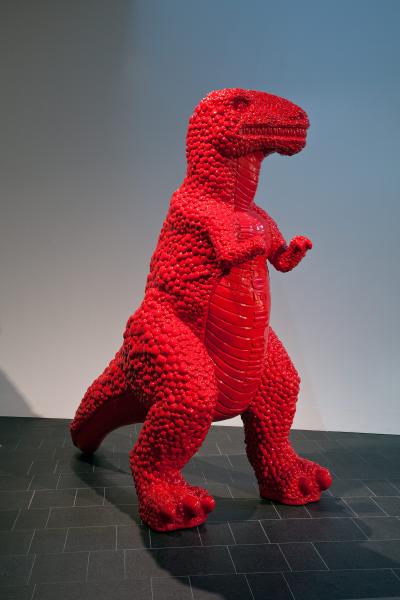 Talking about scale with family favorite, Made in China
Sui Jianguo is an artist born in Qingdao, China. After visiting Shenzen, the Chinese city where these toy dinosaurs are mass-produced, he had an idea to recreate cheap (inexpensive), plastic toys into huge shiny sculptures. His decision to recreate the common toy dinosaur into a monumental (large) sculpture is important. The sculpture stands 78 ¾ inches—that's almost 7 feet tall! The phrase "Made in China" is featured prominently on the dinosaur's stomach. This phrase is seen on all kinds of products and toys. Sui Jianguo challenges us to think about the value of objects, who is selling, who is buying, and why.
Use the guiding questions below to start a discussion about this artwork and how the size of an artwork can change our perspective.
How does it feel or how might it feel if you were to stand in the gallery with this huge, red dinosaur?
How would the sculpture feel different if it was three feet tall or three inches tall?
Does this dinosaur feel scary or friendly? What makes you say that?
Why do you think the artist made it so large?
Which do you feel has more value—the original toy or this sculpture?
Can you imagine your favorite toy seven feet tall? Which would you pick to enlarge and why? Would it change the way you feel about that toy if it were huge or teeny tiny?
Related Creativity Resources