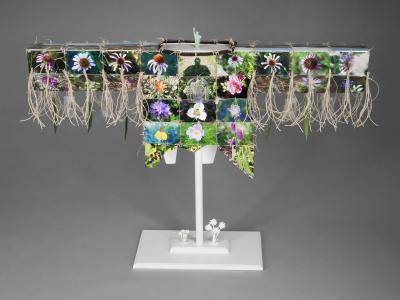 Bently Spang is a Northern Cheyenne sculptor and installation and performance artist. In his artwork, Modern Warrior Series: War Shirt #4 - National Sacrifice, Spang uses the form and structure of a war shirt. Historically, warriors decorated their shirts with human hair fringe collected from tribal members to remind them of the power they derive from their community. Sprang reminds viewers of the power in his community by using materials available to him. Here, he has stitched photographs of flowers and rocks, which he further embellishes with bits of plastic packaging, beads, ornaments, and straw fringe.
I made this shirt to honor the 'National Sacrifice' my relatives in the past made to secure my people, the Cheyenne or Tsistsistas and Suhtaio as we call ourselves, our beautiful homeland. It also represents my commitment to protect this homeland, the Northern Cheyenne Reservation in Montana and our ranch there next to the Tongue River, wherein the flowers and rocks depicted on this shirt reside.

—Bently Spang
Guiding Questions:
Transmitting cultural knowledge is a critical cornerstone in many cultures including indigenous communities. Think about how your family or community passes on knowledge. Share some of the traditions that have been passed down from generation to generation.
How does your community support and build you up? Find a photograph that represents how your community supports you.
How would you honor your ancestors in an artwork? What form would it take and why?
Related Creative Activities