Overview
Trade (the exchange of goods and services) has a rich history, and its evolution has shaped cultures, countries, and shopping experiences. Historically and today, trade plays a crucial role in the global economy. In an increasingly global world, trade can be the thread that binds us all together. Use these artwork-inspired activities and resources to introduce a few complexities of trade and economic power with kids of all ages.
Thinking Together: The Cost of a Teacup
Let's look closer at artworks from the museum's collection found in the Griffin Shipwreck!
This cup and saucer are from the Griffin shipwreck, a ship owned and operated by the British East India Company that sunk off the coast of the Philippines in 1761. The British East India was an extremely powerful, joint-stock company and had a firm grip on trade between England and China.
Hiding inside these teacups lays a vast history of international trade and exploitation. Explore how The British East India Company redistributed wealth across Britain, China, and India during the height of colonialization. 
Students will think about livable wages and apply this understanding to modern companies and realities. 
The History of Tea Continues
Feel inspired by the Cup and Saucer story? Want to learn more about the history of tea? Take a tour around Denver to connect these artworks to today's tea culture.
Discussion Questions:
What makes tea important to our community?
What cultures contribute to Colorado's tea industry?
What other tea businesses are important to you?
Are there other goods or services that define your community?
Looking Together: Trade Practices
Look at the Ribbon Appliqué Wearing Blanket crafted by an Osage artist.
This activity relates children's experiences to the concept of trade practices in history by sharing this artwork's specific story.
In the early 1600s and the Osage began trading with the French for things like wool cloth and silk ribbon—materials that were used in the making of this blanket. A woman from the Osage tribe sewed this blanket in the early 1900s for a special dance called the I-loⁿ-shka [ee-LONSH-kah].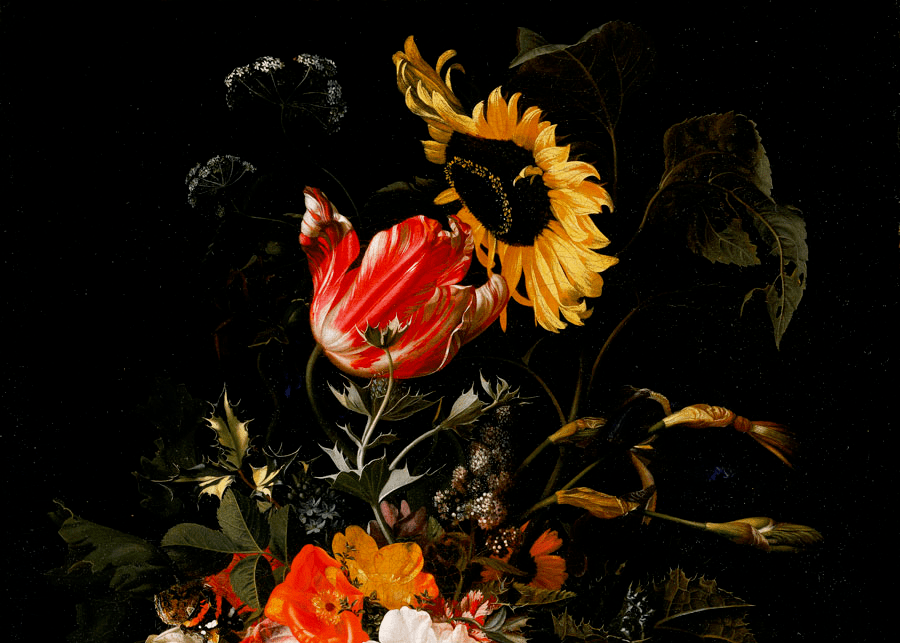 Creating Together: Rise and Fall
This activity examines the artistic characteristics of Bouquet of Flowers in a Vase to learn about the historic and economic phenomenon known as Tulipomania. Flowers like those in the bouquet were rare and very expensive in Holland.
Flower bulbs and seeds had to be imported from the East, and only the wealthy could afford flower gardens. As a result, flowers, especially tulips, became symbols of status. Kids can conduct research and write a brief collective newspaper article about another financial bubble in history.
Take this activity one step future and create your own flower display to tell another story about trade.
Related Creativity Resources